It's certainly nothing unusual to see one automaker benchmarking another automaker's vehicle, and Ford is no exception. In recent months, Ford Authority spies have spotted The Blue Oval benchmarking a couple of all-electric models, including a Tesla Model 3, as well as the Audi e-tron, a direct competitor to the Ford Mustang Mach-E – not just once, but twice. The same goes for other automakers as each continues to develop new EV models, as we recently saw from Subaru benchmarking the Mach-E, among other makes and models. Now, Ford Authority spies have captured a pretty intriguing automaker benchmarking Ford's EV crossover – Rivian. This Mach-E was spotted wearing manufacturer plates, while the Audi Q8 next to it is a personal vehicle and is not being benchmarked.
Back in 2019, Ford made a $500 million investment into upstart EV automaker that was supposed to give it access to Rivian's Skateboard platform for use in a future all-electric vehicle. A few months later, it was reported that the forthcoming model would be a Lincoln SUV, but last year, Ford canceled the project, citing the COVID-19 pandemic and its effects on the economy. As Ford Authority exclusively reported last October, FoMoCo said that its relationship with Rivian at the time was "going great," and that it still planned on building a future Ford EV on the Skateboard platform. However, earlier this month, Ford Authority reported that those plans have now been scrapped altogether.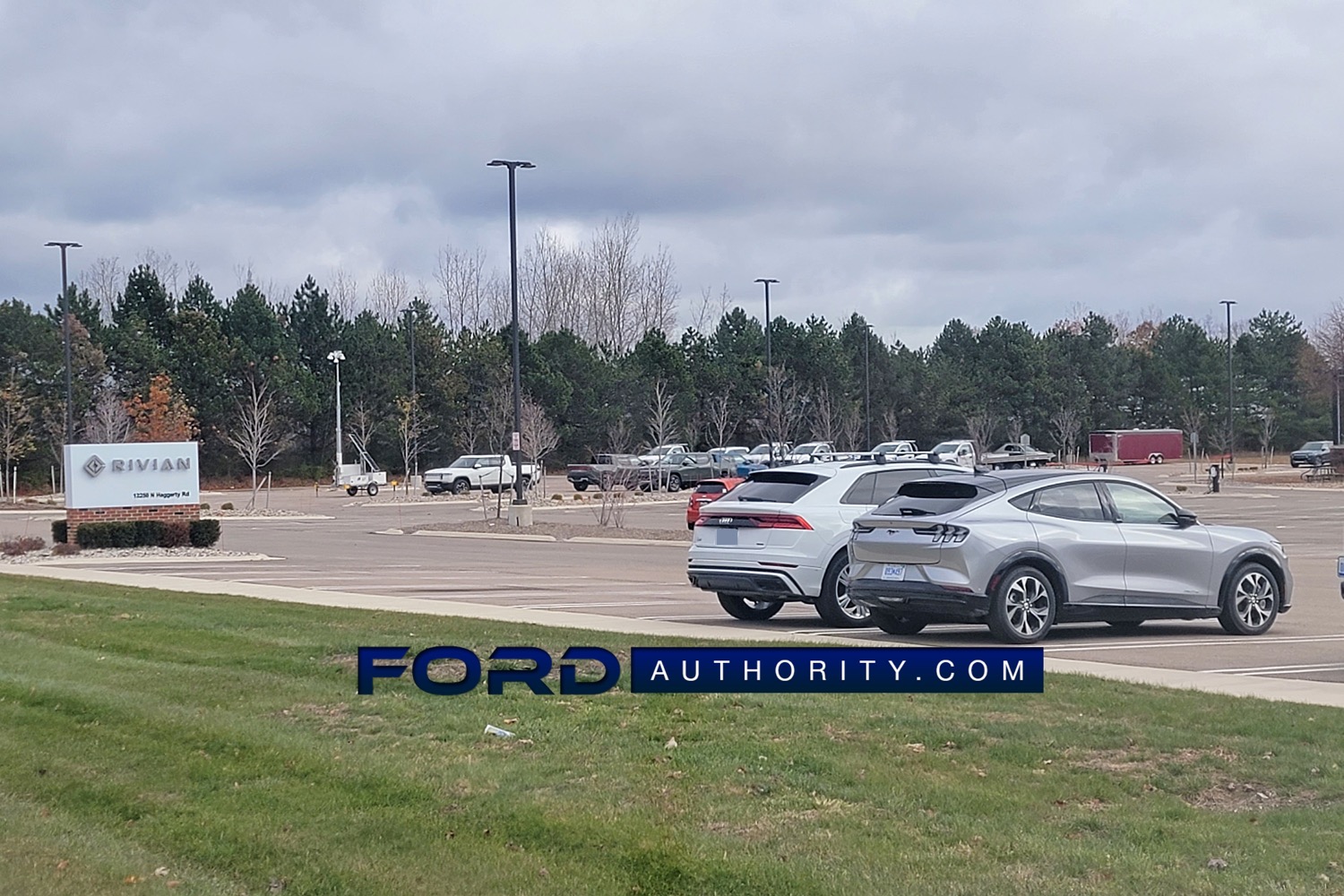 Ford CEO Jim Farley noted that this decision was made as quite a bit has changed since that initial investment in 2019. FoMoCo has since developed and begun production of the Mach-E, and will soon launch the Ford F-150 Lighting and E-Transit. The automaker has proven that its capable of developing its own EVs, and that's what it intends to do moving forward. Ford is also doubling its planned global EV production between now and 2024 to 600,000 units per year.
At the same time, Rivian just began production of its very first vehicle – the R1T pickup – and will soon begin producing its SUV, the R1S. The latter will compete somewhat with the Mach-E, as both are EV crossovers, and Farley recently called Rivian a "major threat" to The Blue Oval, though he was also quick to point out that Ford's relationship with the upstart company hasn't soured.
We'll have more on everything Ford and Lincoln's competition is up to soon, so be sure and subscribe to Ford Authority for more Rivian news and 24/7 Ford news coverage.