FoMoCo has invested heavily in the next-generation Ford Ranger, which was just revealed last month with edgier styling and a host of new tech features. That includes investing $1.05 billion (R15.8 billion) in its South African manufacturing operations to prepare for next-gen Ranger production, with R600 million ($37.8 million USD) going to the Ford Struandale Engine Plant, where the pickup's diesel engines will be produced. However, as it turns out, a retired robot from the Ford Silverton Assembly Plant, along with a Ford Ranger front end, made a pretty nifty grill, too.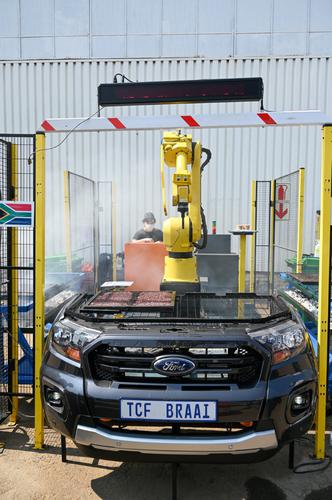 Ford showed off its cool creation recently in the short video below that gives us a look at the programmed robot, which was salvaged from decommissioned tooling used in the Silverton Assembly Plant. Ford calls its creation the TCF BBQ (Braai Boerewors Quickly), and it certainly lived up to that name by cooking up 120 pieces of meat in 12 just minutes.
The grilling robot was the brainchild of Claude Roux, Area Manager from the Trim and Chassis and Final (TCF) Line, and came about as part of a competition held by Ford South Africa encouraging employees to design something unique using whatever scrap materials and decommissioned tooling they could find at the plant.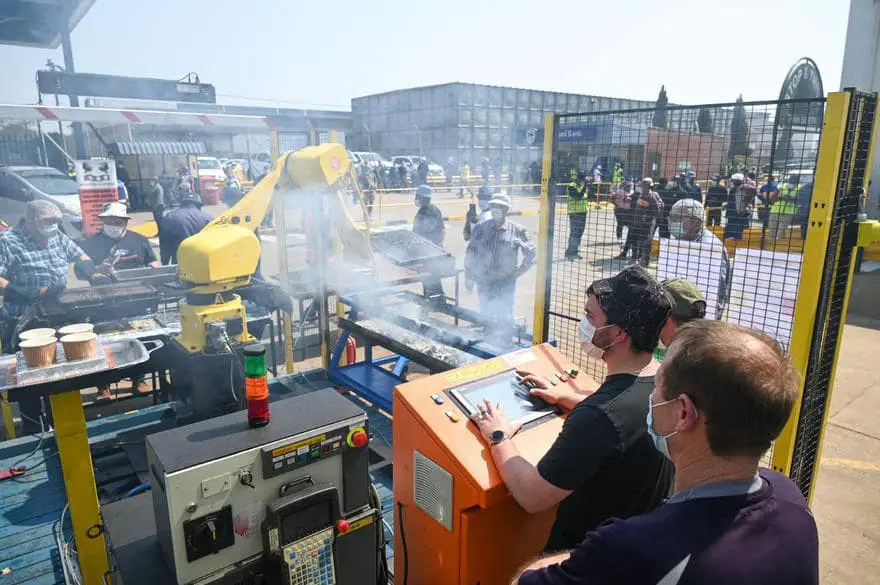 "This was when the innovation and curiosity of that 'small child' inside all of us came to life," Roux said. "We took our knowledge of braaing (barbecuing) and our understanding of manufacturing vehicles and married the two to create a machine with the ability to pick up and manipulate the meat on a grill. We decided to use a Fanuc robot that was due to be disposed of during the extensive Silverton Assembly Plant upgrades, along with scrap metal, discarded wood pallets for a base, metal trolleys for braais, and a Siemens Programmable Logic Controller (PLC) for the controls. We had a qualified electrician, qualified fitter, PLC programmer, and a controls specialist working on it for around four weeks during the plant shutdown."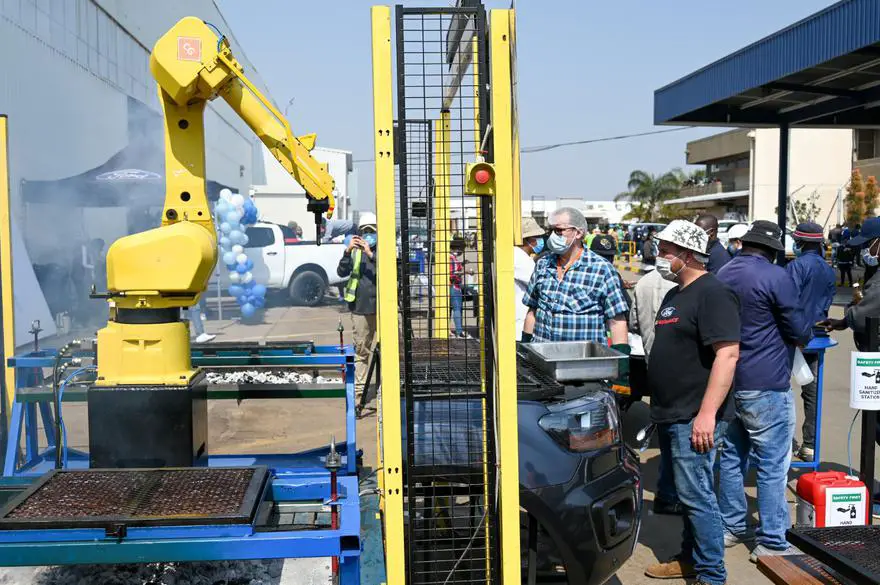 The makeshift robotic barbecue master was capable of not only cooking up large amounts of food in a short period of time, but could also turn the trio of grills around it off after a set amount of time, serve food via a tray, pour drinks, wave a flag, or flash the lights, beep the horn, and activate the turn signals on the front end of the Ranger Wildtrak. However, the robot chef sadly didn't get to do all that for very long.
"TCF BBQ has become a celebrity here at Ford South Africa, and is a perfect example of the creativity and ingenuity that defines everyone at Ford and echoes our proudly South African heritage," said Ockert Berry, VP Operations at Ford South Africa. "This competition brought out a strong yet friendly rivalry that saw various teams working together in secrecy until the reveal date. Now TCF BBQ has hung up his apron and has been dismantled, but a next-generation version can't be ruled out. Maybe we will see a new version to coincide with the launch of the next-generation Ranger."
We'll have more cool videos like this to share soon, so be sure and subscribe to Ford Authority for the latest Ford Ranger news and continuous Ford news coverage.