The Shelby GT350 was designed to be a competition-oriented version of the Ford Mustang. Delivered from the Ford San Jose Assembly plant to Shelby American headquarters in Venice Beach (later relocated to Los Angeles International Airport), the basis for the GT350 was a stock Mustang with a four-speed manual transmission and a nine-inch rear end. Shelby would then modify the cars with larger rear drum brakes sourced from the Ford Galaxie, and front discs courtesy of Kelsey-Hayes.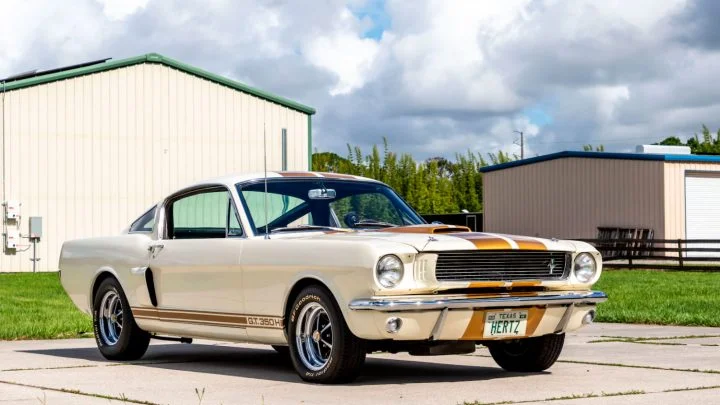 The 289 cubic-inch K-Code engine received a 715 cfm Holley four-barrel carb, high-rise intake manifolds, and headers, boosting output from 271 horsepower to 306. The 1965 Shelby GT350 was all business, with a full-size spare replacing the back seat, battery relocated to the trunk, over-rider traction bars, and side exhaust with glasspack mufflers. Of the 562 cars built for the 1965 model year, 34 were designated GT350R – full race cars built specifically to run in Sports Car Club of America B-Production events. All 1965 Shelby GT350s were painted Wimbledon White with a blue rocker stripe. Fewer than 30 percent received the twin stripes over the top of the car.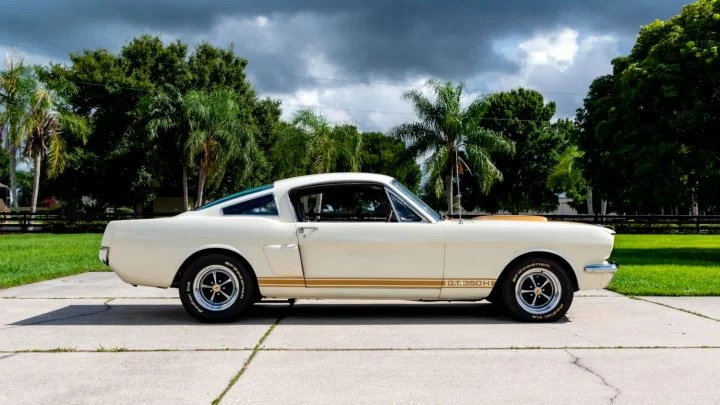 The 1966 Shelby GT350 was more "streetable", with available rear seats, an optional Select-Shift three-speed automatic transmission, and an optional Paxton supercharger. The battery had been moved back to the engine bay after some owners complained of fumes in the trunk. The color palette was broader, as the GT350 could be ordered in Sapphire Blue, Candy Apple Red, Ivy Green, in addition to Wimbledon White. Engine block color had changed from the black of the 1965 GT350 to factory Ford dark blue for 1966. Additionally, the traction bars of the previous year were absent on the 1966 GT350.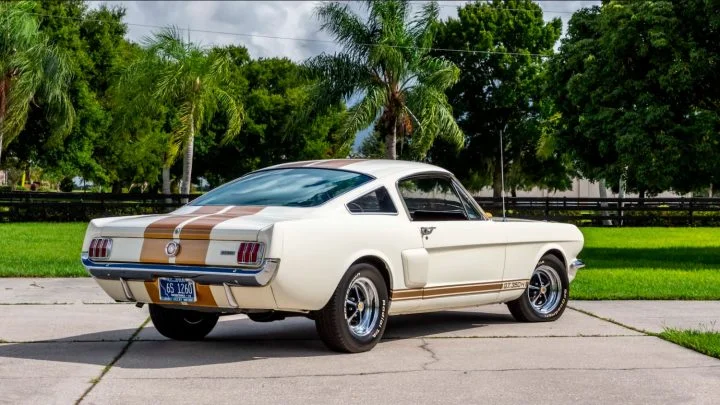 During this era, Ford Motor Company was a major shareholder of Hertz Rental Cars. In an effort to improve GT350 sales, Ford had Hertz buy 1,001 fastbacks as "Rent-a-Racers" that would be returned to Ford when they had served their rental car purpose or be refurbished and sold as Shelby GT350H models. The majority of these were painted Raven Black with gold stripes, although some were white.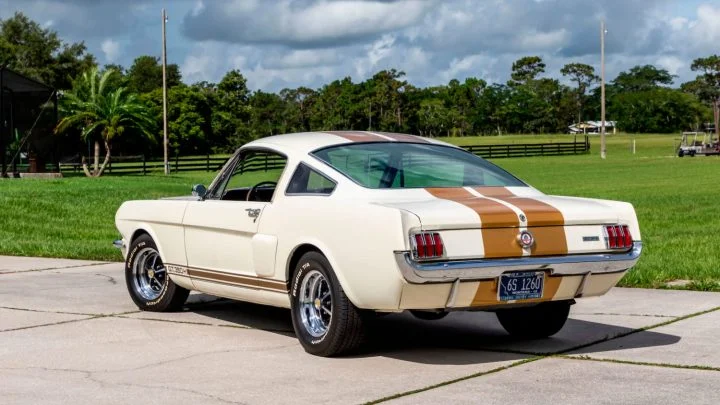 Our feature 1966 GT350, SFM6S1260, is claimed to be one of 71 delivered in Wimbledon White with gold stripes, with supporting Shelby American documentation. It is equipped as 1966 GT350s were, with a fiberglass hood and side scoops, Plexiglas C-pillar windows and rocker panel stripes. Powering the GT350 is a naturally-aspirated solid lifter 289 with aluminum intakes, Autolite four-barrel carb (as specified for automatic transmissions), Cobra finned aluminum valve covers, and headers. Other Shelby touches include Koni shocks, traction bars, competition seat belts, wood rim steering wheel, a dash-mounted tach, and the Hertz competition brakes warning decal just beneath the radio.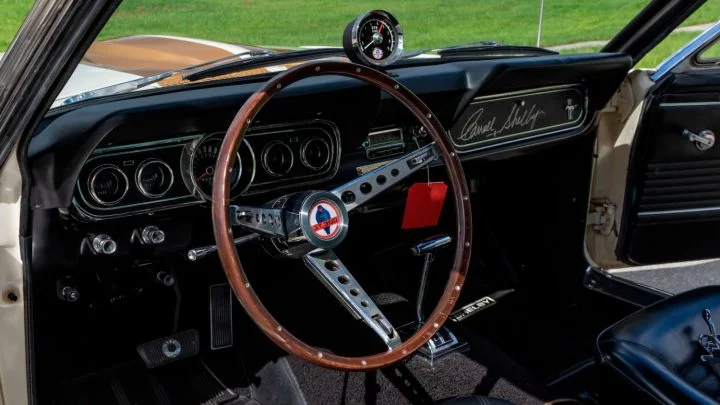 Included in the sale of this GT350 is a detailed ownership and restoration history, previous titles documenting ownership back to 1972, Shelby registry documentation, Shelby shipping documents, Carroll Shelby autographed glove box with certificate of authenticity from Carroll Shelby Children's Foundation, Hertz promotional Matchbox car, as well as Rohn & Hass Company plexiglas care and maintenance instructions.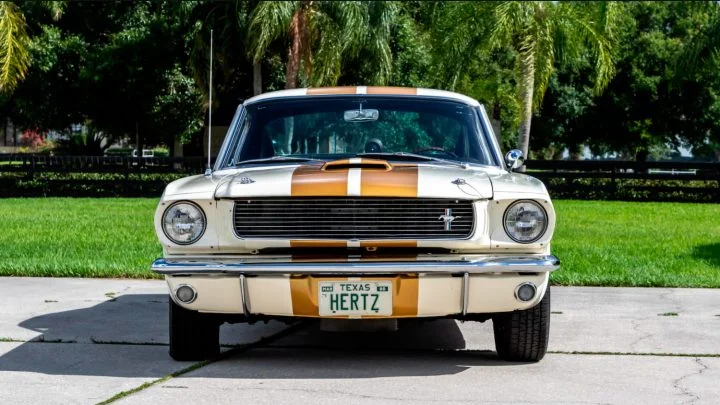 This storied Shelby GT350 will cross the auction block at the Mecum Auctions Kissimmee, Florida event January 6th-16th, and is estimated to sell between $195,000 and $225,000.
Subscribe to Ford Authority for more Ford Mustang news and obsessive Ford news coverage.