Ford Motor Company sales decreased 17 percent to 173,740 units during December 2021 in the United States. Sales decreased at both FoMoCo brands, the namesake Ford brand as well as at Lincoln.
"Ford finished the year strong, as the only U.S. automaker hitting the half million sales mark in the fourth quarter, making Ford America's best-selling automaker. On the strong success of Mustang Mach-E, Ford jumped into second place in U.S. electric vehicle sales behind just Tesla," said Vice President, Ford Sales U.S. and Canada, Andrew Frick. "Last year was a foundational year for Ford in the electrified vehicle segment and this year we continue to expand, adding the F-150 Lightning and E-Transit to our electric vehicle lineup. Looking to the new year, Ford had just over 70,000 new vehicle orders in December, which will provide continued momentum into 2022," he added.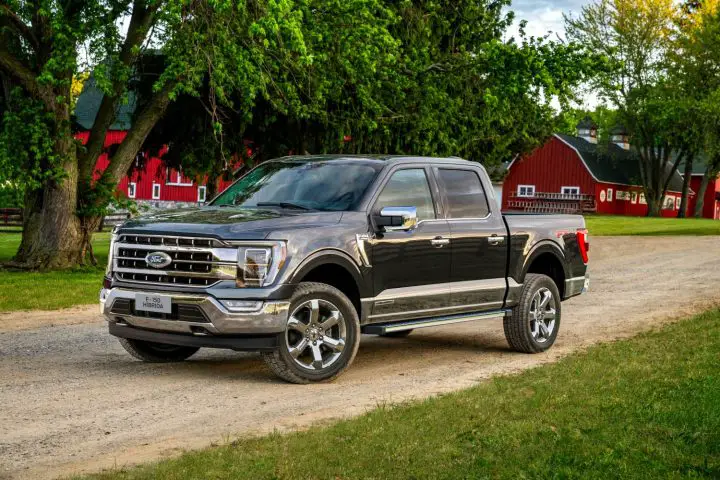 FoMoCo Sales Notes – U.S. December 2021
Total Ford Motor Company sales during December 2021 decreased 17 percent to 173,740 units

Ford did not provide any information on retail vs. fleet deliveries, a significant and notable departure from the way it reported previously (on a monthly basis)

New breakthrough products and inventory improvements made Ford America's No. 1 selling automaker for the fourth month in a row.

Ford was the best-selling automaker in the fourth quarter, selling 508,451 vehicles – a 26.8 percent increase over the third quarter of 2021, compared to an overall industry decline of approximately 3 percent.
Ford took in 70,000 new vehicle retail orders in December, up 58,000 vehicles from a year ago. 33 percent of Ford retail sales were the fulfillment of customer orders for the month.
Ford begins 2022 with 247,000 vehicles in stock – up 22,000 units from November and the best stock position in the industry.

Ford pickup truck sales totaled 75,518 in December.
Ford electrified vehicles achieving new sales records for December. Ford sold a total of 12,284 electrified vehicles during the month, up 121 percent from last year and growing at more than 4 times the rate of the overall segment for the month.
Ford's newest vehicles are hitting the mark with customers. Combined sales of Mustang Mach E, Bronco, Bronco Sport and Maverick totaled 23,825 vehicles in December, representing 14.2 percent of the overall Ford brand portfolio. All are turning in under 20 days on dealer lots.
Ford brand SUV sales were up 7.3 percent in December over November.
Brand & Model Sales
Ford sales decreased 14.9 percent to 167,545 units:
Lincoln sales decreased 50.7 percent to 6,195 units:
During the 2021 calendar year, Ford Motor Company sales decreased 6.8 percent to 1,905,955 units.
Sales Results - December 2021 - USA - Ford
| MODEL | DEC 2021 / DEC 2020 | DECEMBER 2021 | DECEMBER 2020 | YTD 2021 / YTD 2020 | YTD 2021 | YTD 2020 |
| --- | --- | --- | --- | --- | --- | --- |
| BRONCO | * | 9,168 | * | * | 35,023 | * |
| BRONCO SPORT | +23.15% | 6,278 | 5,098 | +2,012.68% | 108,169 | 5,120 |
| E-SERIES | -3.25% | 3,806 | 3,934 | +0.33% | 37,122 | 37,001 |
| ECOSPORT | -37.89% | 2,992 | 4,817 | -32.84% | 40,659 | 60,545 |
| EDGE | -8.65% | 11,456 | 12,541 | -21.73% | 85,225 | 108,886 |
| ESCAPE | -38.39% | 10,704 | 17,373 | -18.53% | 145,415 | 178,496 |
| EXPEDITION | -24.80% | 7,559 | 10,052 | +5.33% | 81,988 | 77,838 |
| EXPLORER | -20.57% | 20,715 | 26,081 | -2.81% | 219,871 | 226,217 |
| F-SERIES | -15.66% | 62,496 | 74,097 | -7.80% | 726,004 | 787,422 |
| FUSION | -99.38% | 47 | 7,573 | -89.35% | 11,781 | 110,665 |
| GT | +40.00% | 14 | 10 | -18.29% | 143 | 175 |
| HEAVY TRUCKS | -1.98% | 1,483 | 1,513 | +41.51% | 14,202 | 10,036 |
| MAVERICK | * | 6,030 | * | * | 13,258 | * |
| MUSTANG | -7.52% | 4,564 | 4,935 | -14.20% | 52,414 | 61,090 |
| MUSTANG MACH-E | +78,200.00% | 2,349 | 3 | +904,566.67% | 27,140 | 3 |
| RANGER | -29.19% | 6,992 | 9,874 | -6.63% | 94,755 | 101,486 |
| TRANSIT | -45.26% | 8,521 | 15,566 | -24.18% | 99,745 | 131,556 |
| TRANSIT CONNECT | -31.79% | 2,371 | 3,476 | -24.52% | 26,112 | 34,596 |
| FORD TOTAL | -14.93% | 167,545 | 196,943 | -6.20% | 1,819,026 | 1,939,334 |
Sales Results - December 2021 - USA - Lincoln
| MODEL | DEC 2021 / DEC 2020 | DECEMBER 2021 | DECEMBER 2020 | YTD 2021 / YTD 2020 | YTD 2021 | YTD 2020 |
| --- | --- | --- | --- | --- | --- | --- |
| AVIATOR | -48.00% | 1,640 | 3,154 | -9.34% | 20,924 | 23,080 |
| CONTINENTAL | -92.95% | 36 | 511 | -72.25% | 1,460 | 5,262 |
| CORSAIR | -33.68% | 1,827 | 2,755 | -13.10% | 22,790 | 26,227 |
| MKZ | -99.70% | 3 | 1,011 | -86.57% | 1,681 | 12,518 |
| NAUTILUS | -45.45% | 1,469 | 2,693 | +7.48% | 24,443 | 22,742 |
| NAVIGATOR | -46.82% | 1,220 | 2,294 | +2.48% | 15,631 | 15,252 |
| LINCOLN TOTAL | -50.74% | 6,195 | 12,577 | -17.53% | 86,929 | 105,410 |
Sales Results - December 2021 - USA - FMC Totals
| BRAND | DEC 2021 / DEC 2020 | DECEMBER 2021 | DECEMBER 2020 | YTD 2021 / YTD 2020 | YTD 2021 | YTD 2020 |
| --- | --- | --- | --- | --- | --- | --- |
| FORD TOTAL | -14.93% | 167,545 | 196,943 | -6.20% | 1,819,026 | 1,939,334 |
| LINCOLN TOTAL | -50.74% | 6,195 | 12,577 | -17.53% | 86,929 | 105,410 |
| FMC USA TOTAL | -17.08% | 173,740 | 209,520 | -6.79% | 1,905,955 | 2,044,744 |
About The Numbers
All percent change figures compared to Ford Motor Company sales for December 2020, unless noted otherwise
Further Reading & Sales Reporting
Running Ford Motor Company sales numbers
Ford Motor Company Q4 2021 sales reports:

Ford Motor Company sales Q4 2021 U.S.A

Ford sales Q4 2021 U.S.A. (Ford brand)
Lincoln sales Q4 2021 U.S.A.
Ford Motor Company sales October 2021 U.S.A.

Ford sales October 2021 U.S.A. (Ford brand)
Lincoln sales October 2021 U.S.A.

Ford Motor Company sales November 2021 U.S.A.

Ford sales November 2021 U.S.A. (Ford brand)
Lincoln sales November 2021 U.S.A.

Ford Motor Company sales December 2021 U.S.A. (this page)

Ford sales December 2021 U.S.A. (Ford brand)
Lincoln sales December 2021 U.S.A.

Ford Motor Company Canada sales Q4 2021

Ford Canada sales Q4 2021
Lincoln Canada sales Q4 2021

Ford Motor Company Argentina sales Q4 2021
Ford Motor Company Brazil sales Q4 2021
Ford Motor Company Korea sales Q4 2021

Ford Motor Company Korea sales October 2021

Ford Korea sales October 2021
Lincoln Korea sales October 2021

Ford Motor Company Korea sales November 2021

Ford Korea sales November 2021
Lincoln Korea sales November 2021

Ford Motor Company Korea sales December 2021

Ford Korea sales December 2021
Lincoln Korea sales December 2021

Ford Motor Company Mexico sales Q4 2021
Ford Russia sales Q4 2021

Ford Russia sales October 2021
Ford Russia sales November 2021
Ford Russia sales December 2021