Ford Motor Company sales were flat at 143,531 units during January 2022 in the United States. Sales increased at the Ford brand, while decreasing at Lincoln.
"Ford market share increased over a year ago on strong demand for our newest products such as Bronco, Maverick and Mach-E. Ford took in a record 90,000 new vehicle orders in January. Vehicles are turning at a record pace on dealer lots, as we work to fill these orders," said Vice President, Ford Sales U.S. and Canada, Andrew Frick. "This year represents a turning point for Ford in electrified vehicles, as our electrified portfolio grew at nearly four times the rate of the industry segment, with E-Transit and F-150 Lightning set to hit the market," he added.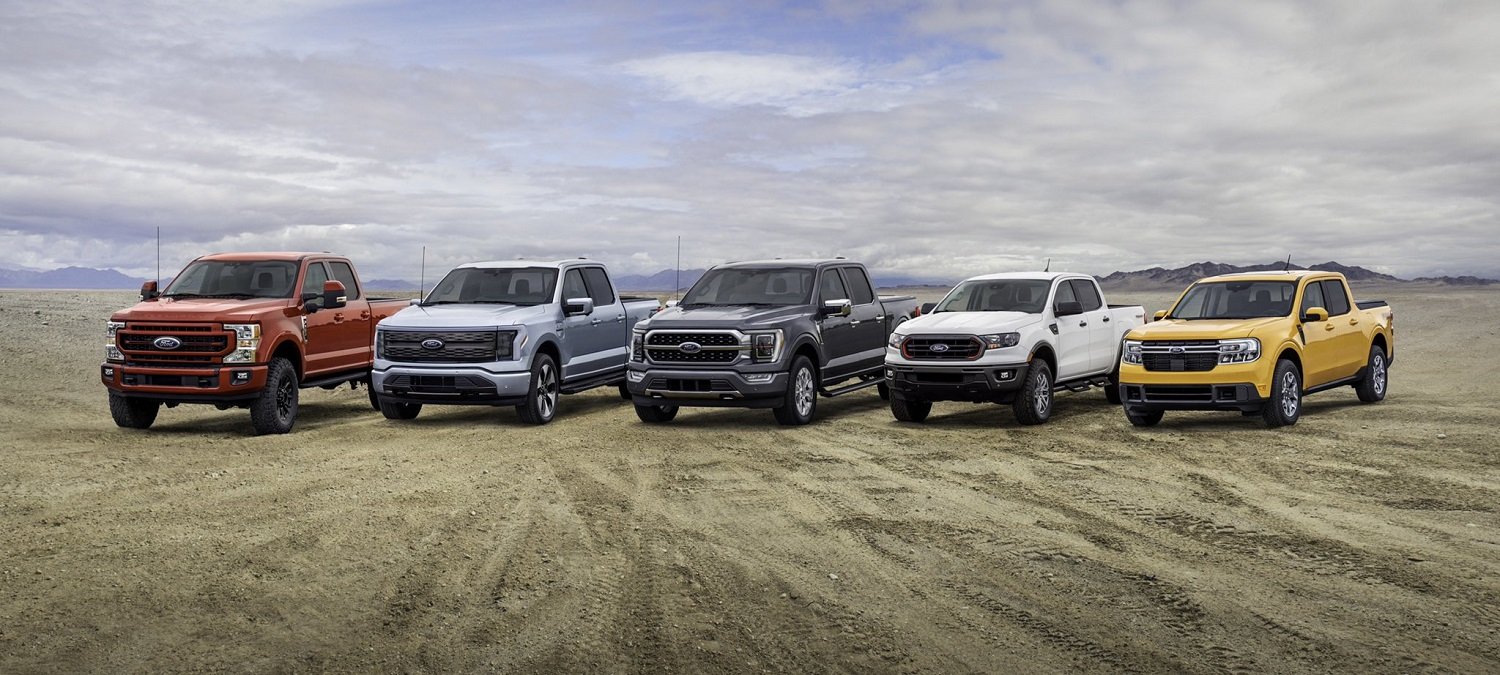 FoMoCo Sales Notes – U.S. – January 2022
Total Ford Motor Company sales during January 2022 were flat at 143,531 units

Truck sales totaled 71,734 units, down 4.3 percent total and down 4.0 percent at retail
SUV sales totaled 66,122 units, up 8.5 percent total and up 9.4 percent at retail
Electrified sales had their best January ever, totaling 13,169 units, up 167.2 percent. That growth is almost four times faster than the overall electrified segment, causing FoMoCo's share to grow 5 percentage points to 10.9 percent of segment.

At retail, electrified vehicle sales posted a 183.1. percent increase

Ford hit an all-time record for both new retail vehicle orders and for filling retail orders in January, with over 90,000 new vehicle orders – up 71,000 units from a year ago and up 20,000 units from December

Vehicles are moving off dealer lots at a record pace, as 37 percent of Ford's retail sales in January came from previously placed customer orders.
With continued industry segmentation out of cars and Ford's focus on trucks and SUVs, Ford saw higher market share and transaction pricing up $4,900 over a year ago.
Overall, Ford and Lincoln total share in January was 13.9 percent – up 1.3 percentage points from a year ago.

Combined Ford total pickup truck sales – including F-Series, Ranger and Maverick – totaled 62,293 units, outselling GM's entire pickup truck line in January
Ford brand SUV sales grew 12 percent to 60,382 units in January, giving Ford a record SUV start

New SUV products, including Bronco, Bronco Sport and Mustang Mach-E, added 16,692 units to the SUV sales tally
Thanks the new Bronco family of vehicles, Ford is seeing a record percentage of 4×4 and AWD equipped SUVs
In January, 76.7 percent of Ford's SUVs were equipped with 4×4 or AWD – up 20.7 percent over last year, driving SUV transaction pricing to $43,300 per SUV – up $8,200 over a year ago.

Lincoln took in a record number of new retail vehicle orders last month, totaling just over 3,100 orders – this is up 291 percent compared to last year and a new record for Lincoln.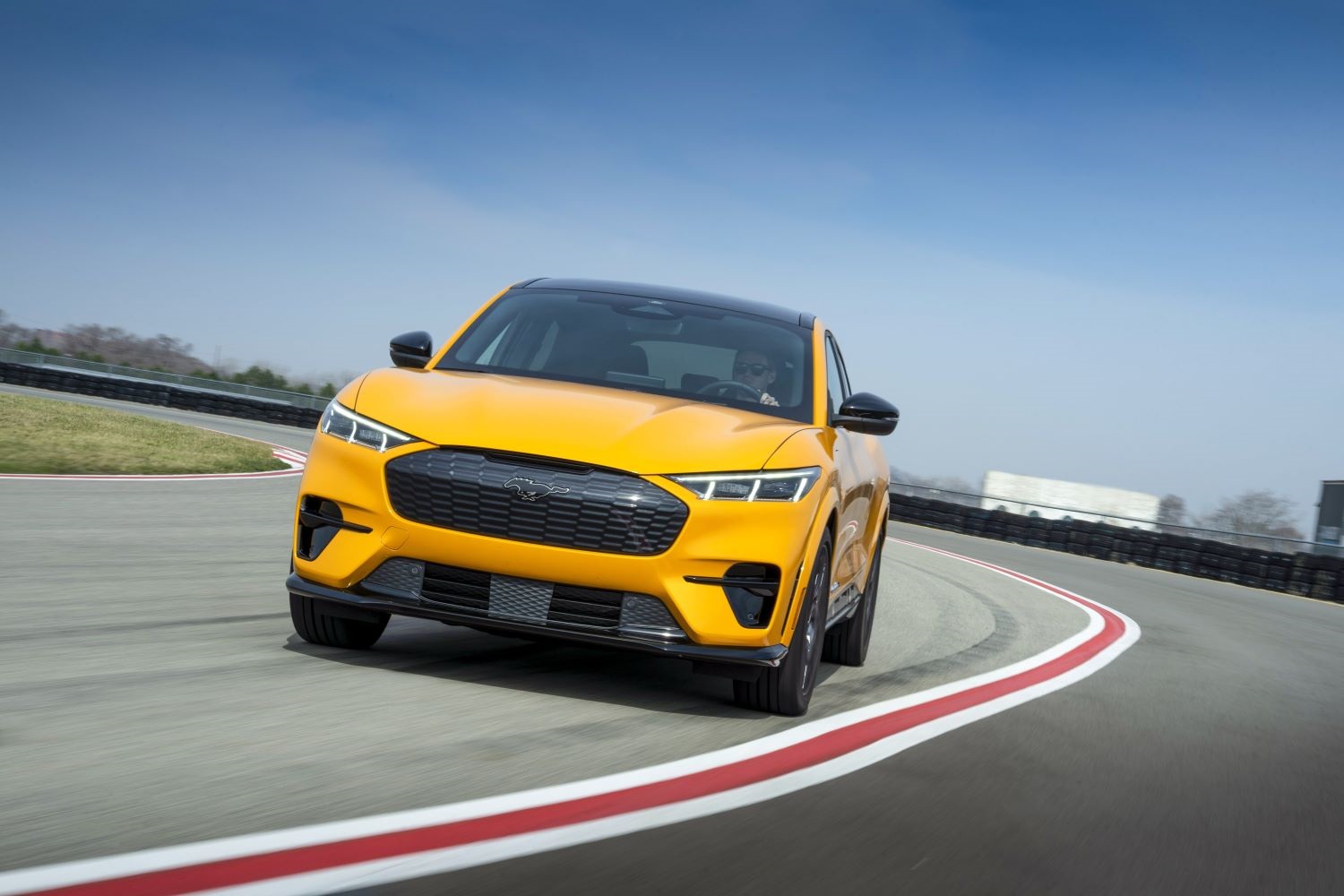 Brand & Model Sales
Ford sales increased 1.4 percent to 137,791 units:
Lincoln sales decreased 25.8 percent to 5,740 units:
Sales Results - January 2022 - USA - Ford
| MODEL | JAN 2022 / JAN 2021 | JANUARY 2022 | JANUARY 2021 |
| --- | --- | --- | --- |
| BRONCO | * | 8,101 | * |
| BRONCO SPORT | -22.72% | 6,221 | 8,050 |
| E-SERIES | -28.26% | 2,178 | 3,036 |
| ECOSPORT | -49.00% | 2,235 | 4,382 |
| EDGE | +7.58% | 7,355 | 6,837 |
| ESCAPE | +17.25% | 13,120 | 11,190 |
| EXPEDITION | -7.52% | 4,725 | 5,109 |
| EXPLORER | -10.17% | 16,255 | 18,095 |
| F-SERIES | -8.56% | 50,543 | 55,276 |
| GT | -42.86% | 4 | 7 |
| HEAVY TRUCKS | +8.49% | 1,086 | 1,001 |
| MAVERICK | * | 6,513 | * |
| MUSTANG | +31.15% | 5,671 | 4,324 |
| MUSTANG MACH-E | +895.80% | 2,370 | 238 |
| RANGER | -14.18% | 5,237 | 6,102 |
| TRANSIT | -34.32% | 4,925 | 7,498 |
| TRANSIT CONNECT | -37.87% | 1,252 | 2,015 |
| FORD TOTAL | +1.44% | 137,791 | 135,837 |
Sales Results - January 2022 - USA - Lincoln
| MODEL | JAN 2022 / JAN 2021 | JANUARY 2022 | JANUARY 2021 |
| --- | --- | --- | --- |
| AVIATOR | -32.13% | 1,316 | 1,939 |
| CORSAIR | +5.00% | 2,120 | 2,019 |
| NAUTILUS | -20.46% | 1,384 | 1,740 |
| NAVIGATOR | -32.10% | 920 | 1,355 |
| LINCOLN TOTAL | -25.85% | 5,740 | 7,741 |
Sales Results - January 2022 - USA - FMC Totals
| BRAND | JAN 2022 / JAN 2021 | JANUARY 2022 | JANUARY 2021 |
| --- | --- | --- | --- |
| FORD TOTAL | +1.44% | 137,791 | 135,837 |
| LINCOLN TOTAL | -25.85% | 5,740 | 7,741 |
| FMC USA TOTAL | -0.03% | 143,531 | 143,578 |
About The Numbers
Further Reading & Sales Reporting
Running Ford Motor Company sales numbers
Ford Motor Company Q1 2022 sales reports:

Ford Motor Company sales Q1 2022 U.S.A

Ford sales Q1 2022 U.S.A. (Ford brand)
Lincoln sales Q1 2022 U.S.A.
Ford Motor Company sales January 2022 U.S.A. (this page)

Ford sales January 2022 U.S.A. (Ford brand)
Lincoln sales January 2022 U.S.A.

Ford Motor Company sales February 2022 U.S.A.

Ford sales February 2022 U.S.A. (Ford brand)
Lincoln sales February 2022 U.S.A.

Ford Motor Company sales March 2022 U.S.A.

Ford sales December 2022 U.S.A. (Ford brand)
Lincoln sales December 2022 U.S.A.

Ford Europe sales Q1 2022
Ford Motor Company Canada sales Q1 2022

Ford Canada sales Q1 2022
Lincoln Canada sales Q1 2022

Ford Motor Company Argentina sales Q1 2022
Ford Motor Company Brazil sales Q1 2022
Ford Motor Company Korea sales Q1 2022

Ford Motor Company Korea sales January 2022

Ford Korea sales January 2022
Lincoln Korea sales January 2022

Ford Motor Company Korea sales February 2022

Ford Korea sales February 2022
Lincoln Korea sales February 2022

Ford Motor Company Korea sales March 2022

Ford Korea sales March 2022
Lincoln Korea sales March 2022

Ford Motor Company Mexico sales Q1 2022
Ford Russia sales Q1 2022

Ford Russia sales January 2022
Ford Russia sales February 2022
Ford Russia sales March 2022