Longtime Ford rival Chevrolet scored a Nascar victory for the second week in a row, with the No. 48 Camaro of Alex Bowman taking advantage of an Overtime finish to get the checkered flag.
Bowman showed the way to the green-checkered flag for the Stage 1 win. When the green flag dropped on Stage 2, several Ford Mustangs showed strength, as the No. 6 Mustang of Brad Keselowski held down the lead. However, his success didn't last for long, and a series of cautions were thrown for incidents involving several Ford Racing teams.
Chase Briscoe in the No. 14 Mustang and Daniel Suarez in the No. 99 Camaro ran into each other, prompting a yellow flag. Just over 10 laps later, Keselowski spun out in his No. 6 Mustang, collecting Ryan Blaney No. 12 Mustang, eliminating their hopes of winning after showing speed early in the race. A third incident involved Briscoe once again, while a separate spin took out Daytona 500 winner Austin Cindric in the No. 2 Mustang.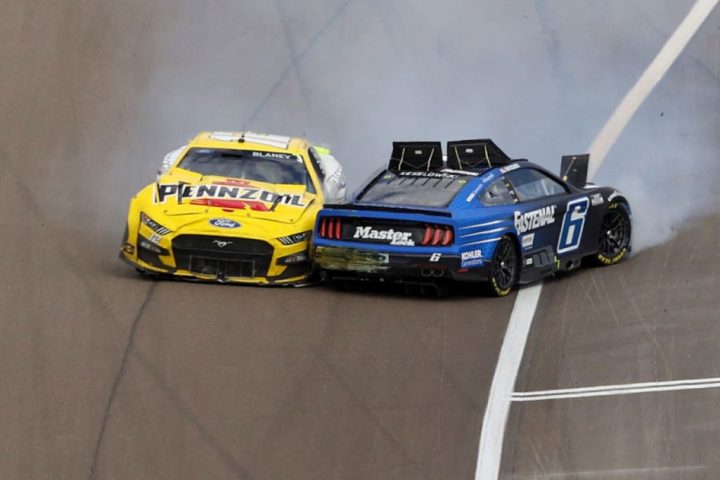 A caution came out with 46 laps to go in response to an issue with the No. 11 of Denny Hamlin, who botched a shift exiting Pit Road, paralyzing his Next Gen Toyota.
As the laps wound down, two Toyotas held control of the race. Kyle Busch, No. 18, led, while his Joe Gibbs Racing teammate, Martin Truex Jr., attempted to reel him in. However, the fate of the race changed when Bubba Wallace, No. 23 Toyota, and Erik Jones, No. 43 Camaro, spun out together with two laps remaining, causing a caution. Truex and Busch opted for four tires. Meanwhile, Fontana winner, Kyle Larson in his No. 5 Camaro and Bowman in his No. 48 Camaro took just two tires, putting the two Chevys out front for the restart.
Bowman ultimately bested Larson after battling head-to-head during Nascar Overtime, putting the No. 48 Chevy in victory lane.
Busch was clearly disappointed after victory slipped from his hands, and had some choice words for Bowman. "The same [expletive] guy that backs into every [expletive] win that he ever [expletive] gets backs into another [expletive] win," Busch said.
The only Ford to post a top-10 finish was Aric Almirola in the No. 10 Mustang, who finished sixth.
Subscribe to Ford Authority for more Nascar news, Ford Mustang news and 24/7 Ford news coverage.