Auto Club Speedway in Fontana, California once again proved to be a menace to racing slicks during Sunday's 400-mile Nascar event. A total of 12 cautions slowed the field for 59 out of 200 laps as a result of many spinouts and other incidents during the race.
Eventual race winner and 2021 Nascar Cup Series Champion Kyle Larson was forced to surrender his 13th-place starting position due to an electrical issue with his No. 5 Chevrolet Camaro. He started at the back of the field since his team had to replace the No. 5's ignition.
Polesitter Austin Cindric showed the way to the green flag in his No. 2 Daytona 500-winning Ford Mustang. However, he found himself relegated to second place as the No. 43 Chevy of Erik Jones shot past him to lead the first lap. Meanwhile, the No. 8 Chevy driven by Tyler Reddick and the No. 9 of Chase Elliott quickly charged to the front, trading the lead back and forth after Elliott got a little bit of the wall. Elliott lost control and spun out, leading Reddick to take the Stage 1 win.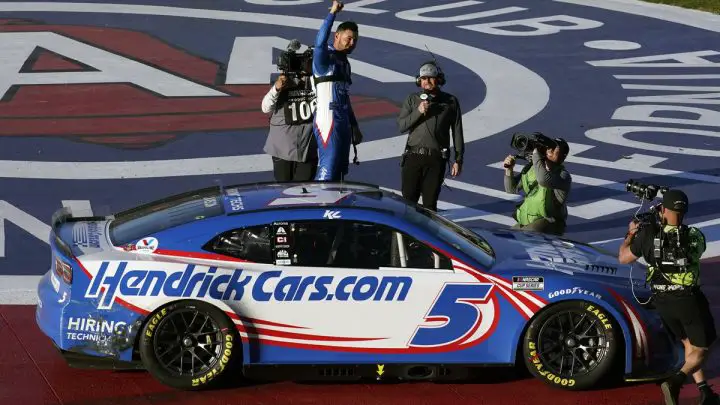 In Stage 2, Reddick showed the way to the green-checkered flag, but his lead didn't last long into Stage 3 as the No. 8 cut a rear tire and dashed his hopes of winning. The No. 22 Ford Mustang of Joey Logano entered the picture for the race lead, followed closely by Larson. A late-race caution was caused by Brad Keselowski in the No. 6 Mustang spinning across the nose of the No. 23 Toyota Camry of Bubba Wallace. Cindric's No. 2 Ford was swept into the incident, as was Harrison Burton, and Keselowski's race car was damaged beyond repair.
Elliott won the race off pit road for the restart, but Larson quickly assumed the lead when the green flag dropped. Elliott mounted a charge against his teammate, but Larson threw his No. 5 across the track and pinched Elliott into the wall. Elliott eventually spun a second time, expressing obvious displeasure at Larson's actions.
The No. 99 Camaro of Daniel Suarez nabbed the lead toward the end of the race with Logano on his tail, but Larson got a huge run off of Turn 4, executing a perfect pass. Logano ended up the best-finishing Ford and crossed the line in fifth, while Larson led the field to the checkered flag.
Subscribe to Ford Authority for more Nascar news, Ford Mustang news and 24/7 Ford news coverage.