Over the past few months, Ford Authority spies have spotted a number of next-generation S650 2024 Ford Mustang prototypes out driving around, starting back in January, while a GT prototype was spied for the first time shortly thereafter – not once, but twice, all in the manner of a few days. Last month, our spies spotted a different prototype that could foreshadow a Mach 1 or another performance-oriented variant. Now, however, Ford Authority spies have captured something entirely different on film – an S550 Ford Mustang Shelby GT350 mule that's wearing a rather bizarre hood.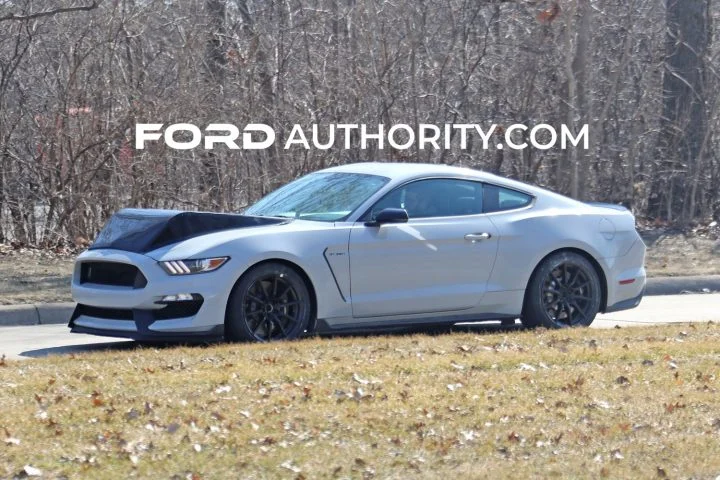 As we can see in these photos, this Ford Mustang Shelby GT350 mule – plated with a Michigan Manufacturer plate – has one of the strangest hoods we've ever seen on any sort of vehicle, production or not. The hood has a massive raised section, finished in black, that peaks toward the front, then tapers down in both directions. It's certainly impossible to miss driving down the road, but there is probably a very good reason for this large appendage: this particular prototype is likely a powertrain mule for the S650 Mustang.
What exactly is hiding under the (very awkward-looking) hood, which probably doesn't help with road visibility in the slightest, is unclear at this point, but it's worth noting that the rest of this prototype seems identical to that of the S550-generation Shelby GT350, down to the quad-tipped exhaust.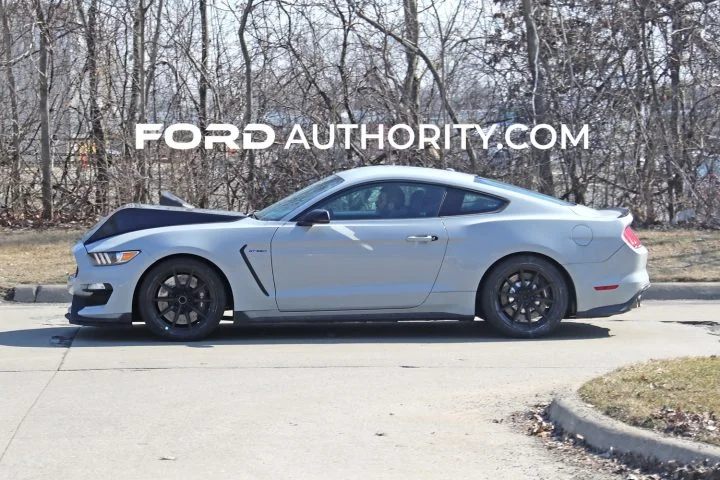 As Ford Authority previously reported, the 2024 Ford Mustang won't represent a massive departure from the current S550 model, but it will introduce a series of needed changes that will modernize the long-running pony car. These will include new exterior and interior designs, plus at least one hybrid powertrain, which was previously rumored to launch in 2025. As Ford Authority reported back in October, not just one, but two hybrid options could possibly be in the works in the form of electrified versions of Ford's 2.3L EcoBoost I-4 and 5.0L Coyote V8.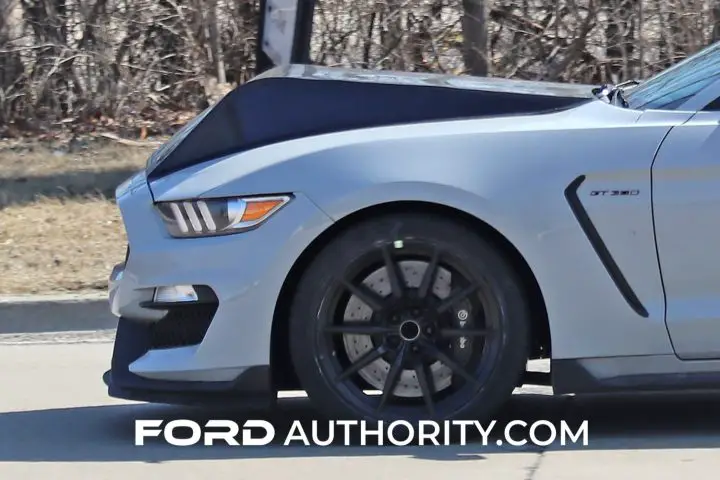 No other major powertrain changes are expected for the next-gen Mustang, and as Ford Authority reported last May, the V8 engine won't be going away any time soon, either. However, it should also come as no surprise that an all-electric Mustang – aside from the existing Ford Mustang Mach-E – is expected at some point in the future, perhaps as soon as 2028 for the 2029 model year, as prior rumors have suggested.
The S650 Mustang will continue to be built at the Ford Flat Rock Assembly Plant and will have an eight-year life cycle, as Ford Authority reported last August. This lifespan would have matched that of the current S550 generation had it not been extended for the 2023 model year, giving the S550 a nine-year lifespan.
We'll have more on the 2024 Ford Mustang very soon, so be sure and subscribe to Ford Authority for more Ford Mustang news and 24/7 Ford news coverage.