Ford Motor Company sales fell 26 percent to 159,328 units during March 2022 in the United States. Sales decreased at both FoMoCo brands – Ford and Lincoln.
"While the global semiconductor chip shortage continues to create challenges, we saw improvement in March sales, as in-transit inventory improved 74 percent over February. F-Series had a record 50,000 new retail orders in March, while a record 41 percent of our overall retail sales came from previously placed retail orders," said Vice President, Ford Sales U.S. and Canada, Andrew Frick. "Our newest products continue to turn at a record pace, as Bronco, Bronco Sport, Mustang Mach-E and Maverick had their best combined sales performance yet, with 33,398 vehicles sold. Ford is ready to deliver and positioned well for spring sales growth," he added.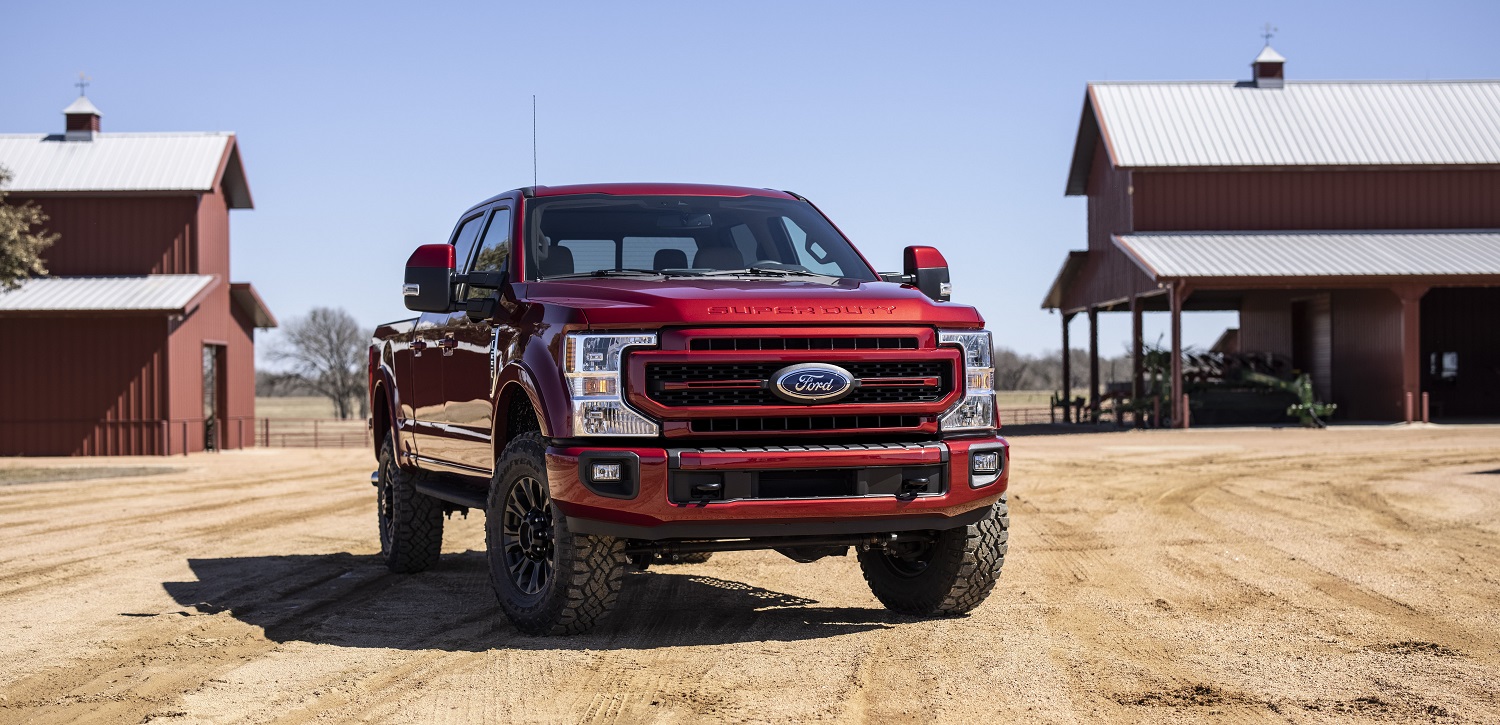 FoMoCo Sales Notes – U.S. March 2022
Sale types:
Total Ford Motor Company sales during March 2022 decreased 26 percent to 159,328 units

Truck sales totaled 74,420, down 34.4 percent overall and down 39 percent at retail
SUV sales totaled 81,280 units, down 16.9 percent overall and down 9.4 percent at retail
Electrified vehicle sales totaled 13,772 units, up 16.9 percent overall and up 10.9 percent at retail

March improvements in production and inventory are beginning to lift sales. Ford retail sales increased 23.2 percent over February

Overall Ford brand SUV sales increased 39.2 percent, while truck and van sales grew 12.5 percent
Ford's overall in-transit stock levels increased 73.5 percent compared to February, positioning Ford for spring sales growth

Ford retail orders further expanded over a year ago, achieving another new record

Ford dealers took in 88,000 orders in March – up 66,000 orders over a year-ago

Ford's overall truck sales grew 12.5 percent compared to February

Overall, Ford pickup sales totaled 140,701 through March
During the first three months of 2022, Ford F-Series leads the way in truck sales, outselling No. 2 Ram by over 45,000 trucks

Ford brand SUV sales were up 39.2 percent in March over February on improved inventory

The Bronco family of vehicles had their best monthly sales performance since launch, with sales of 22,340 units
Customers are opting more than ever for 4X4/AWD-equipped Ford brand SUVs. Year-to-date, Ford saw record levels of 4X4/AWD equipped Ford SUVs approaching 80 percent of retail sales
This is boosting average transaction pricing by approximately $5,000 per SUV compared to last year

Ford achieved record electrified vehicle sales year-to-date, growing 37.9 percent

Ford's electrified vehicle conquest rate is growing and climbed to 51 percent – up 6 percentage points over last year

Lincoln SUV sales grew as sales increased 26.4 percent relative to February

Lincoln in transit stock increased 16.6 percent to 3,495 vehicles at the end of February
Lincoln had a record additional 3,600 new retail orders placed during March
Inventory & SAAR:
Ford did not provide inventory or SAAR information, representing a notable change in the details provided by Ford for its sales reporting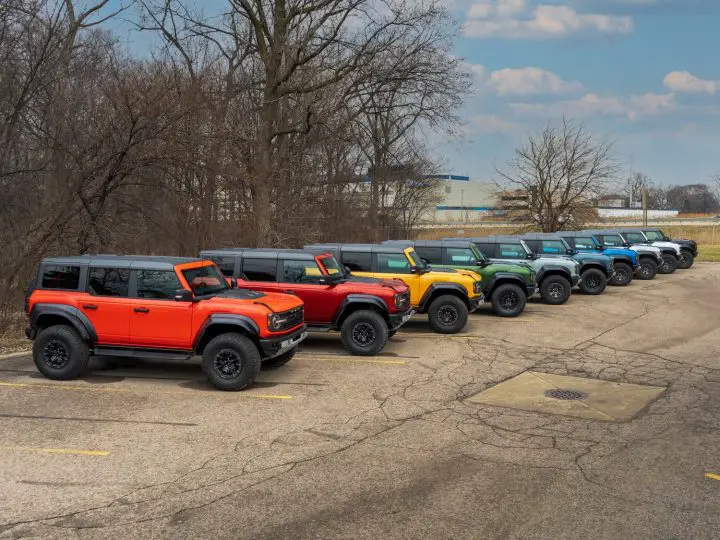 Brand & Model Sales
Ford sales decreased 25.7 percent to 151,843 units:
Lincoln sales decreased 25.2 percent to 7,485 units:
During the first three months of the 2022 calendar year, Ford Motor Company sales decreased 17.1 percent to 432,132 units.
Sales Results - March 2022 - USA - Ford
| MODEL | MAR 2022 / MAR 2021 | MARCH 2022 | MARCH 2021 | YTD 2022 / YTD 2021 | YTD 2022 | YTD 2021 |
| --- | --- | --- | --- | --- | --- | --- |
| BRONCO | * | 9,757 | * | * | 23,573 | * |
| BRONCO SPORT | +28.66% | 12,583 | 9,780 | +24.55% | 29,089 | 23,356 |
| E-SERIES | -44.18% | 1,999 | 3,581 | -31.89% | 7,201 | 10,573 |
| ECOSPORT | -37.22% | 3,076 | 4,900 | -34.57% | 8,426 | 12,878 |
| EDGE | +36.63% | 12,048 | 8,818 | +19.24% | 26,412 | 22,150 |
| ESCAPE | -15.66% | 15,136 | 17,947 | -2.51% | 39,962 | 40,990 |
| EXPEDITION | -80.69% | 1,917 | 9,926 | -56.35% | 9,718 | 22,263 |
| EXPLORER | -35.94% | 16,915 | 26,404 | -34.50% | 42,736 | 65,244 |
| F-SERIES | -46.57% | 44,906 | 84,043 | -30.96% | 140,701 | 203,797 |
| GT | +18.18% | 13 | 11 | +9.09% | 36 | 33 |
| HEAVY TRUCKS | -11.54% | 828 | 936 | -18.35% | 2,958 | 3,623 |
| MAVERICK | * | 8,695 | * | * | 19,245 | * |
| MUSTANG | -50.46% | 3,615 | 7,297 | -19.03% | 13,986 | 17,274 |
| MUSTANG MACH-E | -10.39% | 2,363 | 2,637 | +1.81% | 6,734 | 6,614 |
| RANGER | -43.51% | 6,276 | 11,110 | -27.01% | 17,639 | 24,166 |
| TRANSIT | -28.13% | 7,736 | 10,764 | -37.30% | 17,211 | 27,451 |
| TRANSIT CONNECT | +29.05% | 3,980 | 3,084 | -3.49% | 7,357 | 7,623 |
| FORD TOTAL | -25.65% | 151,843 | 204,231 | -16.72% | 412,984 | 495,924 |
Sales Results - March 2022 - USA - Lincoln
| MODEL | MAR 2022 / MAR 2021 | MARCH 2022 | MARCH 2021 | YTD 2022 / YTD 2021 | YTD 2022 | YTD 2021 |
| --- | --- | --- | --- | --- | --- | --- |
| AVIATOR | -28.28% | 1,816 | 2,532 | -18.39% | 4,967 | 6,086 |
| CORSAIR | -11.58% | 2,634 | 2,979 | -2.39% | 6,944 | 7,114 |
| NAUTILUS | +6.80% | 2,182 | 2,043 | -5.27% | 5,089 | 5,372 |
| NAVIGATOR | -51.59% | 853 | 1,762 | -55.55% | 2,148 | 4,832 |
| LINCOLN TOTAL | -25.19% | 7,485 | 10,005 | -24.64% | 19,148 | 25,410 |
Sales Results - March 2022 - USA - FMC Totals
| BRAND | MAR 2022 / MAR 2021 | MARCH 2022 | MARCH 2021 | YTD 2022 / YTD 2021 | YTD 2022 | YTD 2021 |
| --- | --- | --- | --- | --- | --- | --- |
| FORD TOTAL | -25.65% | 151,843 | 204,231 | -16.72% | 412,984 | 495,924 |
| LINCOLN TOTAL | -25.19% | 7,485 | 10,005 | -24.64% | 19,148 | 25,410 |
| FMC USA TOTAL | -25.63% | 159,328 | 214,236 | -17.11% | 432,132 | 521,334 |
About The Numbers
Further Reading & Sales Reporting
Running Ford Motor Company sales numbers
Ford Motor Company Q1 2022 sales reports:

Ford Motor Company sales Q1 2022 U.S.A

Ford sales Q1 2022 U.S.A. (Ford brand)
Lincoln sales Q1 2022 U.S.A.
Ford Motor Company sales January 2022 U.S.A.

Ford sales January 2022 U.S.A. (Ford brand)
Lincoln sales January 2022 U.S.A.

Ford Motor Company sales February 2022 U.S.A.

Ford sales February 2022 U.S.A. (Ford brand)
Lincoln sales February 2022 U.S.A.

Ford Motor Company sales March 2022 U.S.A. (this page)

Ford sales December 2022 U.S.A. (Ford brand)
Lincoln sales December 2022 U.S.A.

Ford Europe sales Q1 2022
Ford Motor Company Canada sales Q1 2022

Ford Canada sales Q1 2022
Lincoln Canada sales Q1 2022

Ford Motor Company Argentina sales Q1 2022
Ford Motor Company Brazil sales Q1 2022
Ford Motor Company Korea sales Q1 2022

Ford Motor Company Korea sales January 2022

Ford Korea sales January 2022
Lincoln Korea sales January 2022

Ford Motor Company Korea sales February 2022

Ford Korea sales February 2022
Lincoln Korea sales February 2022

Ford Motor Company Korea sales March 2022

Ford Korea sales March 2022
Lincoln Korea sales March 2022

Ford Motor Company Mexico sales Q1 2022
Ford Russia sales Q1 2022

Ford Russia sales January 2022
Ford Russia sales February 2022
Ford Russia sales March 2022