The Ford Bronco debuted for the 1966 model year as a direct competitor for the Jeep CJ-5, International Harvester Scout, and Toyota Land Cruiser. With a box-section body-on-frame chassis unique to the model and with a 92-inch wheelbase, it was similar in size to the CJ, Scout, and Land Cruiser. The Bronco would remain a compact sport utility through the 1977 model year.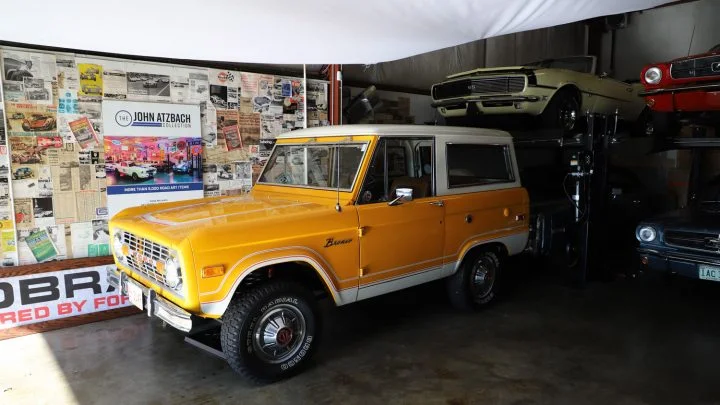 Standard power on the 1966 Ford Bronco came from a 105 horsepower, 170 cubic-inch inline six cylinder engine with solid lifters, a six-quart oil pan, oil bath air cleaner, heavy duty fuel pump, and a carb float that resisted tilting. March of 1966 saw the introduction of an optional 289 cubic-inch V8 that produced 200 horsepower, a significant gain. In 1969, the 289 grew to 302 cubes. The six cylinder was still the base engine, growing to 200 cubic-inches in 1973. A three-speed manual was the standard transmission, with an optional three-speed automatic introduced for the 1973 model year.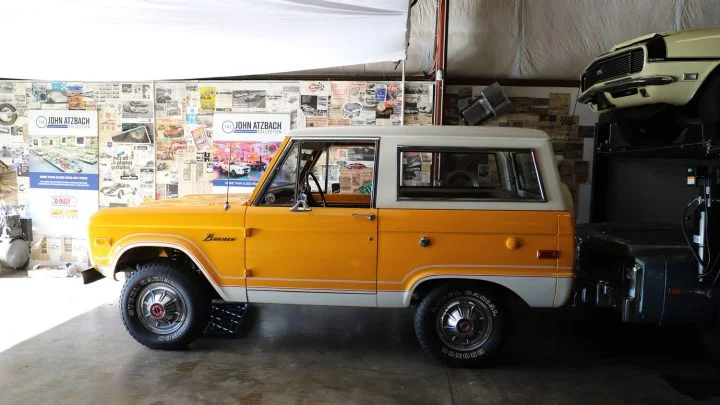 The first generation of the Ford Bronco was intended to be a basic, economic, utilitarian vehicle. All the glass was flat, door skins were symmetrical (before the addition of hardware, of course), and the bumpers were straight. It was offered in three different configurations: two-door wagon, half-cab pickup, and an open roadster. At its low base price of just $2,194, few features were included. Interestingly, there were a wide range of options available both from the manufacturer and dealers. As the Bronco was often used as a utility vehicle, it could be had with a CB radio, tow bar, an auxiliary gas tank, winch, snowplow, power take-off, or a posthole digger. Front bucket seats, a rear bench, and tachometer were also available, making the Bronco more practical for daily transportation.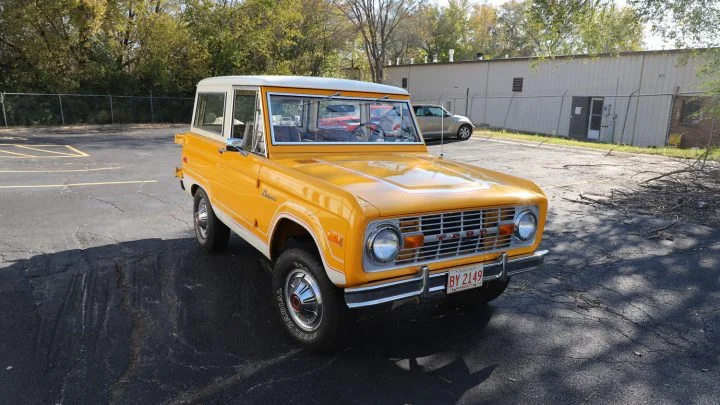 We had a chance to drive a 1975 Ford Bronco Ranger from Vernon Estes Classics, a Shelby, Bronco, and Ford performance dealer in Overland Park, KS. A highly original survivor, it wears its factory Chrome Yellow paint that is in remarkable condition. It is rust free, having spent the majority of its life in dry climes of Arizona. The body is uncut and unmolested, which is a bit of a rarity for a first generation Bronco. As one might expect, there is a bit of light road pepper on the front, but not nearly what one would expect for the 104,000 miles on the odometer (its a five digit odometer, so the first number is a zero). The chrome is exceptional, with no appreciable pitting or patina visible.
This Bronco is also well equipped, featuring the Ranger package, Cruise-O-Matic automatic transmission, rear seat, right-hand chrome mirror, reduced-sound exhaust, convenience package, AM radio, auxiliary fuel tank, skid plates, heavy duty cooling, power steering, carpeted floors, vinyl bucket seats with cloth houndstooth inserts, and dealer-installed air conditioning.
The doors of this first-gen Ford Bronco opened and closed with ease. Getting in was a bit of a step up, even for a six-foot-tall person. The steering wheel was positioned quite close to the driver. It did not smell of fuel or mildew, as is so common to vintage cars and trucks. Rather, it had the odor of 1970s upholstery and carpet.
A quick pump of the gas pedal, twist of the key, and the engine fired to life, settling into a smooth, quiet idle. The 302 cubic-inch V8 was much quieter than I expected. The column-mounted shifter easily dropped into drive, and the power steering made maneuvering the Bronco a breeze, but the first press of the pedal reminded me the brakes are unassisted. The Bronco eased up the hill out of the lot, and pulled smartly into traffic.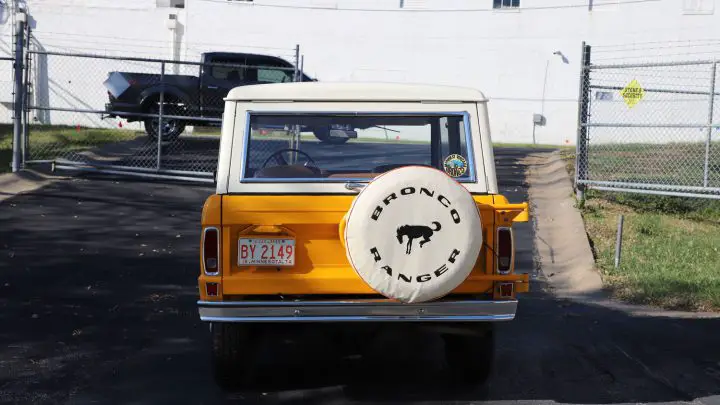 The ride on the Ford Bronco was better than I expected. I have owned several short-wheelbase four-wheel-drive vehicles, and all of them have left much to be desired in terms of ride quality. This first-gen Bronco had surprisingly good road manners. It wasn't Lincoln Navigator civilized, but it was not unpleasant and did not "porpoise" over bumps and undulations. Steering was direct and responsive, without the wandering that is so often characteristic of vehicles like this. The steering wheel did take several revolutions lock-to-lock, but that is precisely what you would want in a four-wheel-drive with a short 92-inch wheelbase. The brakes, though unassisted, did as bidden without any drama. Not overpowered, but adequately so, the 302 had decent throttle response, and the Bronco needed little prodding getting up to speed.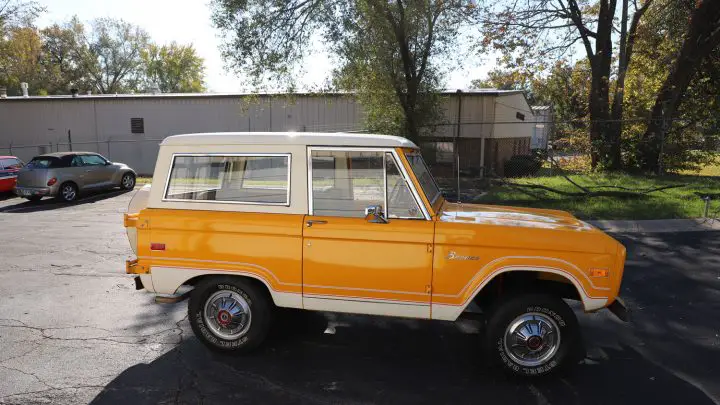 One of the things you have to get used to with vintage vehicles is the attention they attract in traffic, and this Bronco was no different. The fact that it is screaming Chrome Yellow only added to that. Shy retiring types need not apply, but if you don't mind the honks, waves, and shouts of "Nice Bronco!", this may just be your type of rig. On a bright, sunny morning in suburban Kansas City, this Bronco drew plenty of attention, waves, and admiration.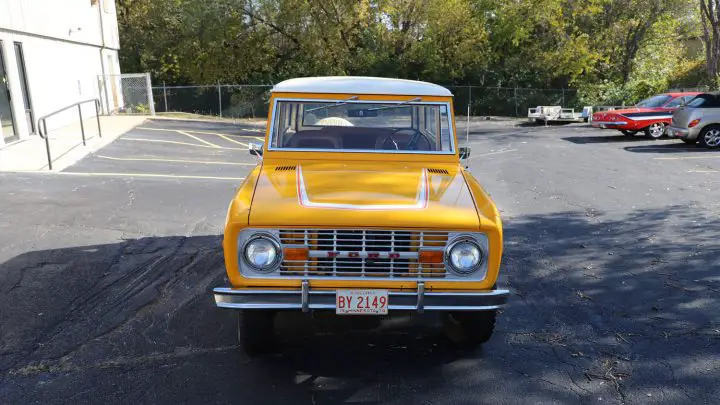 The Bronco performed so adroitly, I wanted to spend hours, or even days, with it, but the truck was already sold. Even so, I did have the privilege of piloting it around town for about 45 minutes. In that time, the Bronco never put a foot wrong, never did anything untoward, and was rather effortless to drive. When most people think of early Broncos, they probably imagine Big Oly or the Bill Stroppe Baja Broncos with the modified engines, big wheels and tires, roll bars and off-road lights, or something of along the lines of those legends. This was the antithesis, running quietly, smoothly, and comfortably. For something that was designed as a utility vehicle, this was quite polished. Mr. Estes did note that this Ford Bronco was both better equipped and drove better than any other early Bronco he has had to date.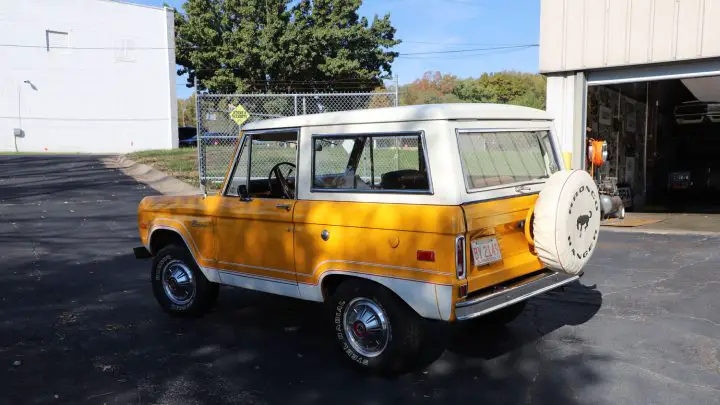 It would be easy to picture this variety of first generation Ford Bronco as a family car for those who lived in a place where a station wagon wouldn't cut it, or as a shuttle for a ski lodge, ranch, or outfitter. Its little wonder so many of them were used up or driven 'til the wheels fell off, since they were easy to drive, could be nicely equipped, and found a great balance between utility and comfort. I wish I had room in my garage for one more vintage vehicle.
Thanks to Vern Estes of Vernon Estes Classics for allowing me to drive this exceptional Ford Bronco Ranger. Visit his website for more Broncos, Shelbys, and other Ford enthusiast vehicles for sale.
Be sure and subscribe to Ford Authority for more Ford Bronco news and around-the-clock Ford news coverage.