Since the 2021 Ford Mustang Mach-E launched in the U.S. in late 2020, the electric crossover-hatch has steadily been generating a substantial amount of interest. As Ford Authority previously reported, it is on the radar of electrified vehicle shoppers, and those who already purchased the Mach-E overwhelmingly recommend it. The Blue Oval's rivals have obtained their own Mach-E units to test, as we recently caught Japanese automaker Subaru testing one, as was Ford frenemy Rivian. And now, FoMoCo's cross-town rival, General Motors, has decided to join the Mach-E evaluation party, as we spotted the automaker benchmarking the Ford EV.
Keeping in mind that we shot these photos a few months ago, when there was still snow on the ground, let's dig right in.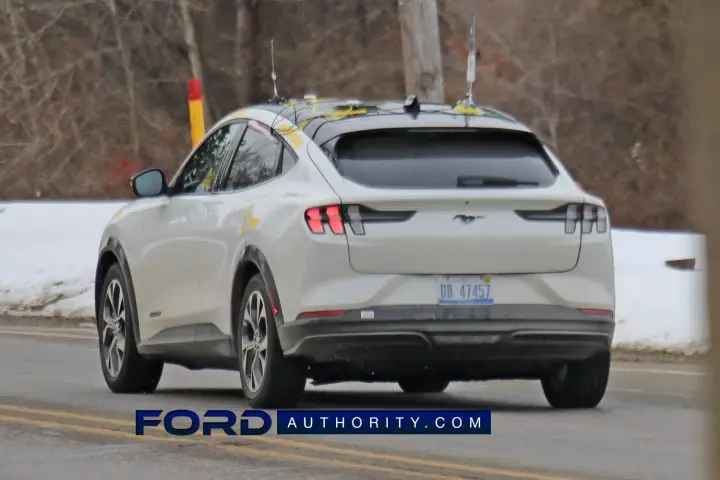 The model in question appears to be a 2021 Ford Mustang Mach-E Premium equipped with the extended-range battery. That should enable GM to drive the vehicle about 300 miles before it needs to recharge, which it can do without bursting into flames, unlike the Chevrolet Bolt range, now comprised of the Bolt EV and larger Bolt EUV. As reported by our sister publication GM Authority, 2022 Bolt production was pushed back several times as the automaker decided to sideline the recently-refreshed Bolt EV and new Bolt EUV in favor of prioritizing the manufacturing of replacement batteries needed by owners impacted by the recall, which extends to every example of the Bolt range produced by GM thus far.
In any event, there are two telltale signs that this particular Mach-E is currently in GM's hands. For starters, it was seen just outside the company's Milford Proving Grounds, and it is sporting a decal on its rear bumper that the company puts on all of the vehicles in its evaluation fleet. Beyond that, we can also see that the Mach-E is outfitted with data collection equipment affixed to its body.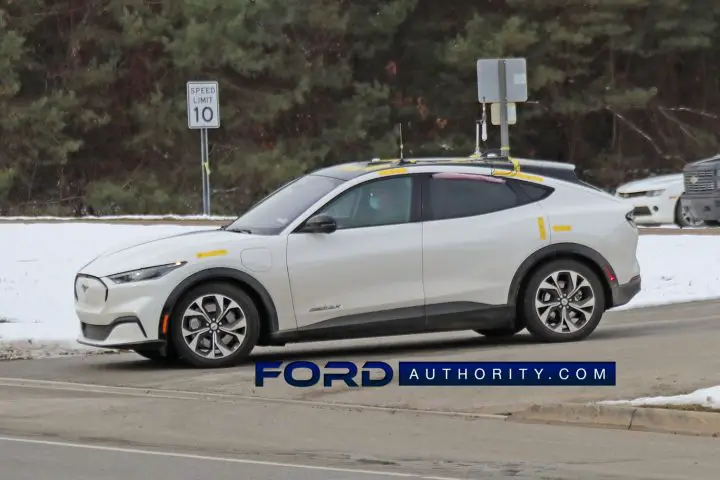 To be fair to GM, Ford has been caught benchmarking some of its products in the recent past. As previously reported by Ford Authority, The Blue Oval has been spotted evaluating the C8 Corvette, Chevrolet Tahoe Premier, and 2021 Cadillac Escalade. However, unlike the Ford Mustang Mach-E, those models are not recommended by Consumer Reports.
We'll have more on Ford's rivals soon, so subscribe to Ford Authority for the latest Ford Mustang Mach-E news and ongoing Ford news coverage.