Ford Motor Company sales fell 11 percent to 176,965 units during April 2022 in the United States. Sales decreased at both FoMoCo brands, Ford and Lincoln.
"While industry semiconductor chip shortages persist, improved inventory flow in April delivered a significant share gain of 1.0 percentage point over a year ago with Ford outperforming the industry," said Vice President, Ford Sales U.S. and Canada, Andrew Frick. "Inventory flow bolstered stronger F-Series, Mustang Mach-E, E-Transit and record April Ford brand SUV sales. We are now shipping all models of the electric F-150 Lightning," he added.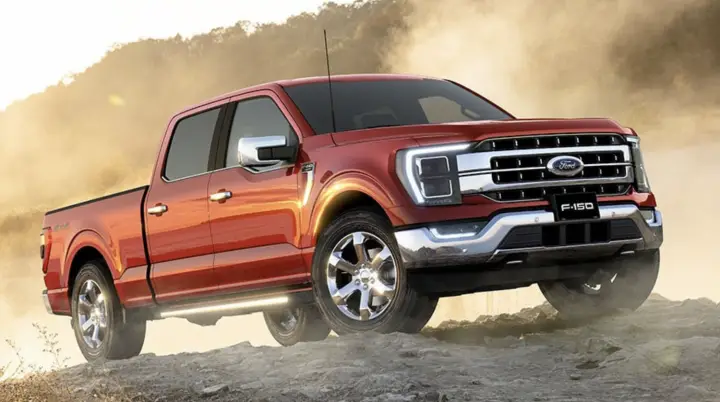 FoMoCo Sales Notes – U.S. April 2022
Total Ford Motor Company sales during April 2022 decreased 11 percent to 176,965 units

Truck sales totaled 79,768, down 17.8 percent total and down 3 percent at retail
SUV sales totaled 92,809 units, up 2.7 percent total and down 2.5 percent at retail
Electrified vehicle sales totaled 16,779 units, up 50.2 percent total and up 55.1 percent at retail

Ford U.S. market share grew 1.0 percentage point on improved April dealer inventory flow

Ford's April sales outperformed the industry with total share of 13.8 percent, while filling retail orders at record rates representing 50 percent of April's retail sales

F-Series sales increased in April, posting a gain of 14.7 percent over March on improved dealer inventory flow

Overall, Ford's truck sales grew 7.2 percent relative to March

New vehicles continue to gain momentum, with new vehicles, including Bronco, Bronco Sport, Mustang Mach-E and Maverick, were up 17.9 percent relative to March, reporting their best monthly sales yet with 39,383 vehicles sold

Ford's newest products, Mustang Mach-E, Bronco Sport, Bronco and Maverick, are currently conquesting at a rate of 70 percent
Buyers of Ford's newest vehicles are customizing them at unprecedented rates; for the first-quarter, winches and off-road lighting kits continue to be among the most popular for Bronco customers, while Maverick owners are choosing Ford lighting kits for their truck beds

Ford brand SUVs achieved a new April monthly sales record. Bronco and Bronco family (including Bronco Sport) hit their best sales results since launch

The Bronco family – Bronco and Bronco Sport – had its best sales performance since launch totaling 26,041 units in April
Customers are opting more than ever for 4X4/AWD-equipped Ford brand SUVs. Year-to-date, Ford saw record levels of 4X4/AWD equipped Ford SUVs approaching 80 percent of retail sales

Sales of Ford electric vehicles increased 139 percent over last year on the strength of Mustang Mach-E and E-Transit sales, while the first shipments of all models of the all-new F-150 Lightning are underway

E-Transit sales increased 62.3 percent over March, while Mustang Mach-E had its best monthly sales performance since it was launched, with sales up 95.0 percent over last year
Inventory & SAAR:
Ford did not provide inventory or SAAR information, representing a notable change in the details provided by Ford for its sales reporting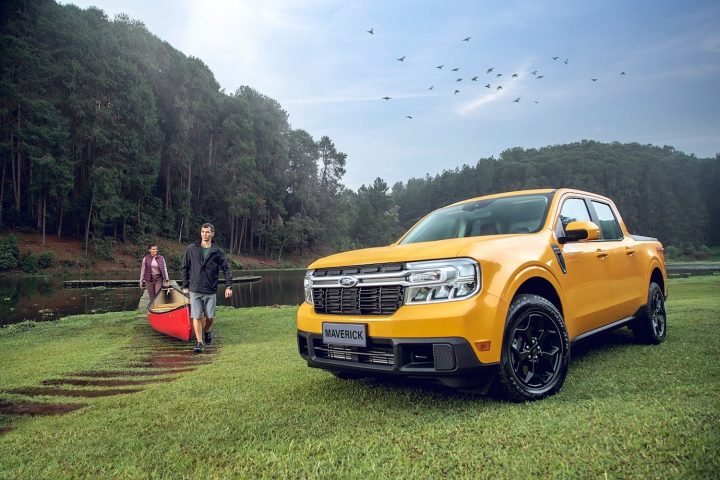 Brand & Model Sales
Ford sales decreased 10.5 percent to 167,707 units:
Lincoln sales decreased 11.6 percent to 9,258 units:
During the first four months of the 2022 calendar year, Ford Motor Company sales decreased 15.3 percent to 609,097 units.
Sales Results - April 2022 - USA - Ford
| MODEL | APR 2022 / APR 2021 | APRIL 2022 | APRIL 2021 | YTD 2022 / YTD 2021 | YTD 2022 | YTD 2021 |
| --- | --- | --- | --- | --- | --- | --- |
| BRONCO | * | 13,113 | * | * | 36,686 | * |
| BRONCO SPORT | -6.70% | 12,928 | 13,856 | +12.91% | 42,017 | 37,212 |
| E-SERIES | -29.19% | 1,805 | 2,549 | -31.37% | 9,006 | 13,122 |
| ECOSPORT | -17.61% | 4,109 | 4,987 | -29.83% | 12,535 | 17,865 |
| EDGE | +40.42% | 11,298 | 8,046 | +24.88% | 37,710 | 30,196 |
| ESCAPE | -1.14% | 15,502 | 15,680 | -2.13% | 55,464 | 56,670 |
| EXPEDITION | -77.53% | 1,995 | 8,880 | -62.39% | 11,713 | 31,143 |
| EXPLORER | -23.07% | 20,801 | 27,040 | -31.15% | 63,537 | 92,284 |
| F-SERIES | -22.30% | 51,517 | 66,302 | -28.83% | 192,218 | 270,099 |
| GT | -15.38% | 11 | 13 | +2.17% | 47 | 46 |
| HEAVY TRUCKS | -39.32% | 1,023 | 1,686 | +48.16% | 3,981 | 2,687 |
| MAVERICK | * | 9,537 | * | * | 28,782 | * |
| MUSTANG | -45.29% | 4,377 | 8,000 | -27.34% | 18,363 | 25,274 |
| MUSTANG MACH-E | +95.03% | 3,805 | 1,951 | +23.05% | 10,539 | 8,565 |
| RANGER | -60.08% | 5,110 | 12,801 | -38.46% | 22,749 | 36,967 |
| TRANSIT | -25.15% | 8,567 | 11,445 | -33.73% | 25,778 | 38,896 |
| TRANSIT CONNECT | -31.12% | 2,209 | 3,207 | -11.67% | 9,566 | 10,830 |
| FORD TOTAL | -10.48% | 167,707 | 187,345 | -15.01% | 580,691 | 683,269 |
Sales Results - April 2022 - USA - Lincoln
| MODEL | APR 2022 / APR 2021 | APRIL 2022 | APRIL 2021 | YTD 2022 / YTD 2021 | YTD 2022 | YTD 2021 |
| --- | --- | --- | --- | --- | --- | --- |
| AVIATOR | -15.54% | 2,402 | 2,844 | -17.48% | 7,369 | 8,930 |
| CORSAIR | +1.21% | 2,855 | 2,821 | -1.37% | 9,799 | 9,935 |
| NAUTILUS | +14.79% | 2,995 | 2,609 | +1.29% | 8,084 | 7,981 |
| NAVIGATOR | -39.72% | 1,006 | 1,669 | -51.48% | 3,154 | 6,501 |
| LINCOLN TOTAL | -11.56% | 9,258 | 10,468 | -20.83% | 28,406 | 35,878 |
Sales Results - April 2022 - USA - FMC Totals
| BRAND | APR 2022 / APR 2021 | APRIL 2022 | APRIL 2021 | YTD 2022 / YTD 2021 | YTD 2022 | YTD 2021 |
| --- | --- | --- | --- | --- | --- | --- |
| FORD TOTAL | -10.48% | 167,707 | 187,345 | -15.01% | 580,691 | 683,269 |
| LINCOLN TOTAL | -11.56% | 9,258 | 10,468 | -20.83% | 28,406 | 35,878 |
| FMC USA TOTAL | -10.54% | 176,965 | 197,813 | -15.30% | 609,097 | 719,147 |
About The Numbers
Further Reading & Sales Reporting
Running Ford Motor Company sales numbers
Ford Motor Company Q2 2022 sales reports:

Ford Motor Company sales Q2 2022 U.S.A

Ford sales Q2 2022 U.S.A. (Ford brand)
Lincoln sales Q2 2022 U.S.A.
Ford Motor Company sales April 2022 U.S.A. (this page)

Ford sales April 2022 U.S.A. (Ford brand)
Lincoln sales April 2022 U.S.A.

Ford Motor Company sales May 2022 U.S.A.

Ford sales May 2022 U.S.A. (Ford brand)
Lincoln sales May 2022 U.S.A.

Ford Motor Company sales June 2022 U.S.A.

Ford sales June 2022 U.S.A. (Ford brand)
Lincoln sales June 2022 U.S.A.

Ford Europe sales Q2 2022
Ford Motor Company Canada sales Q2 2022

Ford Canada sales Q2 2022
Lincoln Canada sales Q2 2022

Ford Motor Company Argentina sales Q2 2022
Ford Motor Company Brazil sales Q2 2022
Ford Motor Company Korea sales Q2 2022

Ford Motor Company Korea sales April 2022

Ford Korea sales April 2022
Lincoln Korea sales April 2022

Ford Motor Company Korea sales May 2022

Ford Korea sales May 2022
Lincoln Korea sales May 2022

Ford Motor Company Korea sales June 2022

Ford Korea sales June 2022
Lincoln Korea sales June 2022

Ford Motor Company Mexico sales Q2 2022
Ford Russia sales Q2 2022

Ford Russia sales April 2022
Ford Russia sales May 2022
Ford Russia sales June 2022