Rental car giant Hertz has a rich history of renting special-edition Blue Oval vehicles, starting with the Ford Mustang Shelby GT350-H back in the 1960s, which was the original "rent-a-racer." Just 1,000 examples of the now famous black-and-gold pony car were created, and it soon garnered quite a bit of attention for the simple fact that anyone could head down to the local lot and rent what was essentially a race car, which helped Hertz become the second-largest rental car company in America today. Several other examples have followed over the years, and now, it seems as if Hertz is on the cusp of revealing some sort of potential Ford Mustang Shelby GT350-H successor, as we can see from this teaser image.
Get ready to step behind the wheel of an American driving icon. We're revving up something big May 10. Let's go! #Hertz #HertzLetsGo #TheNewAmericanDrive #AmericanRoadTrip #EnjoyTheRide pic.twitter.com/0IO9LcHHeh

— Hertz (@Hertz) May 5, 2022
"Get ready to step behind the wheel of an American driving icon," the rental car company wrote via Twitter. "We're revving up something big May 10. Let's go!" Clearly, there's no mistaking this teaser for anything other than a Ford Mustang, as we can see the car's signature headlights, along with a heavily-vented hood that also contains hood pins with "Shelby" on them and the tuner's signature twin white stripes. It isn't black and gold, but it's certainly a pony car of some sort.
Given the presence of this particular headlight design, the hood pins, and the vented hood, it seems that this new Hertz Mustang could be based on the Shelby GT500, though that particular model does not have the additional hood vents present in this image – only the center unit. Regardless, it's a given that Hertz's version will have some unique features to set it apart from a regular Mustang, as has historically been the case.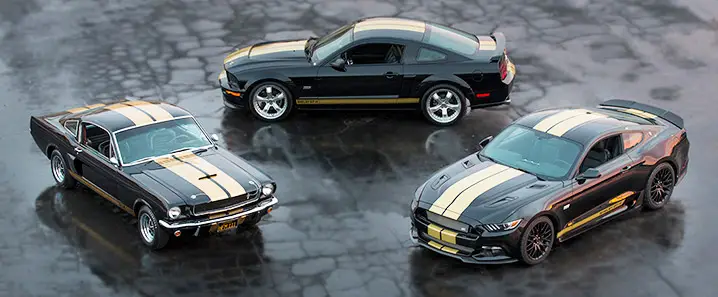 Though Hertz is beginning to dabble in EVs after placing a large order for Teslas recently, it seems that it isn't quite done with Ford's iconic pony car just yet. And with any luck, we'll be able to head down to our local lot and score a 760 horsepower rental racer for a few days at some point in the coming months.
We'll have more on this mysterious new rental racer soon, so be sure to subscribe to Ford Authority for more Ford Mustang news, Mustang Shelby GT500 news, and non-stop Ford news coverage.