Last year, Ford maintained its position in Plante Moran's North American Automotive OEM – Supplier Working Relations Index (WRI) Study, ranking fourth among all automakers for the second consecutive year. The Blue Oval has once again repeated that result by ranking fourth for the third consecutive year on this particular supplier relations study, which was just released, though its overall ranking dropped year-over-year.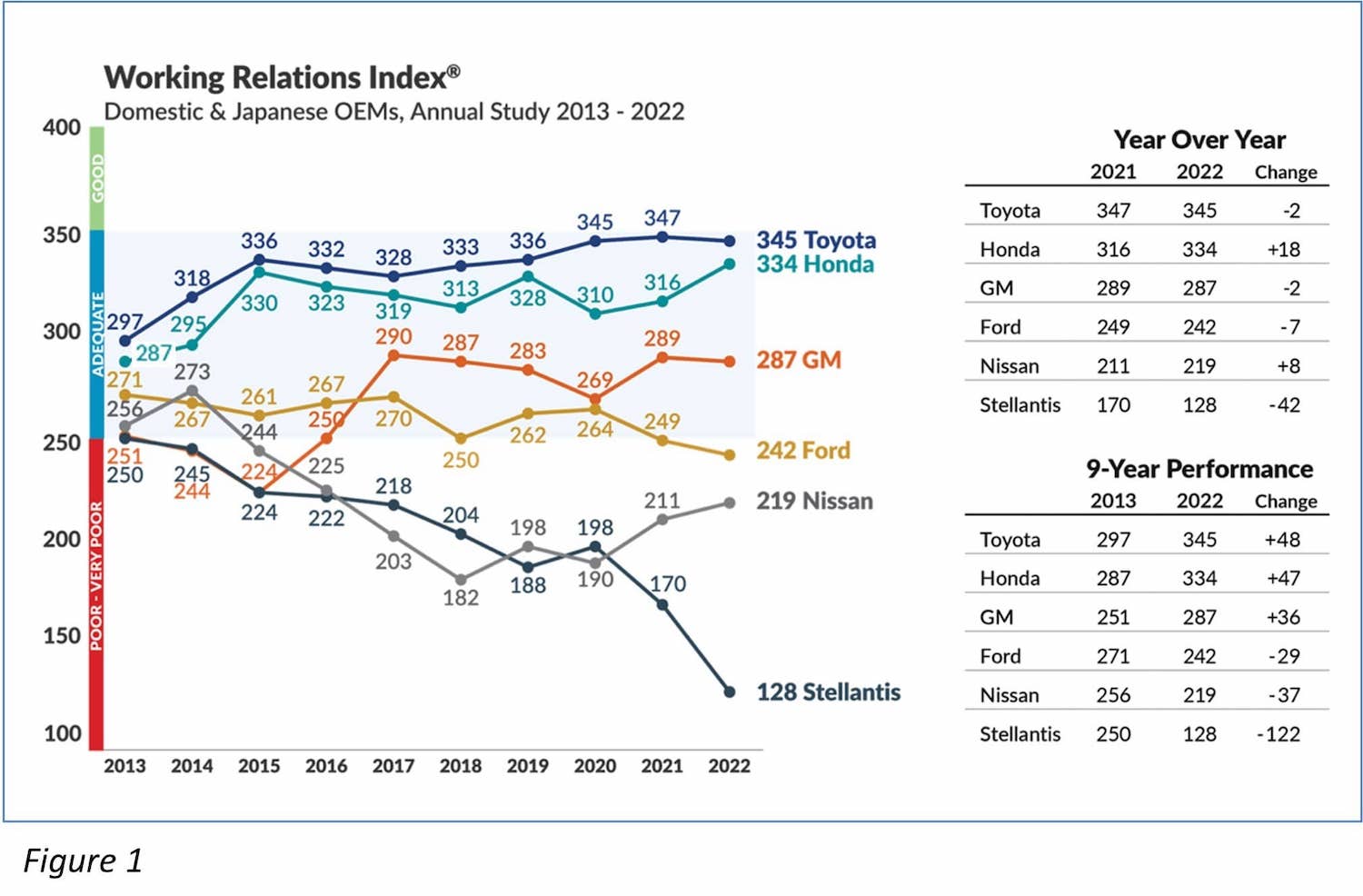 Ford scored a total of 242 points in this year's supplier relations study, a total of seven less than last year. That ranks it behind Toyota, which dropped two points to score a 345, Honda, which gained 18 points to finish with 334, and General Motors, which fell two points to score a 287. FoMoCo did manage to best fifth-place Nissan, which gained eight points to finish with 219, as well as Stellantis, which declined by a significant 42 points to finish with a score of 128.
The North American Automotive OEM-Tier 1 Supplier Working Relations Index Study polls salespeople from Tier 1 suppliers serving the top three Detroit and Japanese automakers. The study tracks supplier perceptions of working relations with their customers in which they rate them across the eight major purchasing areas broken down into 20 commodity areas. The results of the study are used to calculate the WRI, which can then be used to calculate the economic value of working relations based on a proprietary economic model.
This year proved particularly challenging for automakers amid supply chain constraints and increasing raw materials costs, but supplier relationships also tend to have an impact on quality, a problem that Ford has acknowledged recently as a major point of emphasis. As a result, quality is a big part of the automaker's reorganization plan, while Ford is also bringing in new talent to tackle that issue, including former J.D. Power Vice President Josh Halliburton as its new executive director of quality.
We'll have more automotive insights like this to share soon, so be sure and subscribe to Ford Authority for around-the-clock Ford news coverage.