The 2022 Ford F-150 Lightning entered production just last month, but a number of reservation holders were already surprised by dealer markups that drew the ire of FoMoCo itself. Regardless, the automaker maintains that the vast majority of its dealers will be selling the new EV pickup at MSRP. However, a quick internet search has turned up some truly insane markups on dealer inventory that are so high, they more than offset a reported $25k fine Ford plans to impose on dealers who sell demo models earlier than allowed.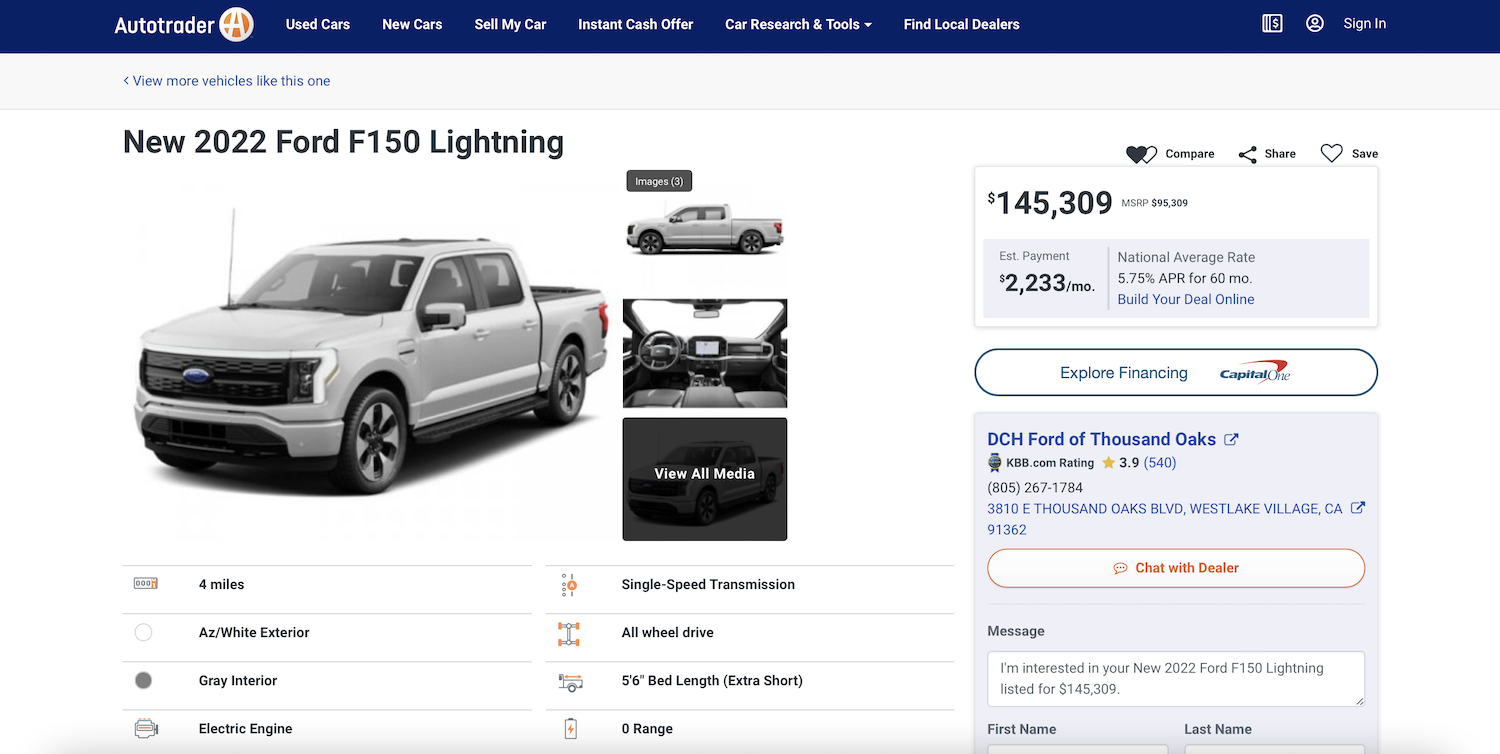 The first comes to us from DCH Ford in Thousand Oaks, California, which has a 2022 Ford F-150 Lightning Platinum listed for a whopping $145,309. The dealer didn't list the truck's MSRP on its site (unsurprisingly) but according to Autotrader, that price is $95,309. That means this particular dealer has slapped a markup of $50,000 on this particular model, which is truly eye-opening. Also notable is that Ford dealers have the option to digitally display windows tickers on their site, but this particular dealer does not.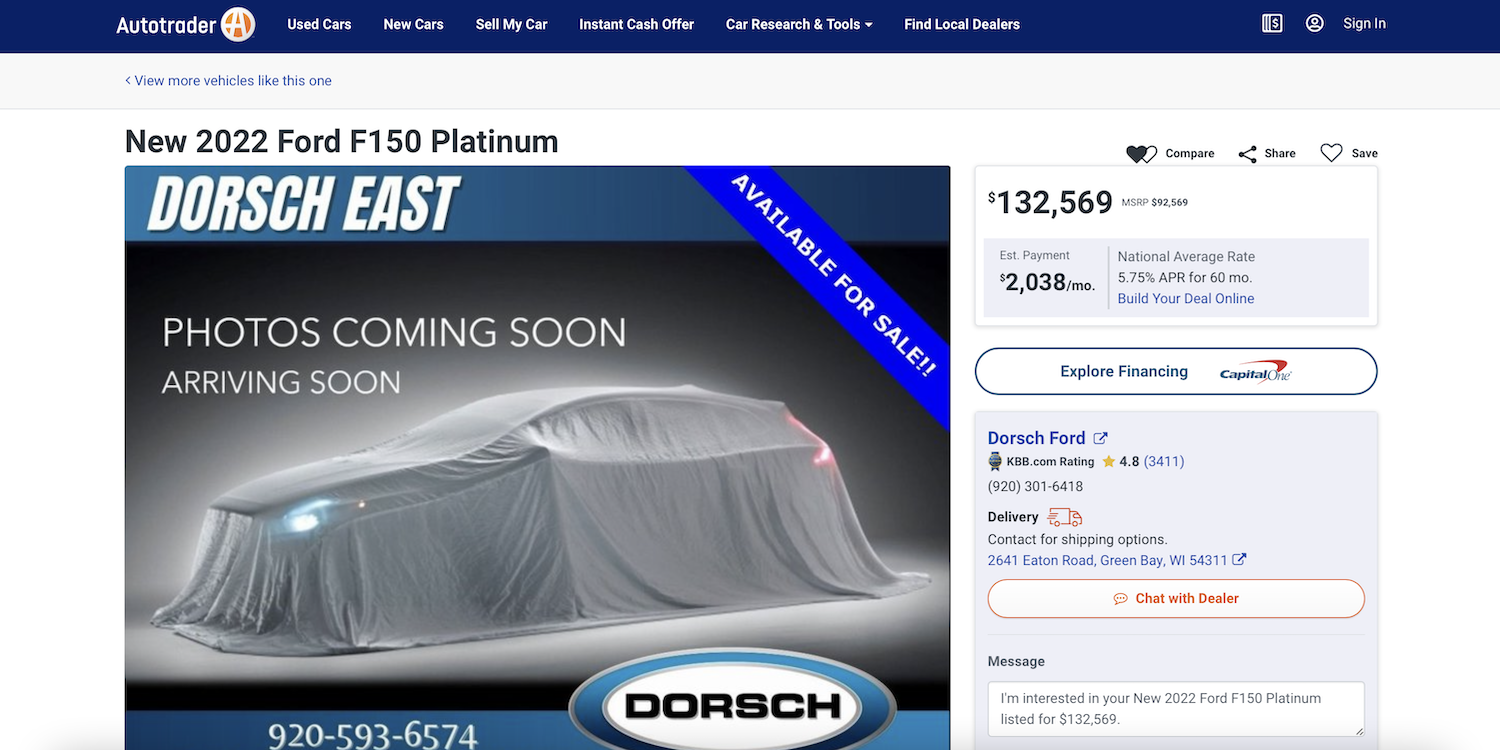 Next up, we have another 2022 Ford F-150 Lighting Platinum listed for sale at Dorsch Ford in Green Bay, Wisconsin, though there's a bit of trickery going on here. Dorsch's site lists the pickup at its sticker price of $92,569, but Autotrader notes that it's actually asking $132,569 for it – a cool $40,000 markup.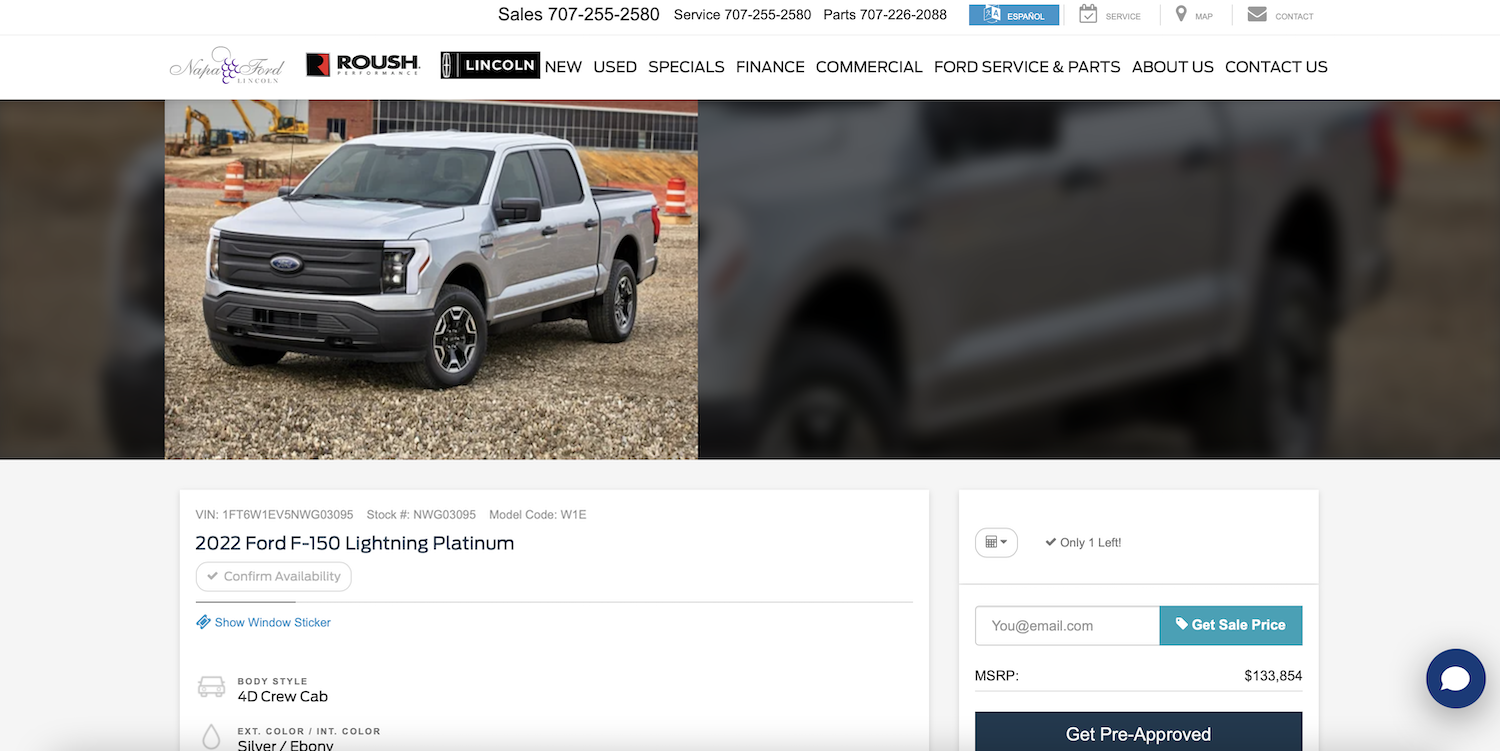 Finally, our third example of an extreme markup comes to us from Napa Ford in California, which has yet another Platinum listed for $133,854, versus a sticker price of $93,854 for a difference of – once again – $40,000.
Unfortunately, this sort of behavior has become the norm in recent months, as we saw the same thing happen with the 2021 Ford Mustang Mach-E when it launched back in the summer of 2020. Dealers are allowed to sell vehicles for whatever price they choose, though they can't advertise the F-150 Lightning for under MSRP, at least. Regardless, a lot of folks are fighting back by highlighting markup happy dealers online, while those same dealers may soon be forced to sell EVs at sticker price. Regardless, on the bright side, it seems as if the F-150 Lightning might be worth the wait and/or aggravation, as Ford Authority found out while test driving the new EV pickup recently.
We'll have more on the F-150 Lightning soon, so be sure and subscribe to Ford Authority for the latest Ford F-Series news, Ford F-150 news, F-150 Lightning news, and ongoing Ford news coverage.