Carroll Shelby was a former racing driver, chicken farmer, huckster, and the visionary behind one of the most iconic sports cars ever constructed – the Shelby Cobra. The car's beginnings were a bit like the old quip, "If we had ham, we could have ham and eggs…if we had eggs." Ol' Shel managed to convince floundering British car company AC Cars to provide him with AC Aces sans drivetrain, while simultaneously talking Ford into supplying him with its 260 cubic-inch V8 to fill the engine bay. He managed this by telling each that the other was already on board.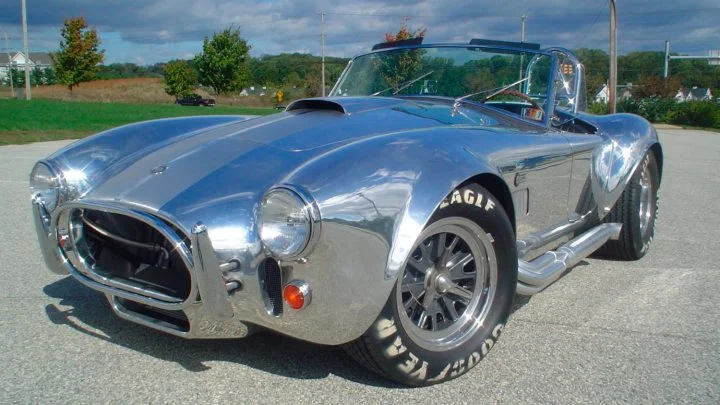 The little British roadster, with considerable modification and refinement, became a competitive force in the early-to-mid 1960s sports car racing arena. Shelby assembled an international team of hot rodders, racers, mechanics, and designers led by brilliant fabricator Phil Remington. They applied their magical brand of design and construction to the Shelby Cobra. The 260 cube mill was soon replaced with the 289, and eventually the 427 cubic-inch side oiler. Found in the Mark III Cobra, the monster 427 made 425 horsepower in street trim and 485 horsepower in S/C, or semi-competition, and competition guise. The 427 cars were ofttimes described as "scary fast."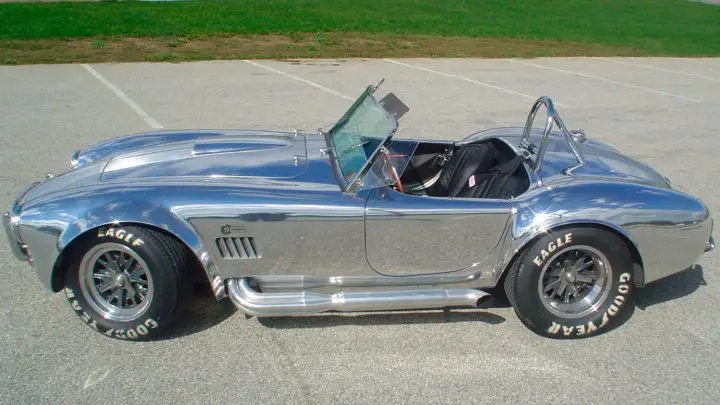 Original Shelby Cobras are now well out of reach for all but the wealthiest of collectors, with prices frequently surpassing the seven figure mark. As such, a number of companies have begun building replicas of the legendary roadster. Shelby wasn't one to let a money-making opportunity pass him by, especially one for which he was uniquely qualified, so he began building "Continuation Cars", complete with correct Shelby CSX VINs. The first version was a continuation of the 427 S/C built as the CSX4000 series. Built in Las Vegas, Nevada, the CSX4000s look much like the original cars from the 1960s, but are fitted with more refined componentry.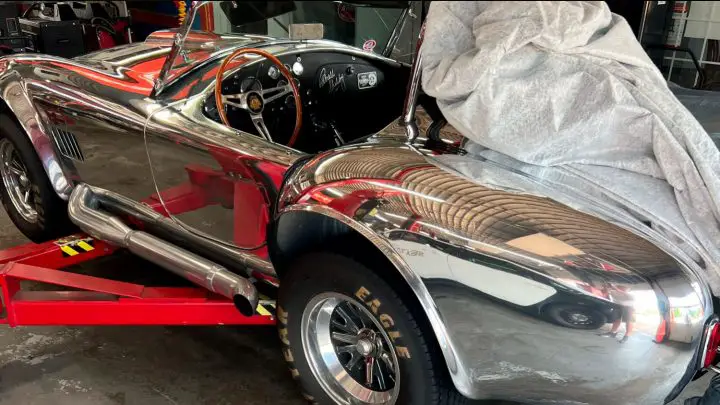 Our feature Shelby Cobra is CSX4343, the 29th of the 40th Anniversary Editions. It is one of only five to be sold with a polished aluminum body and brushed stripes. A proper chrome "paperclip" rollbar is mounted just aft of the driver's seat. Wheelwells are protected by clear film. Fifteen-inch Trigo knock-off-style wheels are safety wired, and shod in Goodyear Eagle Billboard racing tires.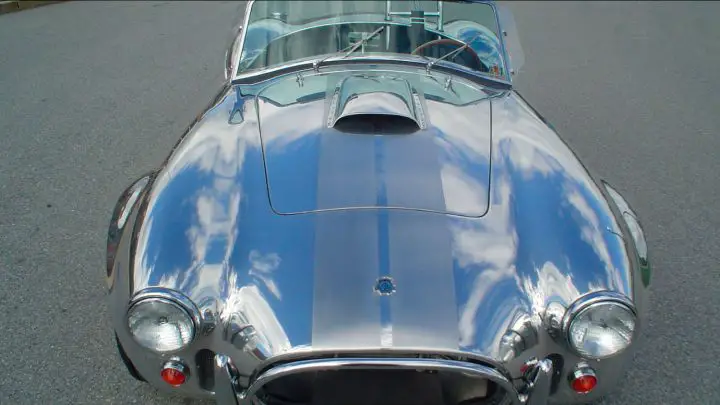 The Shelby Cobra sports a black leather interior with black carpets. Simpson racing safety harnesses ensure both driver and passenger stay put. The dash is full of gauges, all with Anniversary Edition silver faces. The iconic "reverse-wrap" speedometer is just behind the wood rimmed steering wheel on the right side, with the tach situated to the left. The glovebox door bears Carroll Shelby's unmistakable autograph. Sun visors and wind wings are constructed of fiberglass.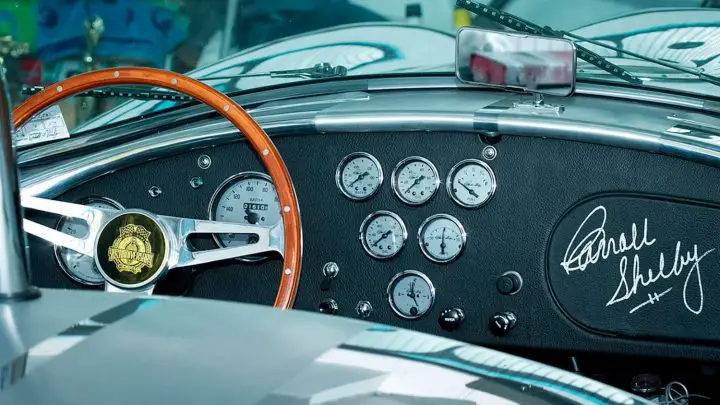 This Shelby Cobra is powered by an all aluminum Shelby 427 cubic-inch monster producing 535 horsepower and 545 pound-feet of torque, somewhat terrifying considering the car likely weighs under 2,500 pounds. The 427 is fed by a pair of Holley four-barrel carbs, exhaling side-mounted exhaust. Moving power rearward is a four-speed toploader manual transmission and a Shelby/Dana 44 rear differential.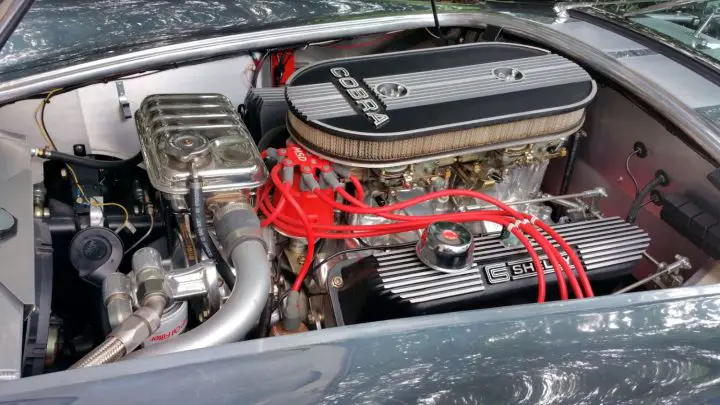 This remarkable Shelby Cobra is also listed in the Shelby Registry, and the sale includes build photos and full documentation. CSX4343 will cross the Mecum Auctions block at their Tulsa, Oklahoma sale taking place June 9th through the 11th.
Subscribe to Ford Authority for obsessive Ford news coverage.