Ford Motor Company fell 4.5 percent to 154,461 units during May 2022 in the United States. Sales decreased at both FMC brands, Ford and Lincoln.
"While the global semiconductor chip shortage remains an issue for the industry, our inventory continues to turn at record rates with nearly 50 percent of our retail sales coming from previously placed orders," said Vice President, Ford Sales U.S. and Canada, Andrew Frick. "Our newest models, including Bronco, Bronco Sport and Maverick, continue to enhance our sales volume. Our electric vehicle sales, with the addition of F-150 Lightning this month, increased 222 percent – growing at almost four times the rate of the industry," he added.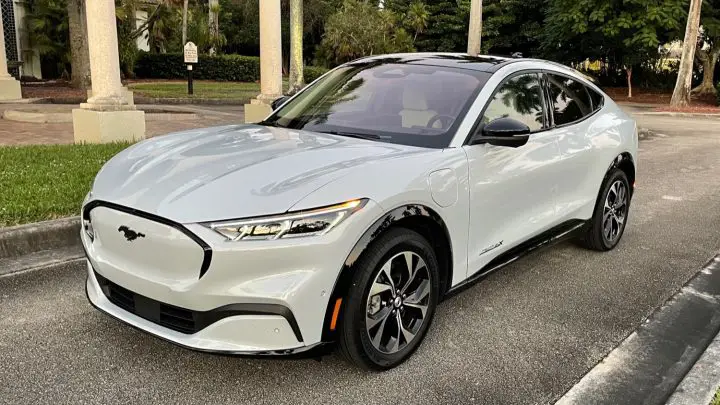 FoMoCo Sales Notes – U.S. May 2022
Sale types:
Total Ford Motor Company sales during May 2022 decreased 4.5 percent to 154,461 units

Truck sales totaled 74,595 units, down 1.4 percent total and down 7 percent at retail
SUV sales totaled 76,625 units, down 4.4 percent total and down 1.9 percent at retail
Electrified sales totaled 6,254 units, up 221.5 percent total and up 193.4 percent at retail

Ford U.S. sales outperformed the industry

Market share increases 3.5 percent over last year to 13.5 percent, despite the continued global industry semiconductor chip shortage
Gains came from battery electric vehicles, F-Series and Ford SUVs
Nearly 50 percent of retail sales were comprised of previously placed orders compared to approximately 9 percent at this time last year

F-Series was the only full-size pickup nameplate to post a gain in May over a year ago, with sales up 6.9 percent

F-Series was able to improve on its sales lead, outselling its second-place competitor by 24,300 pickups through May

Ford battery electric vehicle sales totaled 6,254 units for the month, up 222 percent over last year, while growing almost 4 times faster than the overall U.S. electric vehicle segment in May

For the month, Ford has moved into second place in U.S. electric vehicle sales behind Tesla

The Bronco family of vehicles, including Bronco and Bronco Sport, totaled 18,985 sales, representing a 27.0 percent gain over a year ago

Ford SUV customers continue to opt for a richer mix of high-level models with more content. In May, Ford SUV high-series models represented over 45 percent of retail sales, which compares to about a third of our mix last year
This has helped enhance average transaction pricing, which hit almost $45,000 in the month of May – up about $2,000 compared to April
Inventory & SAAR:
Ford did not provide inventory or SAAR information, representing a notable change in the details provided by Ford for its sales reporting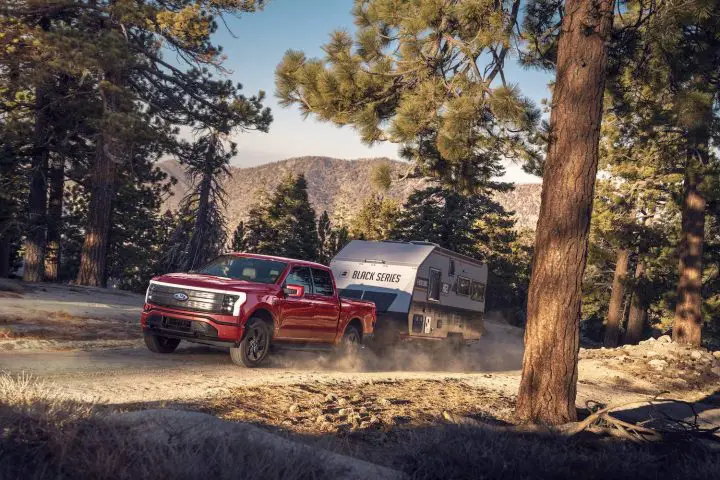 Brand & Model Sales
Ford sales decreased 4.4 percent to 146,868 units:
Lincoln sales decreased 6.8 percent to 7,593 units:
During the first five months of the 2022 calendar year, Ford Motor Company sales decreased 13.3 percent to 763,558 units.
Sales Results - May 2022 - USA - Ford
| MODEL | MAY 2022 / MAY 2021 | MAY 2022 | MAY 2021 | YTD 2022 / YTD 2021 | YTD 2022 | YTD 2021 |
| --- | --- | --- | --- | --- | --- | --- |
| BRONCO | * | 9,475 | * | * | 46,161 | * |
| BRONCO SPORT | -36.38% | 9,510 | 14,947 | -1.21% | 51,527 | 52,159 |
| E-SERIES | -44.39% | 1,160 | 2,086 | -33.15% | 10,166 | 15,208 |
| ECOSPORT | -44.46% | 2,732 | 4,919 | -32.99% | 15,267 | 22,784 |
| EDGE | +81.25% | 9,202 | 5,077 | +33.00% | 46,912 | 35,273 |
| ESCAPE | -55.40% | 8,899 | 19,951 | -16.00% | 64,363 | 76,621 |
| EXPEDITION | -50.17% | 4,441 | 8,912 | -59.67% | 16,154 | 40,055 |
| EXPLORER | +18.67% | 19,594 | 16,512 | -23.59% | 83,131 | 108,796 |
| F-SERIES | +6.90% | 49,454 | 46,260 | -23.61% | 241,672 | 316,359 |
| GT | -12.50% | 7 | 8 | 0.00% | 54 | 54 |
| HEAVY TRUCKS | -14.77% | 1,027 | 1,205 | -10.22% | 5,008 | 5,578 |
| MAVERICK | * | 6,089 | * | * | 34,871 | * |
| MUSTANG | -27.10% | 3,234 | 4,436 | -27.31% | 21,597 | 29,710 |
| MUSTANG MACH-E | +166.27% | 5,179 | 1,945 | +49.55% | 15,718 | 10,510 |
| RANGER | -58.17% | 5,983 | 14,303 | -43.96% | 28,732 | 51,270 |
| TRANSIT | -0.37% | 8,350 | 8,381 | -27.81% | 34,128 | 47,277 |
| TRANSIT CONNECT | -26.18% | 2,532 | 3,430 | -15.16% | 12,098 | 14,260 |
| FORD TOTAL | -4.37% | 146,868 | 153,582 | -13.06% | 727,559 | 836,851 |
Sales Results - May 2022 - USA - Lincoln
| MODEL | MAY 2022 / MAY 2021 | MAY 2022 | MAY 2021 | YTD 2022 / YTD 2021 | YTD 2022 | YTD 2021 |
| --- | --- | --- | --- | --- | --- | --- |
| AVIATOR | +8.10% | 2,083 | 1,927 | -12.94% | 9,452 | 10,857 |
| CORSAIR | -11.24% | 2,084 | 2,348 | -3.26% | 11,883 | 12,283 |
| NAUTILUS | +10.69% | 2,329 | 2,104 | +3.25% | 10,413 | 10,085 |
| NAVIGATOR | -26.47% | 1,097 | 1,492 | -46.82% | 4,251 | 7,993 |
| LINCOLN TOTAL | -6.75% | 7,593 | 8,143 | -18.22% | 35,999 | 44,021 |
Sales Results - May 2022 - USA - FMC Totals
| BRAND | MAY 2022 / MAY 2021 | MAY 2022 | MAY 2021 | YTD 2022 / YTD 2021 | YTD 2022 | YTD 2021 |
| --- | --- | --- | --- | --- | --- | --- |
| FORD TOTAL | -4.37% | 146,868 | 153,582 | -13.06% | 727,559 | 836,851 |
| LINCOLN TOTAL | -6.75% | 7,593 | 8,143 | -18.22% | 35,999 | 44,021 |
| FMC USA TOTAL | -4.49% | 154,461 | 161,725 | -13.32% | 763,558 | 880,872 |
About The Numbers
Further Reading & Sales Reporting
Running Ford Motor Company sales numbers
Ford Motor Company Q2 2022 sales reports:

Ford Motor Company sales Q2 2022 U.S.A

Ford sales Q2 2022 U.S.A. (Ford brand)
Lincoln sales Q2 2022 U.S.A.
Ford Motor Company sales April 2022 U.S.A.

Ford sales April 2022 U.S.A. (Ford brand)
Lincoln sales April 2022 U.S.A.

Ford Motor Company sales May 2022 U.S.A. (this page)

Ford sales May 2022 U.S.A. (Ford brand)
Lincoln sales May 2022 U.S.A.

Ford Motor Company sales June 2022 U.S.A.

Ford sales June 2022 U.S.A. (Ford brand)
Lincoln sales June 2022 U.S.A.

Ford Europe sales Q2 2022
Ford Motor Company Canada sales Q2 2022

Ford Canada sales Q2 2022
Lincoln Canada sales Q2 2022

Ford Motor Company Argentina sales Q2 2022
Ford Motor Company Brazil sales Q2 2022
Ford Motor Company Korea sales Q2 2022

Ford Motor Company Korea sales April 2022

Ford Korea sales April 2022
Lincoln Korea sales April 2022

Ford Motor Company Korea sales May 2022

Ford Korea sales May 2022
Lincoln Korea sales May 2022

Ford Motor Company Korea sales June 2022

Ford Korea sales June 2022
Lincoln Korea sales June 2022

Ford Motor Company Mexico sales Q2 2022
Ford Russia sales Q2 2022

Ford Russia sales April 2022
Ford Russia sales May 2022
Ford Russia sales June 2022