The Ford Explorer ST is the sporty, high-performance version of the regular, long-running crossover, but it isn't exactly a commonly modified vehicle. Part of that stems from the fact that there simply aren't a ton of aftermarket upgrades available for the Explorer ST, unlike more traditional performance vehicles like the Ford Mustang. Regardless, there are some modified examples out there in the wild, including this wild 700 horsepower 2020 Ford Explorer ST currently up for grabs at GR Auto Gallery.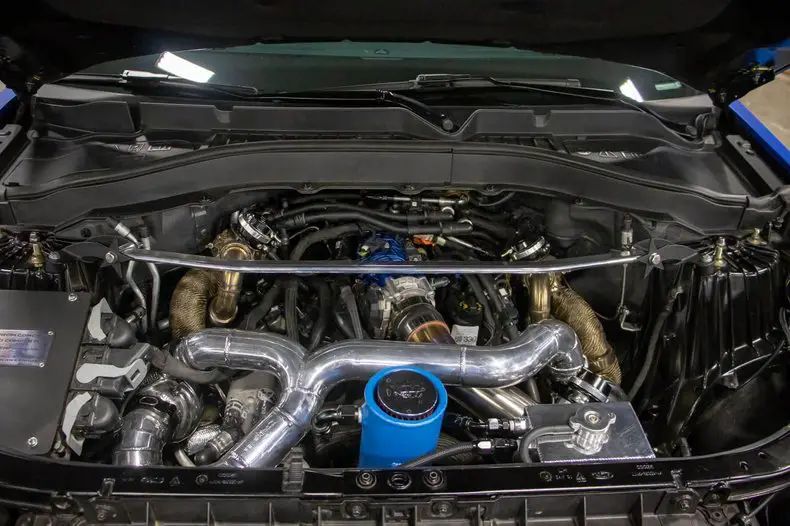 This particular 2020 Ford Explorer ST is perhaps the most heavily modified example on earth, and we aren't just talking about mechanicals. On the outside, the crossover has been treated to a matte blue wrap, Velgen Classic5 V2 wheels, and an air suspension, which helps it hug the ground. But underneath all that glitz and glamour, this is a seriously quick family hauler.
The previous owner of this wicked Explorer ST has given its twin-turbocharged Ford 3.0L V6 EcoBoost powerplant a major boost in the form of a laundry list of upgrades that includes Xona Rotor 541S turbos, bigger injectors, a FENFAB high flow air intake and charge pipes, 3″ downpipes, and a custom exhaust, which helps it make 707 horsepower at the wheels.
Behind that fortified engine lies a beefed-up Level10 transmission with a Meziere Enterprises billet flex plate and CircleD Specialties torque converter, which sends power to all four wheels, while a Rotora big brake kit helps slow it down. With a best quarter-mile time in the high 10s, the seller calls this Explorer ST the fastest of its kind, which is pretty easy to believe, until proven otherwise.
We'll have more cool builds like this to share soon, so be sure to subscribe to Ford Authority for more Ford Explorer news and around-the-clock Ford news coverage.
H/T: Ford Muscle