The Blue Oval threw us quite a surprise this evening by issuing an update to its publicly-facing website that not only shows a photo of the much-anticipated 2023 Maverick Tremor off-road package, but that also provides some details about it.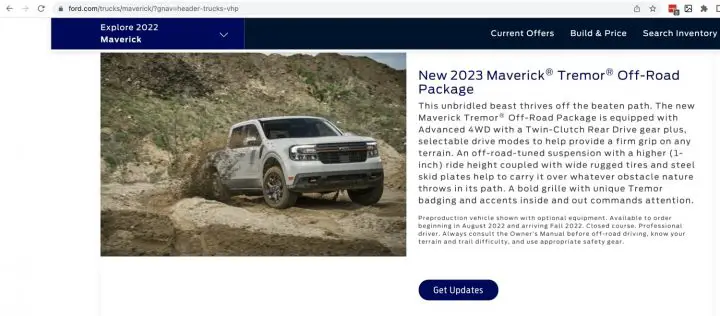 The page in question, which can be found on the primary Maverick landing page here, shows a single photo of the Maverick Tremor along with a headline that reads, "New 2023 Maverick Tremor Off-Road Package," followed by some words about the package, as follows:
"This unbridled beast thrives off the beaten path. The new Maverick Tremor Off-Road Package is equipped with Advanced 4WD with a Twin-Clutch Rear Drive gear plus, selectable drive modes to help provide a firm grip on any terrain. An off-road-tuned suspension with a higher (1-inch) ride height coupled with wide rugged tires and steel skid plates help to carry it over whatever obstacle nature throws in its path. A bold grille with unique Tremor badging and accents inside and out commands attention."
That already tells us quite a bit about the upcoming Maverick Tremor, at least as far as features are concerned. But it gets even better, as that bout of text above is accompanied by the following:
"Preproduction vehicle shown with optional equipment. Available to order beginning in August 2022 and arriving Fall 2022. Closed course. Professional driver. Always consult the Owner's Manual before off-road driving, know your terrain and trail difficulty, and use appropriate safety gear."
So, now we know that orders will open starting August, which is one month before what we had reported earlier this week.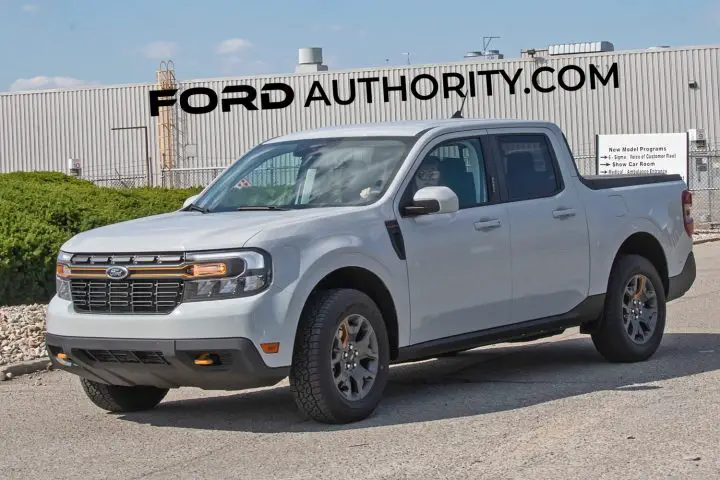 We've been eagerly awaiting the Ford Maverick Tremor, and have even caught the small pickup equipped with the off-road package completely undisguised over the past few days in not one but two different colors. Now, however, Ford has made it official on its own page. Stay glued to Ford Authority for more.