The Ford Heritage Vault – an official Blue Oval online resource full of photos, design sketches, and various other cool pieces of history – launched just a few weeks ago, but it immediately attracted so much attention that an overwhelming amount of traffic quite literally crashed the site. That problem has since been rectified, giving us a fascinating look at some lesser-known moments in Blue Oval history, including details surrounding the 2004 Ford Bronco Concept and the Transformer-like Ford Freestyle FX Concept. Now, our latest deep dive into FoMoCo's Heritage Vault brings us some very interesting information about the Ford Edge Hybrid Concept, too.
The Ford Edge Hybrid Concept utilized what the automaker called its "HySeries Drive" system, which means that it was essentially a plug-in hybrid with an onboard fuel cell that acted as a mobile charger for the vehicle's electric battery. The Edge Hybrid Concept operated in "battery only" mode for 25 miles at speeds of up to 85 miles-per-hour, and when the battery was depleted to a 40 percent state of charge, the fuel cell auxiliary power unit (APU) automatically started up and recharged the battery, giving it an additional 200 miles of range or 300 miles when equipped with a high-pressure tank.
It's a fascinating idea for certain, but one that sadly never made it to production. However, it is interesting to note that the Edge Hybrid Concept matched the all-electric Ford F-150 Lightning in two key areas – battery size and range. The crossover featured a 130 kWh battery, compared to the F-150 Lightning, which has a 131 kWh battery pack in extended range models. Interestingly, however, the Edge Hybrid Concept offered 225 total miles of range with that much battery (and no high pressure tank), compared to 230 miles for the standard range Lightning, which has a 98 kWh battery.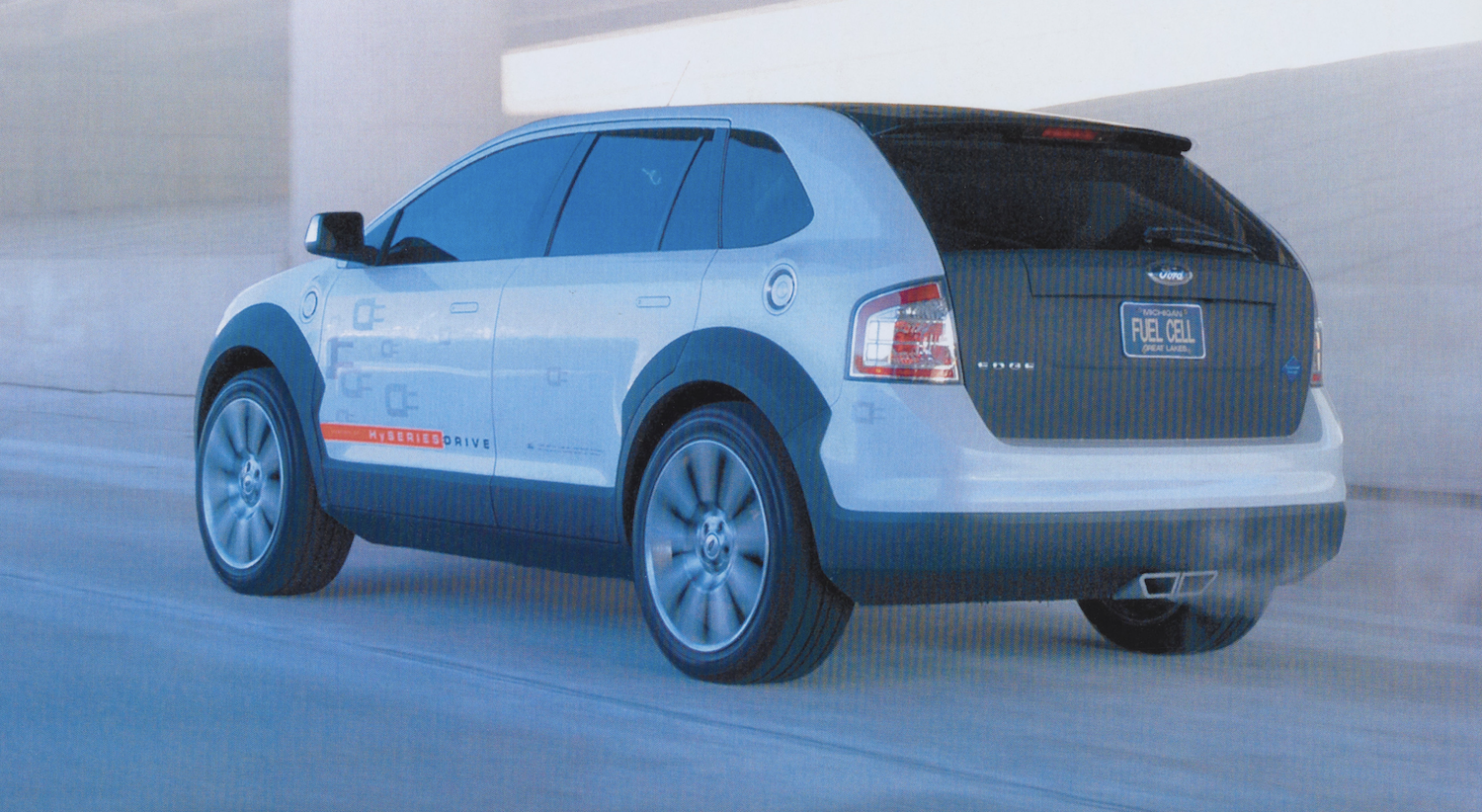 It is worth noting that the Edge Hybrid Concept was based on the first-generation model, which means that its technology is a bit old, coming from the 2000s. However, it's still an impressive vehicle and a pretty great idea, even if it never quite came to fruition. Sadly, it seemingly never will, either, at least in the Edge, as the crossover will be discontinued following the 2023 model year, though Ford will continue to build and sell its incredibly popular hybrid models for the foreseeable future. Regardless, this concept is an interesting look at what might have happened if Ford decided to pursue hydrogen technology instead of pure BEVs.
We'll have more cool concepts to share soon, so be sure and subscribe to Ford Authority for more Ford Edge news and continuous Ford news coverage.