Much ado has been made about the Pro Power Onboard generator present in the 2021 and up Ford F-150, as well as the 2022 Ford F-150 Lightning, and for good reason. In the ICE-powered version of the pickup, many have already used this particular feature to power homes and even wedding receptions, but the F-150 Lightning also adds vehicle-to-vehicle charging capability as well. Turns out, this feature works rather well, as Ford F-150 Lightning owner Emre Gol recently discovered when he helped a stranded Tesla Model 3 owner charge up enough to get home.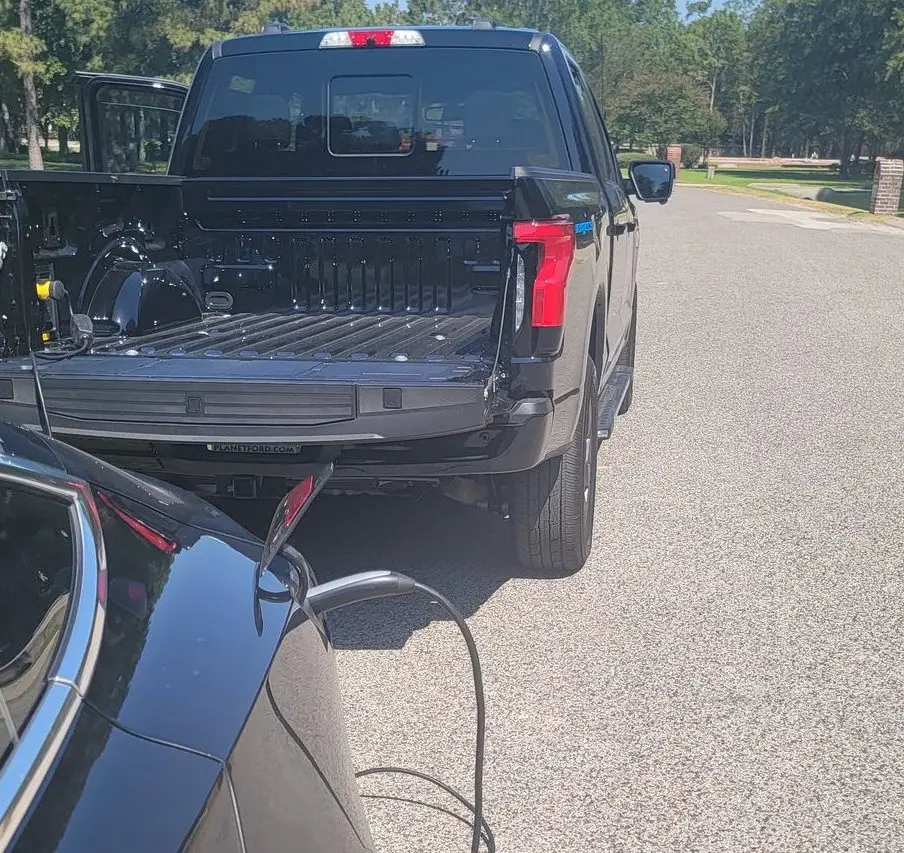 Gol has only owned his 2022 Ford F-150 Lightning Lariat – which is equipped with the extended range battery – for a few weeks now, but he was able to show off its capabilities when his neighbor's wife found herself in a bit of a dilemma – she drove her Model 3 to her parent's house only to realize that she only had 6 miles of range left upon arrival. Rather than simply plugging it into a wall outlet, Gol offered up his Lightning as a way to charge the sedan enough so that she could get home, as well as check out how it worked for himself.
"I talk about EVs with my neighbor all the time, so when they needed a charge, I thought it was a perfect opportunity to put the Pro Power Onboard vehicle-to-vehicle charging function to the test," Gol said. "And it worked great." Gol's experiment worked like a charm, as he was able to provide the Tesla with 16 miles of range in 25 minutes, which was enough for the owner to get home.
Not a gimmick people. Neighbor's wife forgot to charge her Tesla while visiting her parents. There was 6 miles left, added 16 miles in 25 minutes to get her back home from pro power on board at 32 amp. She said thanks @Ford @jimfarley98 @mrlevine pic.twitter.com/VQIvQHURaU

— Emre (@EmreTX) June 26, 2022
In addition to helping others in need of a charge, Gol also uses his F-150 Lightning as a daily driver and a work vehicle for his business, NGPlatinum Remodels, hauling various construction equipment and materials to a number of job sites across Houston, Texas, while also providing a portable power source for his tools. "Everywhere I go, once people realize it's the Lightning, everyone has questions," Gol said. "All I can say is Ford did an incredible job with this truck. You guys are going to sell every single one you can possibly make within seconds."
We'll have more on the F-150 Lightning soon, so be sure and subscribe to Ford Authority for the latest Ford F-Series news, Ford F-150 news, F-150 Lightning news, and non-stop Ford news coverage.