Ford has greatly expanded its connected vehicle services in recent years, a move that has received a warm reception from owners and critics alike. Additionally, Ford's PowerUp over-the-air software updates have already fixed some bugs, as well as added additional features and tweaked existing ones on vehicles like the Ford Mustang Mach-E. Now, some versions the EV crossover has gained yet another new feature – a frunk button – via FordPass, the automaker has announced.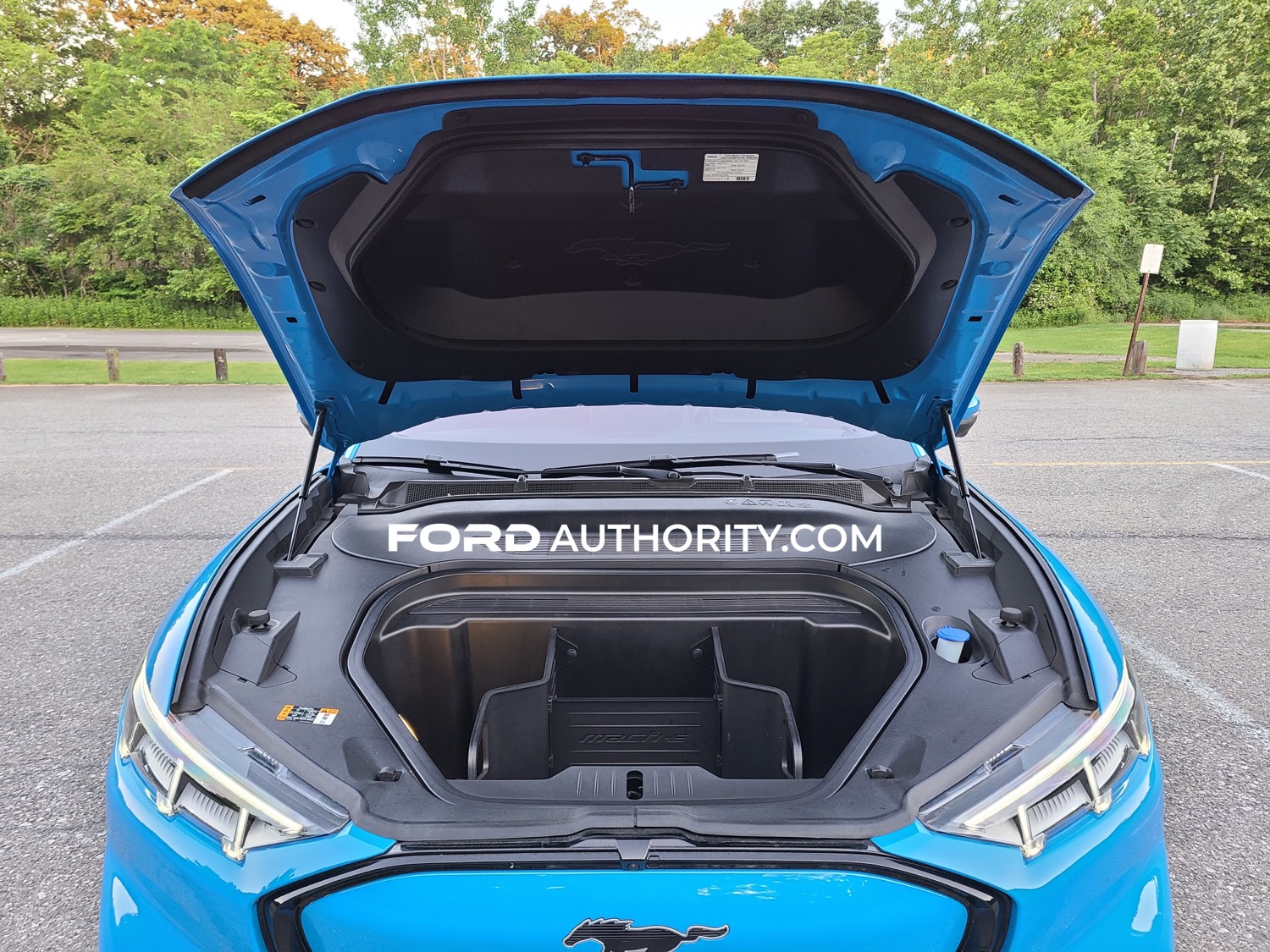 Currently, the Ford Mustang Mach-E has a lever to open the frunk located inside the cabin, but there is no physical frunk button on the front end of the vehicle. This is somewhat atypical given the fact that most crossovers and SUVs come equipped with a button near the license plate to open the rear tailgate. Now, after receiving some customer feedback on the matter, Ford has made a frunk button available for some Mach-E builds via the FordPass app, which is shown off in this fan video recently retweeted by FoMoCo CEO Jim Farley.
The Ford Mustang Mach-E has already racked up its fair share of accolades in recent months, including earning a on Consumer Reports' most satisfying vehicles list for 2022, as well as the consumer organization's list of the Most Satisfying Cars by Age Group. As Farley pointed out, the crossover's ability to get better over time is one of the more compelling cases for connected vehicle services and OTA updates, too.
The new Frunk button in FordPass was the result of customer feedback and a good example of how digital/connected vehicles can improve over time. 👍 https://t.co/B0sIpaoO7w

— Jim Farley (@jimfarley98) July 25, 2022
FordPass has also proven to be quite popular with owners in recent years, earning a 91 percent adoption rate among those owners last September, which is well above the industry average, while FordPass and Lincoln Way memberships nearly doubled over a one-year period, going from 1.3 million active users all the way up to 2.4 million. FordPass also performed well in J.D. Power's 2022 U.S. OEM EV App Benchmark Study, ranking as one of the top-performing EV apps on the market.
We'll have more on the Mach-E soon, so be sure and subscribe to Ford Authority for more Mustang Mach-E news and ongoing Ford news coverage.
Update: This article has been updated to reflect the fact that not all Mach-E units have gained the functionality.