The Ford E-Transit marked the automaker's first foray into the world of electric vans, but it certainly won't be the last. In fact, Ford recently revealed the E-Transit Custom and plans on adding even more EV vans to its lineup in the coming years, which it believes will quickly gain favor among fleet customers thanks to their lower operating costs and the promise of reduced downtime. However, a new Ford study has found that many of those fleet customers still have quite a few apprehensions about making the switch to EVs, though much of that stems from a simple lack of knowledge.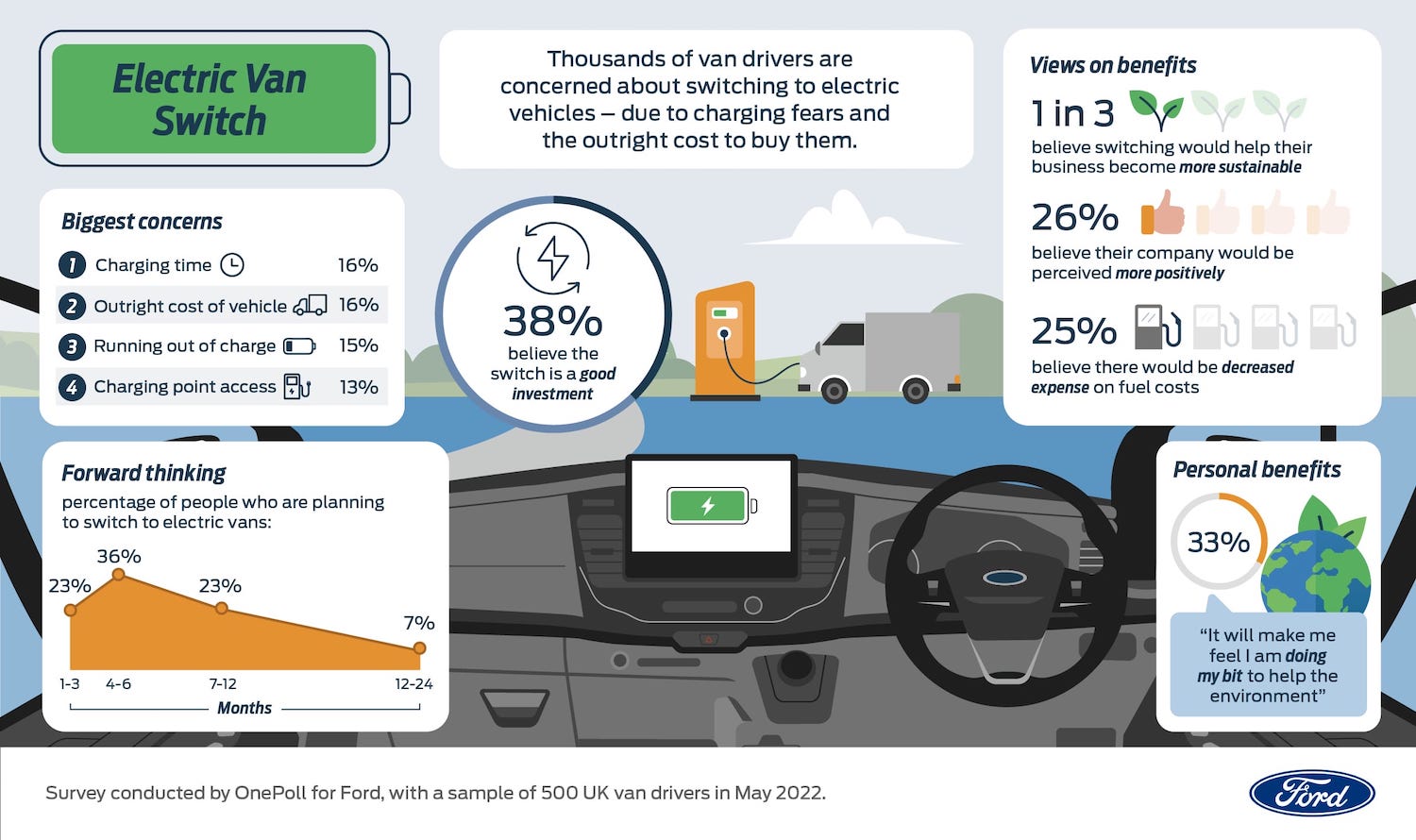 This latest Ford study conducted by OnePoll gathered data from 500 customers in the UK and found that their biggest concerns revolving around electric vans are related to charging time, the outright cost of the vehicle, running out of charge, and charging point access. However, the average range most believe an electric van can travel was a mere 70 miles – far less than the E-Transit's range of 196 miles. A total of 44 percent of those polled also thought that they don't have time to charge a vehicle, while only 52 percent believe they can charge an EV at home and 42 percent admitted they don't know how to charge such a vehicle.
Meanwhile, 71 percent of drivers were concerned about getting reimbursed for any electricity they use to charge EV vans at home, while 29 percent of businesses believe that the initial costs of converting to electric vehicles are too much of a financial burden to absorb. On the bright side, 49 percent of those polled said that they believe EVs will dominate the van segment in the UK 10 years from now, while 38 percent said they thought such a move was a smart investment, and 36 percent admitted they plan on making the switch in the next four to six months.
"With the Ford Transit being the best-selling vehicle in the UK, tackling the concerns of Britain's workforce is an important task in helping the nation go green and making the switch to electric," said Mandy Dean, Commercial Vehicle Director, Ford of Britain. "Understanding people's perceptions of electric vehicles is vital to making sure we're all on board, including within the vital commercial vehicle segment which is so important for keeping the UK's economy growing. Our research report shows while there are concerns about the switch, van drivers seem willing to embark on the journey to go green and Ford Pro has the capabilities to make the switch easier."
We'll have more insights like this to share soon, so be sure and subscribe to Ford Authority for 24/7 Ford news coverage.