J.D. Power releases its U.S. Manufacturer Website Evaluation Study, which measures customer satisfaction with automaker websites for both mass market and premium brands, on a semiannual basis. In the winter 2021 version of this study, the Lincoln website fared extremely well, ranking second in the premium segment and well above the segment average. This year, however, overall website satisfaction declined in J.D. Power's summer 2022 version of the study, a fate that befell both Ford – which scored a 711 out of 1,000 after earning a 725 last winter – and Lincoln, too, though the latter did manage to take over the top spot overall in spite of that drop.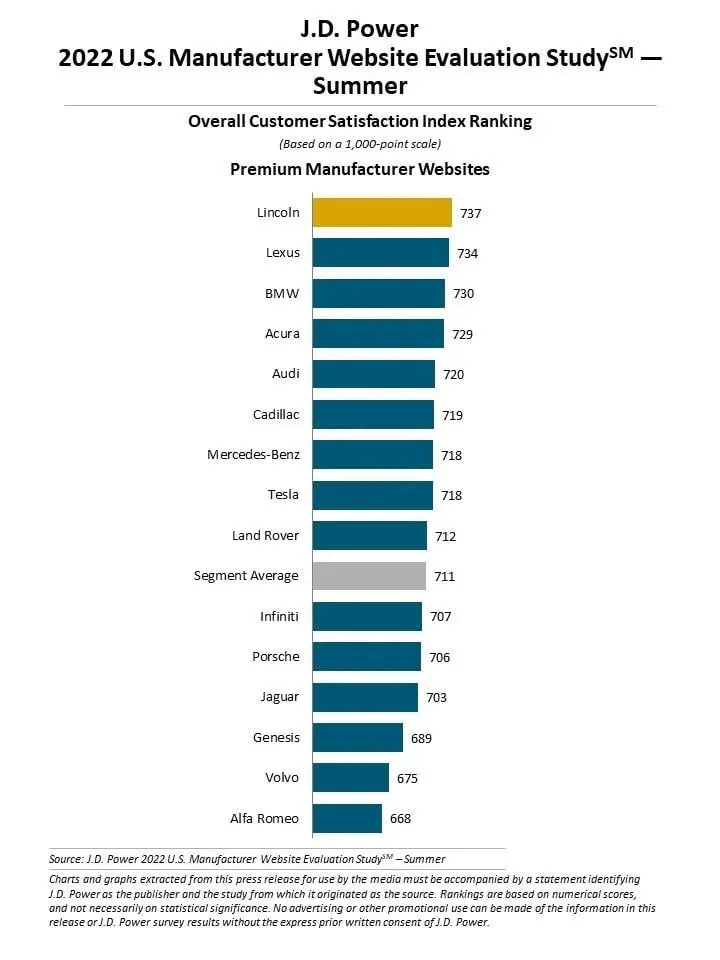 In the winter study, the Lincoln website scored a 744, which was second only to Porsche at 746 and far above the segment average of 724. In the summer study, FoMoCo's luxury arm declined to 737, but it still managed to take over first place from Porsche, which fell all the way down near the bottom of the pack with a score of 706. Lincoln beat out a number of its key rivals, including Cadillac, which ranked sixth with a score of 719, and handily beat the segment average of 711 as well.
The J.D. Power U.S. Manufacturer Website Evaluation Study is a semiannual report that measures the usefulness of automotive manufacturer websites during the process of shopping for a new vehicle by examining four key measures – information/content, visual appeal, navigation, and speed.
Overall, the premium segment's average of 711 was 13 points lower than J.D. Power's winter study – which is based on the responses of 11,398 new-vehicle shoppers who indicate they will be in the market for a new vehicle within the next 24 months.
We'll have more insights like this to share soon, so be sure and subscribe to Ford Authority for more Lincoln news and ongoing Ford news coverage.