The current-generation Ford Mustang is offered in both coupe and convertible configurations, but the range-topping Shelby GT500 doesn't get the convertible treatment and is only offered as the fastback coupe body style. Previously, Ford Authority reported exactly why the GT500 isn't offered as a convertible since it would lack the proper stiffness in the chassis and body necessary to deliver the levels of performance of the GT500. This revelation prompted us to render a Shelby GT500 Convertible to see what it would look like. But now, we have spotted a rather peculiar real-life example around Ford's campus in Dearborn.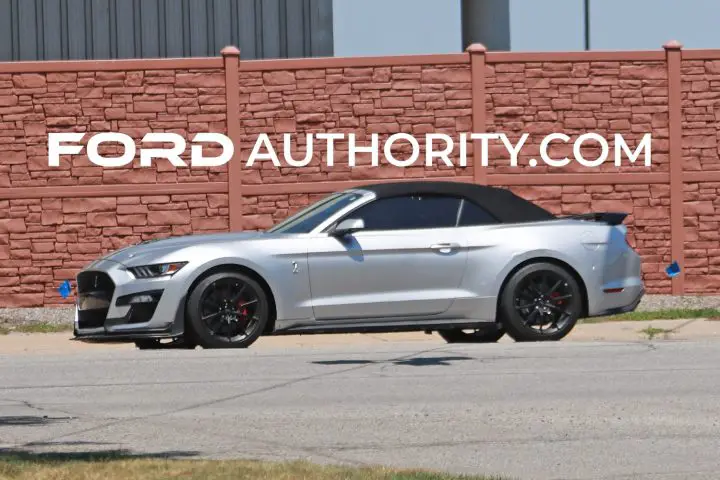 This particular Mustang wears dealer plates, and was spotted entering a Ford vehicle development facility. The vehicle is rolling on 19-inch wheels that are exclusive to the 2022 Ford Mustang EcoBoost Premium model, currently available with either the Wheel and Strip Package or the Coastal Limited Package. However, the wheels included in those packages are finished in silver with black-painted pockets instead of being completely blacked-out as we see here.
Additionally, the front fenders appear to be from the "regular" EcoBoost, GT or Mach 1 models, rather than those used on the Shelby GT500. There's also the matter of the rear spoiler, which is a blacked-out version of the spoiler offered on the Mustang GT California Special Coupe. Interestingly, the spoiler is not offered on the convertible versions of the GT California Special.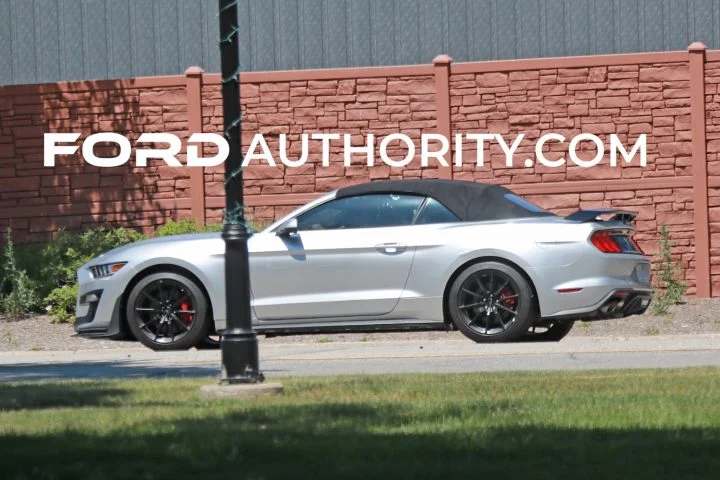 All that makes this Shelby GT500 Convertible sighting that much more perplexing, especially considering that the current S550 Mustang is on its way out and will be discontinued within roughly the next 18 months. The presence of dealer plates, however, may indicate that this vehicle is the result of someone's fun experiment, perhaps an EcoBoost Premium wearing a Shelby GT500 front end, along with the jubilee of exterior features borrowed from other Mustang models. Whatever the case, that front end unmistakably belongs to a Shelby GT500.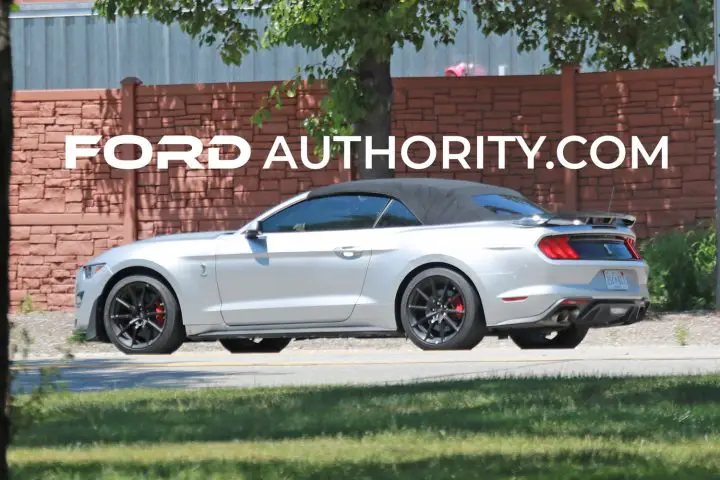 It's also interesting that the model went into a Ford vehicle development facility, making us wonder what it may be doing there.
A convertible isn't necessary to make the GT500 lineup exciting, as the supercharged pony has received several updates for the 2022 model year, including the recent Shelby GT500 Heritage Edition. It's also worth noting that order banks for the 2023 Mustang lineup, including the GT500, will open in just a few months. When that does happen, don't expect a Shelby GT500 Convertible to be part on the order sheet.
We'll have more on the Ford Mustang soon, so subscribe to Ford Authority for the latest Ford Mustang news and continuous Ford news coverage.