Ford Motor Company sales jumped 37 percent to 163,942 units during July 2022 in the United States. Sales increased at both FoMoCo brands, Ford and Lincoln.
"Ford was America's best-selling brand in July powered by strong demand across our lineup. Our overall sales rose 37 percent in July and electric vehicle sales grew at three times the rate of the EV segment," said Vice President, Ford Sales U.S. and Canada, Andrew Frick. "F-Series hit the 60,000-truck mark for the first time this year, with our all-new electric F-150 Lightning having its best sales month yet. Ford SUVs were up 70 percent, while E-Transit leads the electric van space with 95 percent of the electric van segment," he added.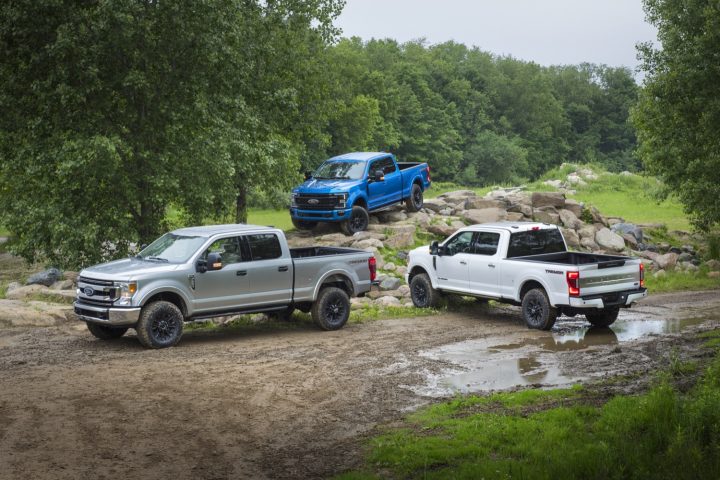 FoMoCo Sales Notes – U.S. July 2022
Sale types:
Total Ford Motor Company sales during July 2022 increased 37 percent to 163,942 units

Truck sales totaled 87,335 units, up 20.3 percent total and up 33 percent at retail
SUV sales totaled 73,234 units, up 69.9 percent total and up 81.6 percent at retail
Electrified vehicle sales totaled 7,669 units, up 7 percent total and up 147.3 percent at retail

Ford total U.S. share in July expanded to 13.9 percent as sales outperform the industry

On improved inventory flow, Ford is the only major automaker to produce sales gains for the second month in a row
Gains came from higher EV sales and share, F-Series and high-end large SUVs

Ford overall pickup sales, including F-Series, Ranger and Maverick produced total sales of 74,034 units – up 27.0 percent over a year ago

Ford's total pickup share for the month was 31.6 percent – up more than 6 percentage points over last year and the highest share of any brand in the overall pickup segment
F-Series overall truck sales hit the 60,000-unit threshold for the first time this year, expanding its sales lead over its second-place competitor to 66,691 trucks through July of this year

Ford's overall share of the electric vehicle segment is rapidly expanding

In July, Ford established 10.9 percent share of the segment – its highest level on record. This compares to 7.3 percent in Q2 and 4.4 percent in Q1 of this year
Combined, Mustang Mach-E, F-150 Lightning and E-Transit are conquesting from competitors at a rate over 60 percent this year
Ford now ranks as America's second best-selling EV brand behind just Tesla

Ford brand SUV sales increased 70 percent to 66,266 SUVs

The Bronco family of vehicles, including Bronco Sport, sales totaled 18,228 units in July – up 227 percent over a year ago

Lincoln utility vehicle sales posted a gain of 68.3 percent in July

With 6,968 Lincoln SUVs sold, July represented a record sales month for Lincoln SUVs
Lincoln's best-selling SUV, the Corsair, provided over a three-fold increase in sales volume over last year
On improved inventory flow, Navigator sales increased 32 percent and Aviator gained 71.1 percent
Inventory & SAAR:
Ford did not provide inventory or SAAR information, representing a notable change in the amount of information offered by Ford when reporting sales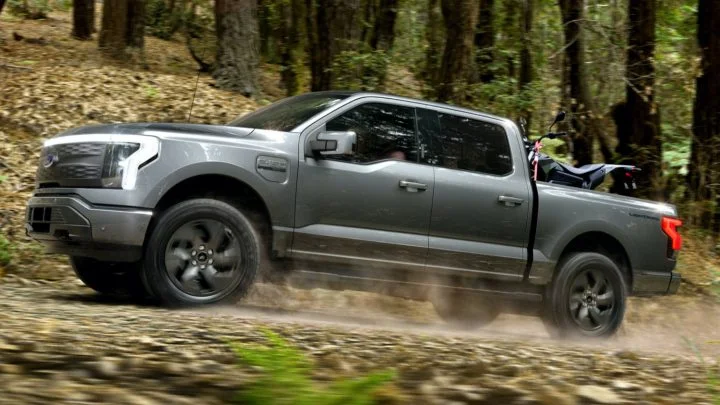 Brand & Model Sales
Ford sales increased 35.5 percent to 156,974 units:
Lincoln sales increased 64.5 percent to 6,968 units:
During the first seven months of the 2022 calendar year, Ford Motor Company sales decreased 3.3 percent to 1,079,762 units.
Sales Results - July 2022 - USA - Ford
| MODEL | JUL 2022 / JUL 2021 | JULY 2022 | JULY 2021 | YTD 2022 / YTD 2021 | YTD 2022 | YTD 2021 |
| --- | --- | --- | --- | --- | --- | --- |
| BRONCO | +224.11% | 10,621 | 3,277 | +1,505.27% | 65,463 | 4,078 |
| BRONCO SPORT | +229.92% | 7,608 | 2,306 | +5.31% | 66,157 | 62,820 |
| E-SERIES | +13.86% | 2,810 | 2,468 | -22.50% | 15,347 | 19,803 |
| ECOSPORT | -23.94% | 3,225 | 4,240 | -30.76% | 21,149 | 30,544 |
| EDGE | +59.27% | 5,334 | 3,349 | +32.98% | 56,787 | 42,704 |
| ESCAPE | +137.96% | 9,854 | 4,141 | -6.54% | 83,774 | 89,633 |
| EXPEDITION | +27.93% | 6,981 | 5,457 | -43.68% | 29,828 | 52,965 |
| EXPLORER | +32.37% | 17,673 | 13,351 | -8.36% | 120,590 | 131,592 |
| F-SERIES | +21.08% | 63,341 | 52,314 | -12.47% | 362,686 | 414,346 |
| GT | -68.42% | 6 | 19 | -21.95% | 64 | 82 |
| HEAVY TRUCKS | +6.78% | 1,213 | 1,136 | -6.71% | 7,301 | 7,826 |
| MAVERICK | * | 6,720 | * | * | 45,473 | * |
| MUSTANG | -18.36% | 3,367 | 4,124 | -17.92% | 29,611 | 36,074 |
| MUSTANG MACH-E | +74.14% | 4,970 | 2,854 | +43.06% | 22,645 | 15,829 |
| RANGER | -33.34% | 3,973 | 5,960 | -41.22% | 37,813 | 64,331 |
| TRANSIT | -16.90% | 7,466 | 8,984 | -18.79% | 49,294 | 60,697 |
| TRANSIT CONNECT | +5.84% | 1,812 | 1,712 | -14.65% | 15,919 | 18,652 |
| FORD TOTAL | +35.54% | 156,974 | 115,816 | -3.16% | 1,029,901 | 1,063,553 |
Sales Results - July 2022 - USA - Lincoln
| MODEL | JUL 2022 / JUL 2021 | JULY 2022 | JULY 2021 | YTD 2022 / YTD 2021 | YTD 2022 | YTD 2021 |
| --- | --- | --- | --- | --- | --- | --- |
| AVIATOR | +71.14% | 1,927 | 1,126 | -0.81% | 12,877 | 12,982 |
| CORSAIR | +231.39% | 1,985 | 599 | +13.59% | 16,023 | 14,106 |
| NAUTILUS | +22.81% | 1,739 | 1,416 | +5.85% | 13,594 | 12,843 |
| NAVIGATOR | +31.96% | 1,317 | 998 | -27.96% | 7,367 | 10,226 |
| LINCOLN TOTAL | +64.46% | 6,968 | 4,237 | -6.21% | 49,861 | 53,161 |
Sales Results - July 2022 - USA - FMC Totals
| BRAND | JUL 2022 / JUL 2021 | JULY 2022 | JULY 2021 | YTD 2022 / YTD 2021 | YTD 2022 | YTD 2021 |
| --- | --- | --- | --- | --- | --- | --- |
| FORD TOTAL | +35.54% | 156,974 | 115,816 | -3.16% | 1,029,901 | 1,063,553 |
| LINCOLN TOTAL | +64.46% | 6,968 | 4,237 | -6.21% | 49,861 | 53,161 |
| FMC USA TOTAL | +36.56% | 163,942 | 120,053 | -3.31% | 1,079,762 | 1,116,714 |
About The Numbers
Further Reading & Sales Reporting
Running Ford Motor Company sales numbers
Ford Motor Company Q3 2022 sales reports:

Ford Motor Company sales Q3 2022 U.S.A

Ford sales Q3 2022 U.S.A. (Ford brand)
Lincoln sales Q3 2022 U.S.A.
Ford Motor Company sales July 2022 U.S.A. (this page)

Ford sales July 2022 U.S.A. (Ford brand)
Lincoln sales July 2022 U.S.A.

Ford Motor Company sales August 2022 U.S.A.

Ford sales August 2022 U.S.A. (Ford brand)
Lincoln sales August 2022 U.S.A.

Ford Motor Company sales September 2022 U.S.A.

Ford sales September 2022 U.S.A. (Ford brand)
Lincoln sales September 2022 U.S.A.

Ford Europe sales Q3 2022
Ford Motor Company Canada sales Q3 2022

Ford Canada sales Q3 2022
Lincoln Canada sales Q3 2022

Ford Motor Company Argentina sales Q3 2022
Ford Motor Company Brazil sales Q3 2022
Ford Motor Company Korea sales Q3 2022

Ford Motor Company Korea sales July 2022

Ford Korea sales July 2022
Lincoln Korea sales July 2022

Ford Motor Company Korea sales August 2022

Ford Korea sales August 2022
Lincoln Korea sales August 2022

Ford Motor Company Korea sales September 2022

Ford Korea sales September 2022
Lincoln Korea sales September 2022

Ford Motor Company Mexico sales Q3 2022
Ford Russia sales Q3 2022

Ford Russia sales July 2022
Ford Russia sales August 2022
Ford Russia sales September 2022