Back in March, Ford Authority spies spotted a very unusual-looking Ford Mustang Shelby GT350 prototype that was equipped with a massive, odd-looking hood. Considering the fact that quite a few next-gen, S650 Mustang prototypes were seen out and about during that time, it led many to believe that this car was some sort of powertrain mule for the new pony car. Turns out, that was at least partially correct, as this particular Ford Mustang Shelby GT350 prototype is actually a testbed for the Ford 7.3L V8 Godzilla powerplant, as YouTuber REVan Evan recently discovered.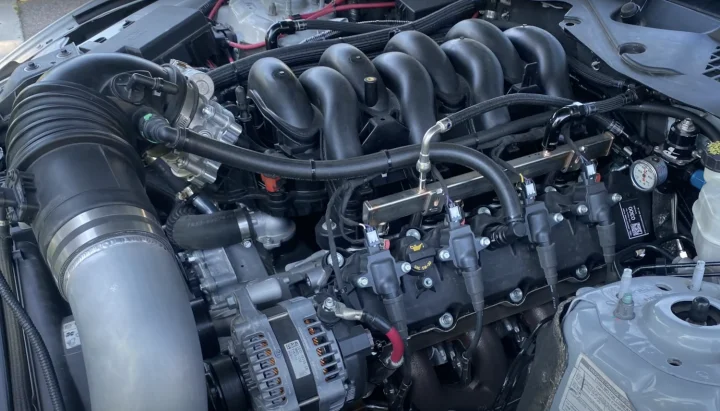 More specifically, the GT350 is a testbed for the Ford's new manual transmission control pack and engine crate combination, the former of which is set to launch later this year via the Ford Performance catalog. Ford already sells a complete Godzilla powertrain package in that same catalog that includes a control pack with a PCM and Ford Performance calibration, an electronic throttle pedal, Bullitt airbox, an 87mm Bullitt throttle body adaptor, a FEAD kit, a starter, index plate, and a production Ford Super Duty 10R140 transmission and torque converter, transmission cooler, shifter and cable assembly, and mounting hardware.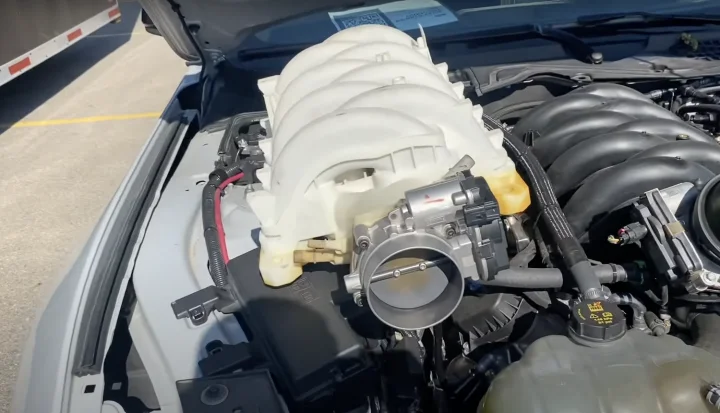 In this case, Ford used the Shelby GT350 to develop these new parts, but in reality, the 7.3 is intended to fit in any vehicle thanks to the fact that it comes as a complete package. Ford only chose to utilize this GT350 to develop its new parts because it was "laying around," for lack of a better term, but the end result is undeniably cool, if not lacking a bit in terms of forward visibility.
Those interested in swapping the Godzilla in an S550 Mustang will be interested to know that it does fit quite well and bolts right in, though as we can see here, it's a bit tall. However, the automaker is working on a new intake manifold that doesn't have the same upswept throttle neck that will make it much easier to fit in vehicles like this newer pony car.
We'll have more on the Mustang very soon, so be sure and subscribe to Ford Authority for more Ford Mustang news and ongoing Ford news coverage.