Ford pony cars are a staple of American culture. Last month, the United States Post Office (USPS) announced that it would immortalize a handful of American-built muscle cars in its latest collection of Forever stamps. The new stamps were officially released on August 25th, introducing five new designs to the ever-growing pool of Forever stamp artwork.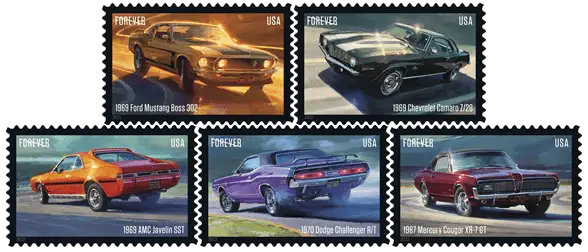 Out of the five new designs, two are muscle machines built by The Blue Oval. There's a Ford Mustang, of course, representing the pony car's iconic 1969 model year, painted in sweeping strokes of orange sunlight that contrast with the dark blue shadows. The second is a 1967 Mercury Cougar XR-7 GT, which was captured in rich, red paint and gleaming chrome. The other three stamp designs include a 1969 Chevrolet Camaro Z/28, 1969 AMC Javelin SST and 1970 Dodge Challenge R/T.
The new Forever stamp collection was formally issued at the Great American Stamp Show. "If you don't collect cars on stamps today, the Pony Cars Forever stamps will be a great way to start," said Scott English, executive director of the American Philatelic Society, in a USPS press release.
The stamps were designed and executed by a joint effort between art director Greg Breeding, designer Zach Bryant and artist Tom Fritz. Fritz painted every pony car in traditional media, using oil paint on panels to capture the spirit of each iconic machine.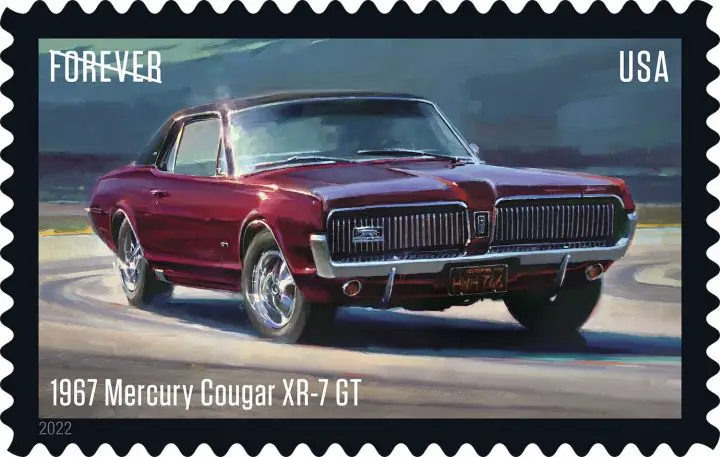 "The USPS team was incredible to work with," Fritz said. "Having had the keys thrown at me to create a second-stamp series was humbling. My challenge was to create five jewel-like, descriptive portrayals that every person who fell in love with this era can appreciate. The adventure isn't just painting the cars' details but capturing their emotion and power – cars don't just 'sit there'. They hunker down, they lurch, they shake, they shimmy and skitter. Those are the thrilling moments I look for."
The new pony car Forever stamps, which include the Mustang and Cougar artwork, can now be ordered online via the USPS website.
We'll have more on the Mustang soon, so be sure and subscribe to Ford Authority for more Ford Mustang news and non-stop Ford news coverage.