David Long, a veteran automotive technician who flies under the online moniker Car Wizard, often records very informative videos about the ailing vehicles that end up in his bay, educating owners and technicians through his expertise. In the past, he's taken viewers on a journey through the repair of a 1990 Ford 5.0L V8, which entailed extensive diagnostic procedures. He's also well-versed in the commonplace issues with the Ford 5.4L V8 Triton engine, having made several videos regarding the motor's flawed design. Now, Long has tackled a modified off-road 2010 Ford E-Series van that eight other shops refused to even look at.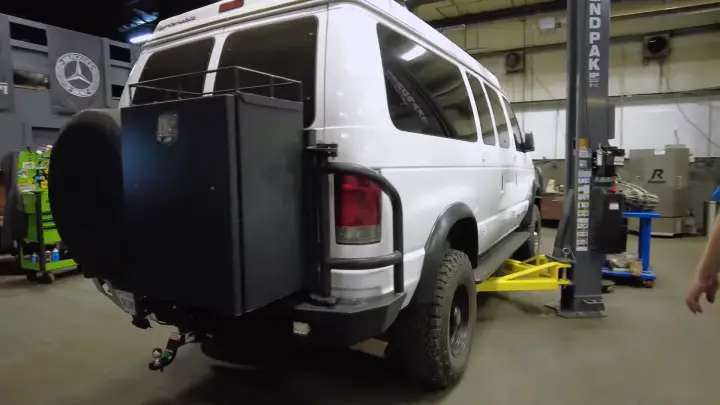 "The very fact that [techs need] a stepping stool just to look at the engine is enough to makes some shops say, 'Hell no, I'm not working on your vehicle because I'm not standing on a stepping stool all day long," Long says, referencing the modified van's height due to its off-road suspension. "It's really not that big of a deal."
The customer complained that the steering wheel felt a bit delayed, and the shops that agreed to look at it dismissed the van's problem without making any repairs. However, Long says it didn't take long to find out why, and that it had nothing to do with the steering gearbox, shaft, wheel or alignment. Long took the vehicle for a test drive, keeping a close eye on the left front wheel by sticking his head out the window, and when turning the wheel ever so slightly, he noticed that the sidewalls of the off-road tires were so tall, and that the tire was soft, that the metal part of the wheel started to turn before the tire itself turned. Off-road tires are not build for precision steering, accounting for the vague steering wheel feel.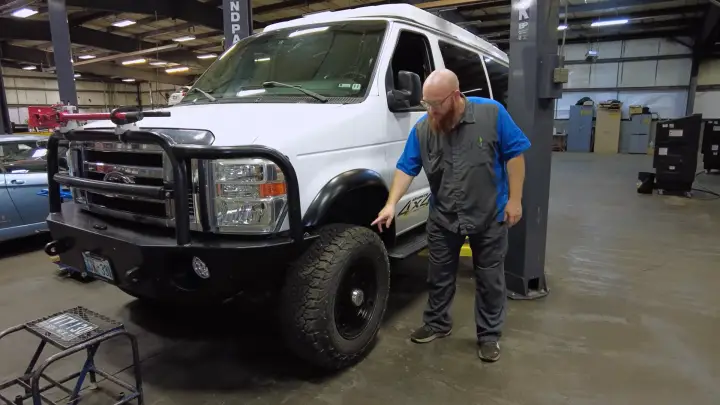 Next, the 2010 Ford E-Series presented with an exhaust leak, with a ticking exhaust noise during idle. Long explains that this is because Ford used very small stud bolts to hold the exhaust manifolds on. These studs are susceptible to corrosion, and will break easily, causing the van's small exhaust leak.
Additionally, the 2010 Ford E-Series van had a leaky transfer case, which was easily repaired despite being modified with a large adapter tube to facilitate a four-wheel drive transmission rather than the stock two-wheel drive transmission. Dropping the transfer case was easy, and the cause of the leak was a layer of black silicone that had degraded. Long simply replaced it with a paper gasket and put it back together.
"Nothing that we're doing here is hard," Long says of the work on the modified 2010 Ford E-Series van. "It's really just basic mechanics."
Want the latest on all things E-Series? Then be sure to subscribe to Ford Authority for the latest Ford E-Series news and continuous Ford news coverage.