Joey Hand wheeled the No. 40 Ford Mustang GT4 to victory in the IMSA Michelin Pilot Challenge race at Virginia International Raceway (VIR) on August 27th, 2022 after taking command with just half a lap remaining.
Hand, who co-drives the No. 40 Mustang GT with James Pesek, took the victory by a margin of a mere 0.125 seconds over second-place Billy Johnson, who was behind the wheel of the No. 59 Mustang GT4 at the time. Hand is an experienced sportscar racing driver, having scored 18 WeatherTech SportsCar Championship races at IMSA's highest level, but his path to victory was not an easy one. Braking issues threatened his lead, while Johnson's No. 59 Mustang lurked and searched for a way to take advantage.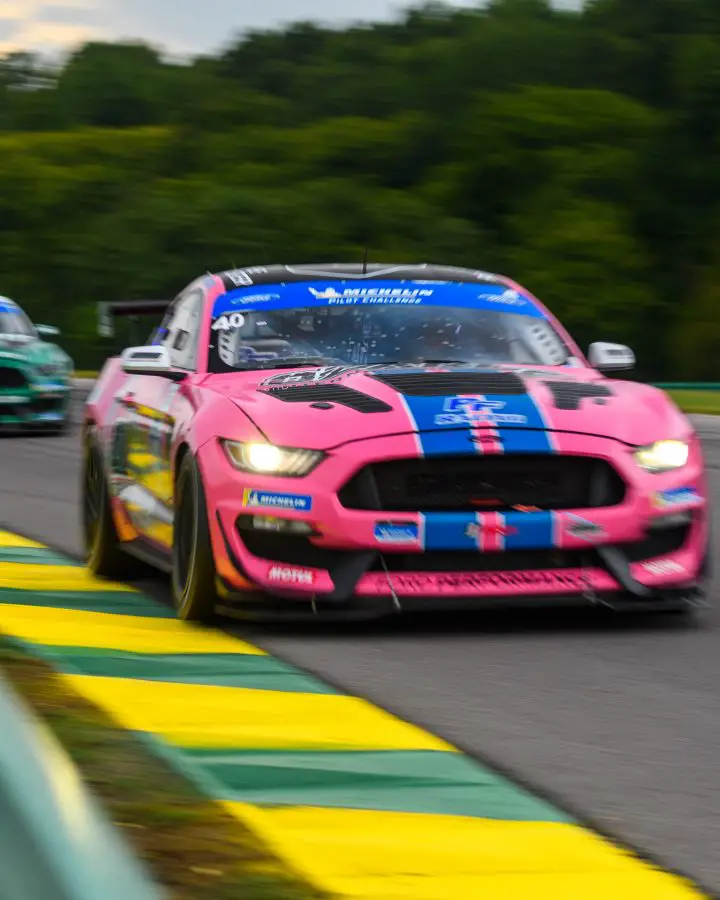 "The brake pedal was on the floor into Turn 1 and at the end of the back stretch, so I could only do moves in the infield," Hand explained. "We were running in about 10th, and I was making slow progress, but after the last restart, I was able to start getting aggressive."
Hand added that he was "pretty surprised" that his No. 40 Mustang GT4 was good enough to win at VIR. "I don't ever leave home to try not to win," he said. "We just hung on. We did kind of win on fuel mileage because some others ran out, but I'm pretty excited."
In post-race inspection, the No. 59 Mustang of Johnson and co-driver Luca Mars was penalized for not meeting maximum fuel capacity. As a result, the second-place finish was stripped from the No. 59 Mustang, and the team was scored at the rear of the GS class, placing them 32nd overall.
The penalty of the No. 59 Mustang GT4 bumped the No. 877 Mustang GT4 of Sheena Monk and Kyle Marcelli from third to second place overall, followed by the No. 64 Porsche 718 GT4 RS CS in third.
Subscribe to Ford Authority for more Ford Mustang news, Ford motorsports news, IMSA news and 24/7 Ford news coverage.