The 2022 Ford Bronco Raptor was officially revealed back in January equipped with the twin-turbocharged Ford 3.0L V6 EcoBoost engine, though The Blue Oval was initially a bit coy about how much power that familiar powerplant was making in this particular application. In fact, it was May before the automaker revealed that the 2022 Ford Bronco Raptor is rated to produce 418 horsepower and 440 pound-feet of torque – solid numbers, but a bit shy of the SUV's main competitor, the Jeep Wrangler 392, which is equipped with a 6.2-liter V8 making 470 horsepower and 470 pound-feet of torque. Regardless, SVT Performance recently strapped a Bronco Raptor on the dyno to see just how it performed, and the results are pretty interesting.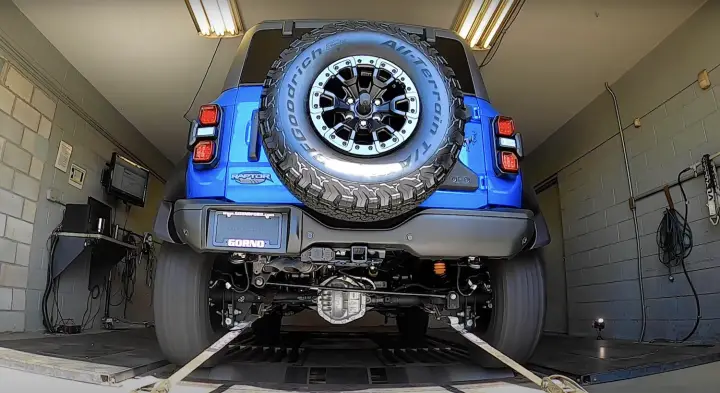 With deliveries of the Bronco Raptor just beginning, SVTP was able to secure one of the very first examples, which is an accomplishment in its own right. Right after picking it up, the team headed over to Livernois Motorsports to strap it to the dyno, though they aren't quite sure what kind of gas it has in the tank.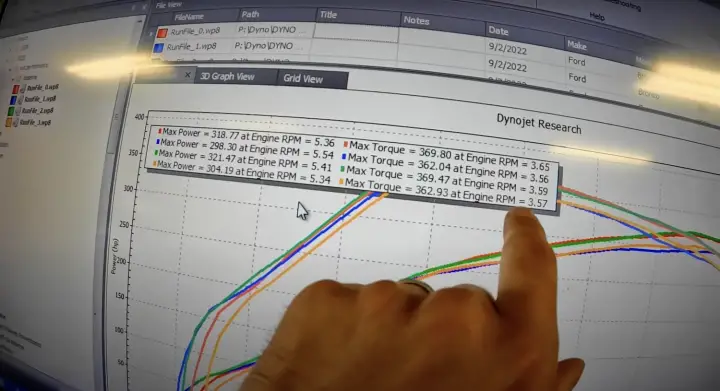 In spite of its beefy drivetrain components, massive 37-inch tires, mystery fuel, and 85-degree temps, the Bronco Raptor put down 321 horsepower and 369 pound-feet of torque, which equates to a 23 percent horsepower drivetrain loss and 16 percent in terms of torque when compared to its factory ratings. Generally, the old rule is that most vehicles lose around 15 percent of their power on the dyno due to drivetrain loss, but results can and do vary greatly from vehicle-to-vehicle.
We previously saw this in action last year when Hennessy Performance dyno-tested the all-new third-generation 2021 Ford F-150 Raptor and found that its twin-turbocharged Ford 3.5L V6 EcoBoost H.O. powerplant – factory rated at 450 horsepower and 510 pound-feet of torque – recorded 361 horsepower and 458 pound-feet of torque at the wheels, which equates to a loss of around 20 percent and 10 percent, respectively.
We'll have more on the Bronco Raptor soon, so be sure and subscribe to Ford Authority for more Ford Bronco news and ongoing Ford news coverage.