Over the last few weeks, FoMoCo has teased the all-new, next-generation S650 2024 Ford Mustang on multiple occasions, treating us to the glorious sound of the car's V8 engine, the GT's badge and trunk with some special luggage inside, its start/stop button, an interactive wake-up call, and a possible sound clip of the new Mustang GT3 racer. Now, as we're just a few hours away from the official unveiling of the 2024 Ford Mustang, The Blue Oval has given us one more teaser – this time, showing off a new pony logo.
See you tonight. Live from Detroit. #MustangStampede #FordMustang

8PM ET: https://t.co/xDcXS7rZ9R pic.twitter.com/U5EJoquQV3

— Ford Mustang (@FordMustang) September 14, 2022
It's quite easy to miss this new pony logo, because it flashes by so quickly in the video above, but it's a pretty big departure from the traditional logo we've come to know and love. In this case, we're treated to a front-facing view of the animal's head, which is surrounded by a modified horseshoe of sorts. It's a more aggressive look for certain, though it's unclear if this new logo will appear on the forthcoming 2024 Ford Mustang in any manner.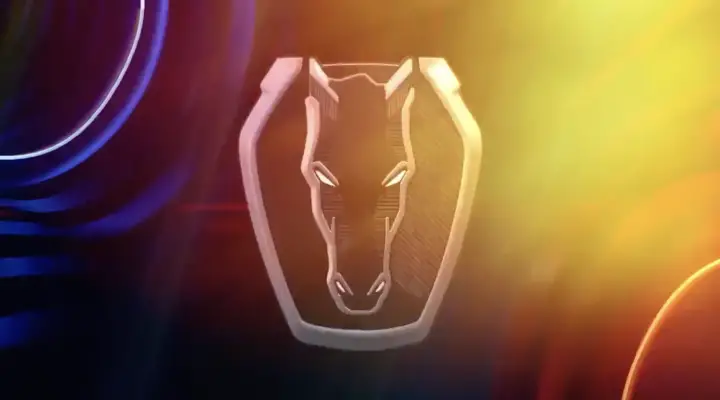 What we do know is that the 2024 Ford Mustang will look a bit different than the current S550 model, featuring fresh styling to differentiate it while also maintaining its retro pony car aesthetic. The interior is a different matter altogether, however, as Ford Authority spies recently captured the redesigned cabin on film, showing off a new digital instrument cluster, infotainment screen, flat-bottom steering wheel, and possibly Google's new Android-based operating system.
In terms of powertrains, the S650 will move forward with the familiar turbocharged 2.3L I-4 EcoBoost and naturally-aspirated 5.0L V8 Coyote engines, with around 500 horsepower for at least one V8 variant, and no hybrid, though an electrified pony car is seemingly inevitable. A manual gearbox will also still be available, meaning that the Mustang will live on for at least one more generation in the familiar form that fans have come to know and love. Those that aren't able to attend tonight's event in person can catch all the action live  here at Ford Authority by heading over here.
We'll be on hand for the 2024 Ford Mustang reveal tonight, so be sure and subscribe to Ford Authority for more Ford Mustang news and comprehensive Ford news coverage.