As Ford Authority reported nearly two years ago, a number of Ford EcoBoost powerplants are the subject of a class-action lawsuit due to an inherent defect that causes coolant to leak into the cylinders, which in turn leads to corrosion, misfires, engine failure, and fires. This problem reportedly stems from a defect in the design of the engine block and cylinder head, as well as an inadequate seal on the head, which then allows coolant to seep into the combustion chambers. These issues have also been well documented by YouTuber and Ford technician Ford Tech Makuloco, who has gone over them in great detail in regards to a customer's 2013 Ford F-150 and a 2014 Ford Escape. Now, he's back once again to go over the Ford 2.0L EcoBoost coolant issue and a fix for those experiencing it.
This time around, our resident technician has a 2017 Escape with the Ford 2.0L EcoBoost engine that's in for an engine replacement with just 106k miles on the clock. Regardless, it's consuming coolant at a high rate, thanks to a coolant intrusion issue on cylinder number three. Unfortunately for owners, this is a common problem on a host of four-cylinder EcoBoost powerplants.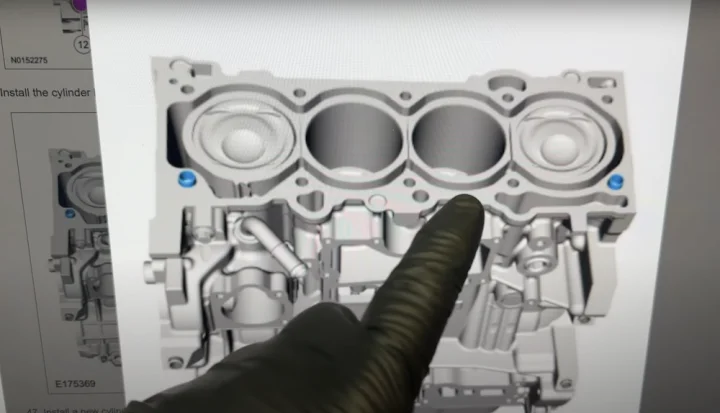 This problem boils down to the engine's open deck cooling design, which causes premature gasket failure and sometimes cracks between the cylinders. These problems don't affect the earlier versions of these engines due to their closed deck system, which was used prior to the introduction of the 2017 Escape.
Ford has acknowledged this problem, but the fix isn't a simple one – it requires a long block replacement, which is obviously a labor intensive and expensive job. It's a major headache for those that own vehicles with these defective engines, though Ford did tweak it a bit in 2020 for the crossover's redesign. Regardless, this sort of video is a great reminder for those that are in the market for a used vehicle with one of these defective engines, as they're most likely not worth the headache.
We'll have more informative videos like this to share soon, so be sure and subscribe to Ford Authority for more Ford Escape news and continuous Ford news coverage.