Ford has teamed up with a number of third-party charging networks over the past couple of years, giving Ford Mustang Mach-E owners 250 kilowatt-hours of complimentary charging at Electrify America stations starting in 2020, an offer it also extended to those that purchase a Ford F-150 Lightning recently. That same company continues to expand rapidly across the U.S. as well, adding chargers and charging stations en masse while also pledging to improve the quality of its charging experience, too. Now, Electrify America has announced a new charger-naming scheme that Ford EV owners will want to be aware of, too.
The move is designed to make it easier for Ford EV owners and those that drive all-electric vehicles from other brands to distinguish between the types of chargers out there, at least in terms of speed. The term "Ultra-Fast" will be used to distinguish 150 kW chargers from "Hyper-Fast" 350 kW units. The company is also inviting other third-party charging networks to also use those same terms to make them ever more universal and easy to understand.
"We want to help make the transition to EV charging easier by translating kilowatt ratings into simpler names like Hyper-Fast and Ultra-Fast with corresponding colors to help them make a selection at the charger," said Robert Barrosa, senior director, sales, business development and marketing of Electrify America and Electrify Canada. "As EV sales continue to grow, it's important that we continue to educate everyone on how easy public charging can be, ensuring consumer comfort with making the switch. It should not require a calculator to figure out what charger's power output may best match the capabilities of their EV."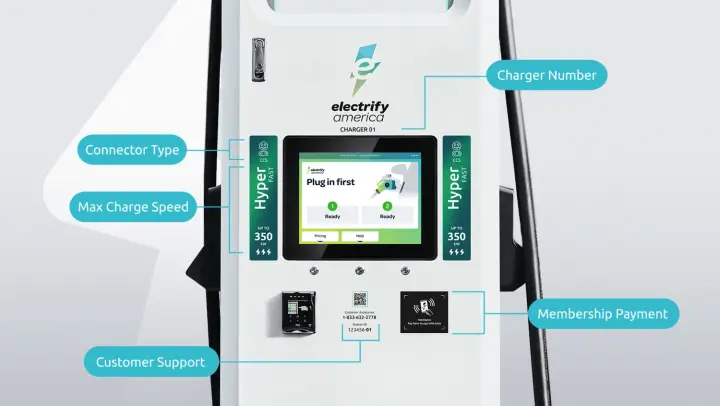 The Hyper-Fast and Ultra-Fast names will soon appear on newly redesigned labels on chargers across the Electrify America and Electrify Canada networks. After gathering input from EV owners, Electrify America also determined that the new labels will now include connector icons that match the vehicle's charging port as well as lightning bolts that signify the charger's maximum power. More lightning bolts represent higher available kilowatts and therefore, potentially faster charging speeds depending on the capability of the EV.
We'll have more on Electrify America soon, so be sure and subscribe to Ford Authority for comprehensive Ford news coverage.