Ford Motor Company sales increased 27 percent to 158,088 units during August 2022 in the United States. Sales increased at both FoMoCo brands, Ford and Lincoln.
"F-Series was America's best-selling truck, best-selling hybrid truck and best-selling electric truck with F-150 Lightning in August. Ford's overall electric vehicle portfolio expanded four-fold in August, while conquesting from competitors at a rate over 60 percent," said Vice President, Ford Sales U.S. and Canada, Andrew Frick. "The all-new electric F-150 Lightning had its best month since launch, while sales of our gas engine lineup grew 25%, electric vehicles 307% and hybrids achieved a new August sales record with 7,302 vehicles sold," he added.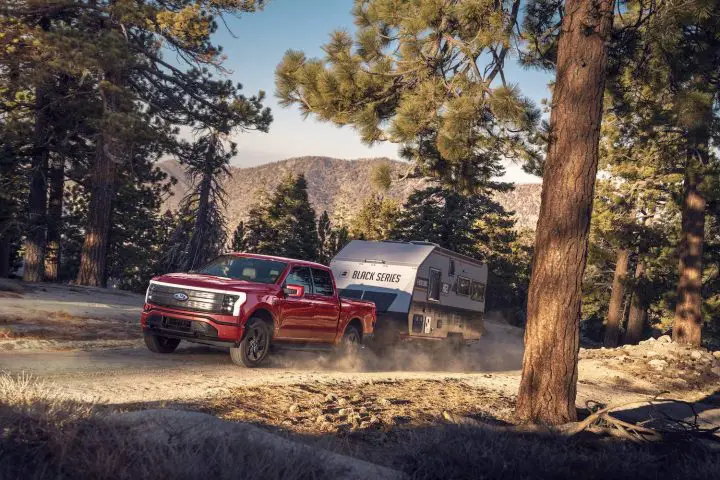 FoMoCo Sales Notes – U.S. August 2022
Sale types:
Total Ford Motor Company sales during August 2022 increased 27.3 percent to 158,088 units

Truck sales totaled 83,347 units, up 13.2 percent total and up 9 percent at retail
SUV sales totaled 71,201 units, up 47.7 percent total and up 50.9 percent at retail
Electrified sales totaled 5,897 units, up 3 percent total and up 259.0 percent at retail

Ford's total U.S. share in August grew to 13.4 percent as sales outperformed the industry

Ford is America's best-selling auto brand for the second month in a row. While sales for the overall industry were up 4.8 percent over a year ago, Ford grew at a faster pace during the month. As a result, total Ford market share increased 2.4 percentage points from August of last year to its current level.
Demand is strong – retail orders for 2023 model year vehicles totaled over 76,000 orders – up 41 percent compared to 2022 model year vehicle orders from a year ago

Ford continues as America's best-selling pickup brand, posting sales of 65,446 pickups in August – up 8.0 percent from a year ago, thanks to demand for F-Series, Ranger and Maverick. Year-to-date, Ford's overall share of the greater pickup segment increased 0.6 percentage points in August to 28.3 percent

Ford's F-Series was not only America's best-selling truck in August, but also the best-selling electric and hybrid truck.
During the first eight months of 2022, F-Series trucks expanded their sales lead over their second-place competitor to 85,411 trucks

Ford electric vehicle sales expanded four-fold over a year ago, growing almost four times faster than the EV segment and conquesting from competitors at a rate of over 60 percent

Ford now ranks as America's second bestselling EV brand behind only Tesla
Sales of Ford hybrids hit a new August sales record, with 7,302 vehicles sold – a 9.0 percent increase over a year ago. Ford's share of the hybrid vehicle segment is now 13.0 percent year-to-date – up 3.3 percentage points over last year, placing Ford second to only Toyota this year in hybrid vehicle sales

Ford brand SUVs totaled 64,808 SUVs for the month

The Ford Bronco family, including the Bronco Sport, saw August sales total 14,587 SUVs – up 54.7 percent over a year ago
With strong inventory flows, Explorer sales increased 125 percent. Sales of Ford's recently-refreshed (for the 2022 model year) Expedition increased 22.0 percent, while the Escape Hybrid saw sales increase 12.7 percent over last year

Lincoln SUV sales totaled 6,393 SUVs – up 24.9 percent over August last year

Lincoln's best-selling vehicle, the Corsair, more than doubled its sales from a year ago, with a 146 percent increase
Meanwhile, the Lincoln Aviator also more than doubled sales on improved inventory flow with 1,731 SUVs sold
Inventory & SAAR:
Ford did not provide inventory or SAAR information, representing a notable change in the details provided by Ford for its sales reporting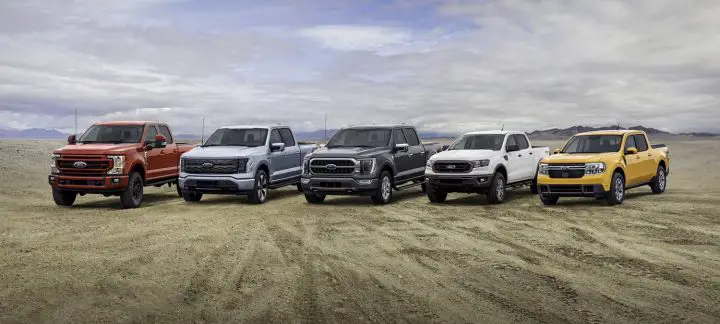 Brand & Model Sales
Ford sales increased 27.5 percent to 151,695 units:
Lincoln sales increased 24 percent to 6,393 units:
During the first eight months of the 2022 calendar year, Ford Motor Company sales decreased 0.2 percent to 1,237,850 units.
Sales Results - August 2022 - USA - Ford
| MODEL | AUG 2022 / AUG 2021 | AUGUST 2022 | AUGUST 2021 | YTD 2022 / YTD 2021 | YTD 2022 | YTD 2021 |
| --- | --- | --- | --- | --- | --- | --- |
| BRONCO | +267.47% | 10,032 | 2,730 | +1,008.92% | 75,495 | 6,808 |
| BRONCO SPORT | -31.99% | 4,555 | 6,698 | +1.72% | 70,712 | 69,518 |
| E-SERIES | +15.74% | 3,978 | 3,437 | -16.85% | 19,325 | 23,240 |
| E-TRANSIT | * | 404 | * | * | 3,938 | * |
| ECOSPORT | +36.04% | 2,929 | 2,153 | -26.36% | 24,078 | 32,697 |
| EDGE | -3.98% | 5,290 | 5,509 | +28.76% | 62,077 | 48,213 |
| ESCAPE | +24.08% | 13,272 | 10,696 | -3.27% | 97,046 | 100,329 |
| EXPEDITION | +22.02% | 6,534 | 5,355 | -37.65% | 36,362 | 58,320 |
| EXPLORER | +124.69% | 19,076 | 8,490 | -0.30% | 139,666 | 140,082 |
| F-150 LIGHTNING | * | 2,373 | * | * | 6,842 | * |
| F-SERIES | -2.46% | 55,910 | 57,321 | -12.20% | 414,127 | 471,667 |
| GT | -36.36% | 7 | 11 | -23.66% | 71 | 93 |
| HEAVY TRUCKS | +23.17% | 1,026 | 833 | -3.83% | 8,327 | 8,659 |
| MAVERICK | * | 3,175 | * | * | 48,648 | * |
| MUSTANG | +56.12% | 3,533 | 2,263 | -13.55% | 33,144 | 38,337 |
| MUSTANG MACH-E | +115.47% | 3,120 | 1,448 | +49.13% | 25,765 | 17,277 |
| RANGER | +21.92% | 3,988 | 3,271 | -38.17% | 41,801 | 67,602 |
| TRANSIT | +20.37% | 9,826 | 8,163 | -19.28% | 55,586 | 68,860 |
| TRANSIT CONNECT | +355.90% | 2,667 | 585 | -3.38% | 18,586 | 19,237 |
| FORD TOTAL | +27.45% | 151,695 | 119,022 | -0.08% | 1,181,596 | 1,182,575 |
Sales Results - August 2022 - USA - Lincoln
| MODEL | AUG 2022 / AUG 2021 | AUGUST 2022 | AUGUST 2021 | YTD 2022 / YTD 2021 | YTD 2022 | YTD 2021 |
| --- | --- | --- | --- | --- | --- | --- |
| AVIATOR | +125.98% | 1,731 | 766 | +6.26% | 14,608 | 13,748 |
| CORSAIR | +146.33% | 2,116 | 859 | +21.21% | 18,139 | 14,965 |
| NAUTILUS | -34.57% | 1,745 | 2,667 | -1.10% | 15,339 | 15,510 |
| NAVIGATOR | -3.03% | 801 | 826 | -26.09% | 8,168 | 11,052 |
| LINCOLN TOTAL | +24.04% | 6,393 | 5,154 | -3.53% | 56,254 | 58,315 |
Sales Results - August 2022 - USA - FMC Totals
| BRAND | AUG 2022 / AUG 2021 | AUGUST 2022 | AUGUST 2021 | YTD 2022 / YTD 2021 | YTD 2022 | YTD 2021 |
| --- | --- | --- | --- | --- | --- | --- |
| FORD TOTAL | +27.45% | 151,695 | 119,022 | -0.08% | 1,181,596 | 1,182,575 |
| LINCOLN TOTAL | +24.04% | 6,393 | 5,154 | -3.53% | 56,254 | 58,315 |
| FMC USA TOTAL | +27.31% | 158,088 | 124,176 | -0.24% | 1,237,850 | 1,240,890 |
About The Numbers
Further Reading & Sales Reporting
Running Ford Motor Company sales numbers
Ford Motor Company Q3 2022 sales reports:

Ford Motor Company sales Q3 2022 U.S.A

Ford sales Q3 2022 U.S.A. (Ford brand)
Lincoln sales Q3 2022 U.S.A.
Ford Motor Company sales July 2022 U.S.A.

Ford sales July 2022 U.S.A. (Ford brand)
Lincoln sales July 2022 U.S.A.

Ford Motor Company sales August 2022 U.S.A. (this page)

Ford sales August 2022 U.S.A. (Ford brand)
Lincoln sales August 2022 U.S.A.

Ford Motor Company sales September 2022 U.S.A.

Ford sales September 2022 U.S.A. (Ford brand)
Lincoln sales September 2022 U.S.A.

Ford Europe sales Q3 2022
Ford Motor Company Canada sales Q3 2022

Ford Canada sales Q3 2022
Lincoln Canada sales Q3 2022

Ford Motor Company Argentina sales Q3 2022
Ford Motor Company Brazil sales Q3 2022
Ford Motor Company Korea sales Q3 2022

Ford Motor Company Korea sales July 2022

Ford Korea sales July 2022
Lincoln Korea sales July 2022

Ford Motor Company Korea sales August 2022

Ford Korea sales August 2022
Lincoln Korea sales August 2022

Ford Motor Company Korea sales September 2022

Ford Korea sales September 2022
Lincoln Korea sales September 2022

Ford Motor Company Mexico sales Q3 2022
Ford Russia sales Q3 2022

Ford Russia sales July 2022
Ford Russia sales August 2022
Ford Russia sales September 2022