While The Blue Oval hasn't officially stated it will produce a law enforcement variant of the Ford Mustang Mach-E, it's already drawn quite a bit of interest as a fleet vehicle around the world. It was tested and approved by the Michigan State Patrol (MSP), and the Repentigny Police Department in Quebec recently added the crossover to its fleet as its first-ever EV police cruiser, and has even been used by the FBI. Recently, Ford gave a Mustang Mach-E to the city of Dearborn as a patrol vehicle, and Ford Authority captured this crossover EV on camera as it went about its rounds.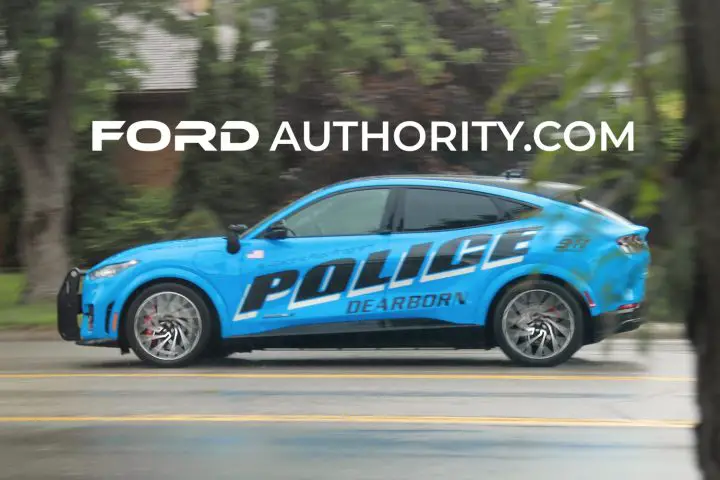 The blue paint scheme on this Ford Mustang Mach-E proudly proclaims that it belongs to the Dearborn police as part of Ford's "All-Electric Pilot Program." The Blue Oval elected to give the crossover EV to the city in order to study and observe how well it performs doing day-to-day policing, possibly indicating that the automaker is interested in developing a law enforcement variant of the vehicle in the future.
The Mustang Mach-E would certainly make the cut as a powerful, versatile pursuit vehicle, especially when it features the Mustang Mach-E GT powertrain. The MSP's tests revealed that even after 18 minutes of high-speed testing on a track, the crossover retained 30 percent of its battery's charge and has 480 horsepower and 600 pound-feet of torque on tap for pursuit situations. Ford estimates that the all-wheel-drive setup and dual-motor make the crossover EV capable of a zero to 60 mph run in just 3.8 seconds. It also has an estimated range of 250 miles.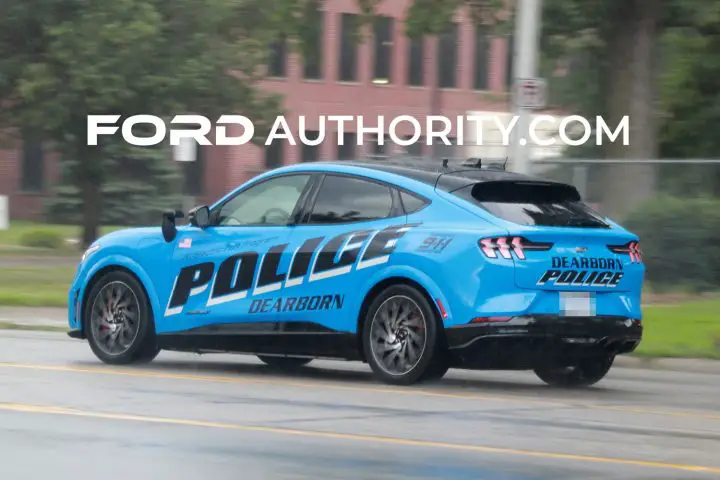 An official Ford Mustang Mach-E interceptor for international markets may not be that far off either, as The Blue Oval has already developed a concept Mach-E police car fitting the bill for the UK market.
We'll have more on this electrified police car soon, so be sure and subscribe to Ford Authority for more Mustang Mach-E news and ongoing Ford news coverage.