The Ford Mustang Mach-E has proved to be quite popular with civilians and third party publications that have evaluated its performance. As Ford Authority previously reported, it's starting to get noticed by state, local, and federal law enforcement agencies too, and it became the first EV to pass the Michigan State Police police test. Federal entities, such as the U.S. embassy in Poland and the FBI Police, have also added the model to their respective fleets, and after announcing its intention to do the same, the Department of Homeland Security has officially revealed its own Mach-E, the first EV to join the agency's vehicle pool.
The incorporation of a Ford Mustang Mach-E into the DHS fleet involved an upfit process that added lights and sirens designed to comply with Federal Protective Service Standards. Currently, it is part of an evaluation by the Federal Protective Service to determine if it is suitable for DHS law enforcement missions. Aside from technical specifications, the Mach-E needs to be meet certain durability, endurance, on- and off-road maneuverability, and high speed standards for the department. In addition to these standards, the Mach-E will be evaluated by its real-world usefulness as a law enforcement vehicle. During this time, the department will also evaluate the Mach-E to determine if EVs pose a cybersecurity risk to its fleet.
"DHS is proactively seeking to reduce greenhouse gas emissions, EVs have the potential to significantly improve federal fleet efficiency and reduce vehicle operation and maintenance costs," said Acting Under Secretary for Management R. D. "Tex" Alles. "DHS is also looking to create climate-resilient facilities and infrastructure, and to continue transitioning the DHS vehicle fleet towards electrification in the years to come."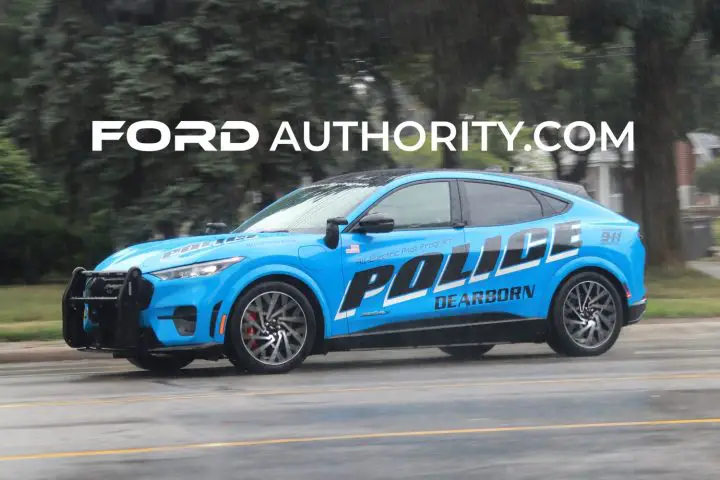 While there is no official Mustang Mach-E police variant, The Blue Oval created a police pilot vehicle and loaned an example to the Dearborn police department. Outside of serving as a law enforcement vehicle, the Mach-E is being used as a NYC taxi cab and overseas as an ambulance triage vehicle. Similarly, the 2023 Ford F-150 Lightning Pro SSV debuted earlier this year as the automaker's first fully electric police pickup.
We'll have more on the Mach-E soon, so subscribe to Ford Authority for the latest Ford Mustang Mach-E news and comprehensive Ford news coverage.