Evan J. Smith, perhaps better known by his YouTube alias REVan Evan, has had the opportunity to get up close and personal with several special Ford Mustang parts and vehicles in the past. Back in August, Smith got a good look at the Ford Mustang Shelby GT350 prototype that served as a testbed for the Ford 7.3L V8 Godzilla powerplant. Smith also got the chance to get hands on the intake manifold for that same Godzilla powerhouse. Ford Performance recently invited him to unveil yet another intake for a high-performance Mustang, this time for the Ford 5.0L V8 Coyote engine.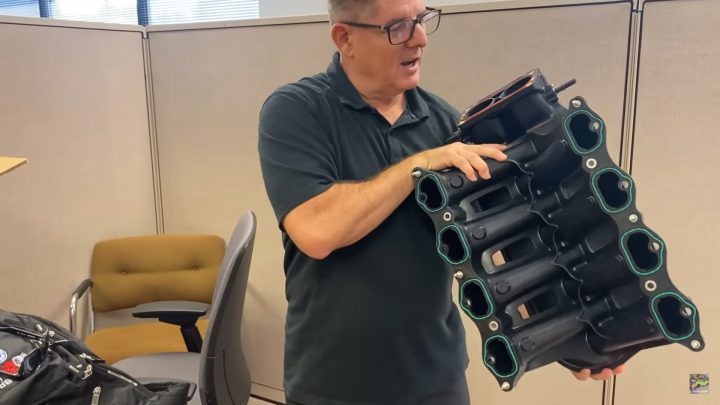 Smith unboxes the solid matte black intake manifold, and immediately praises the Ford Performance logo emblazoned across it, which a representative says has not been finalized quite yet. "It's obviously got runners like Boss or a Cobra Jet, but the plenum is big like a Cobra Jet," Smith said, noting that the Cobra Jet intake is now unavailable.
The bottom of the meaty intake manifold is "too sweet," according to Smith. "These things come on the NA Cobra Jets that ran very low 10s, but guys and girls use these manifolds for all kinds of applications," he says. "It's affordable, ultra-light on, you can do boost with it, and it feels like it's got some heft to the plenum."
A Ford Performance rep explains that this new intake was redesigned especially in the upper intake and plenum area. It was designed for "better packaging" and addressed some of the issues that are common on the Cobra Jet intakes, as well as improved throttle response over the older design. It will go on sale within the next month, retailing for approximately $900 or more.
We'll have more on the latest Ford Performance parts very soon, so be sure and subscribe to Ford Authority for more Ford Performance news, Ford Mustang news, and ongoing Ford news coverage.