The Hennessey Venom 1000 is a Ford Mustang Shelby GT500 kitted out with one hell of a tune, making it much more powerful than its stock counterparts. We've seen one of these high-performance muscle cars show its stuff on the dyno and the track in the past, cranking 1,000 horsepower and 850 pound-feet of torque from its supercharged 5.2L Predator V8. It's been pitted against other performance vehicles such as the 992 Porsche 911 Turbo S, proving that horsepower wins every time. Recently, Hennessey decided to see how the stock Mustang Shelby GT500 stacks up against the Venom 1000, just for comparison's sake, and the results are pretty interesting.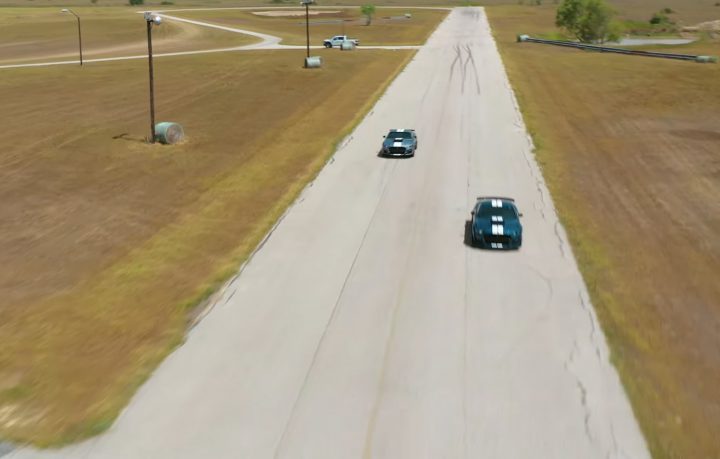 "We know the Venom is going to win," Alex Roys, COO of Hennessey and the driver behind the wheel of the Venom 1000 in this video. says. "This is really a comparison to find out by how much."
The Venom 1000 sports a host of upgrades to the supercharger system and a lightning-fast dual-clutch transmission, making it a force to be reckoned with on and off the track. As Roys stated, he and his Hennessey cohort, Adam Klisares, were not interested in finding out if the Venom 1000 could win against the stock Mustang Shelby GT500, but to see how much of a fight the bare-bones Mustang could put up.
The Venom 1000 walks away from the Mustang Shelby GT500, but surprisingly, it doesn't put a massive amount of distance between the two of them right off the line. The Shelby GT500 definitely gives the tuned Venom 1000 a run for its money, showing a significant amount of muscle and power as it gallops down the track. As a reminder, the Ford Mustang Shelby GT500 is certainly nothing to sneeze at, boasting 760 horsepower and 625 pound-feet of torque. While it may not be as powerful or as fast as its tuned counterpart, it's certainly impressive that it didn't let the Venom 1000 run off without a fight.
We'll have more cool videos like this to share soon, so be sure and subscribe to Ford Authority for more Ford Mustang news, Mustang Shelby GT500 news, and non-stop Ford news coverage.