The 2024 Ford Mustang is right around the corner, a muscle car that will likely harness an almost absurd amount of power thanks to its formidable V8 engine. The next-gen Mustang could very well be the last Blue Oval product to feature an internal combustion engine as the automaker pivots toward a future of all-electric vehicles. There are rumblings that an electric Mustang could be on the way too. It could be argued that the Mustang Mach-E fills this slot in The Blue Oval's lineup, but it is a crossover and not a "true" muscle car or coupe. With that in mind, Ford Authority undertook the challenge of rendering a hypothetical Ford Mustang Mach-E sedan to get an idea of what one could look like.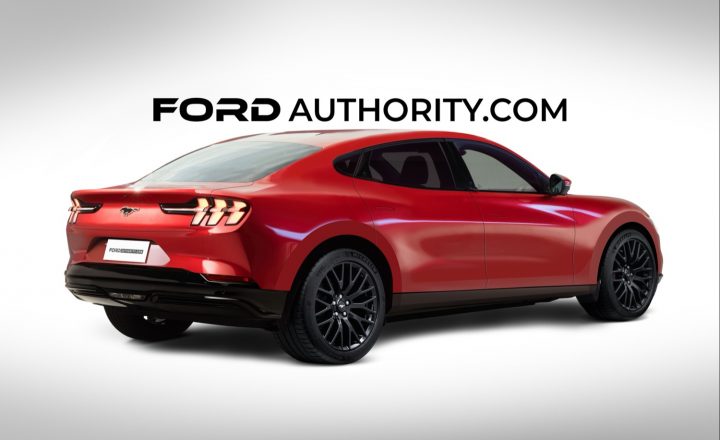 This isn't the first time we've rendered an imaginary Mustang sedan, but this time, we took cues from the existing Mustang Mach-E. The "grille" is borrowed from the Mustang Mach-E, but narrowed to give it a meaner, more aggressive look. We've given it a leaner profile for a more aerodynamic design, and its ride height is much lower. Both of these elements could potentially improve driving range from a full charge, resulting in less drag and therefore less power needed to get our Ford Mustang Mach-E sedan moving.
Out back, we've given our Ford Mustang Mach-E sedan a fastback-like rear end, incorporating the iconic Mustang taillights into the rear fascia. The addition of a true sedan-like trunk instead of a liftgate gives this hypothetical sedan an overall sportier look, and keeps it in line with what enthusiasts expect of the Mustang nameplate.
A potential Ford Mustang Mach-E sedan isn't too far-fetched, as it turns out. After all, The Blue Oval's pivot toward a lineup comprised exclusively of battery-electric vehicles is focused on iconic nameplates such as the Mustang. With that in mind, it's not entirely out of the realm of possibilities that Ford would see reason to keep the Mustang in the lineup as a sporty four-door EV sedan.
We'll have more on the Mach-E soon, so be sure and subscribe to Ford Authority for more Mustang Mach-E news and ongoing Ford news coverage.