It isn't uncommon for country clubs to dole out impressive prizes for golfers that are able to achieve the rare and desirable hole-in-one, mostly because, well, it isn't an easy thing to do. Sometimes, these prizes include new vehicles, giving golfers something truly enticing to shoot for, quite literally. This was also the case when the Morrilton Country Club in Morrilton, Arkansas hosted what it calls "The Tournament of the Century" earlier this month, as it promised to give away a brand new 2022 Ford F-150 to the first person that hit a hole-in-one on hole number 10. But when someone actually did, the lucky golfer quickly discovered that he wasn't getting a new truck after all, according to The Kansas City Star.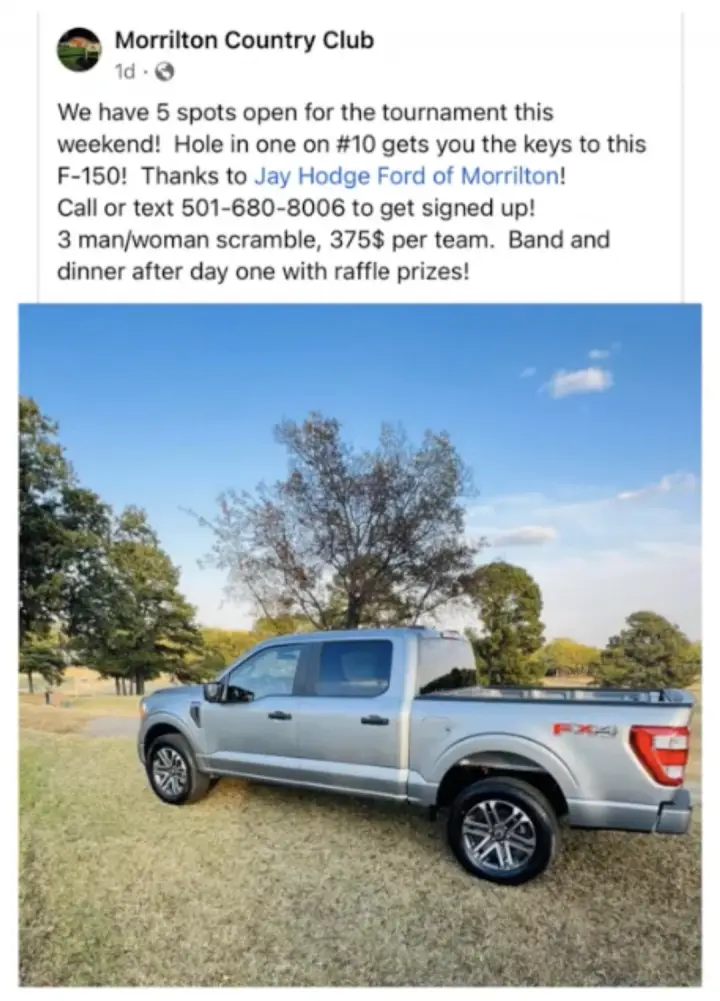 That man – Austin Clagett – was so excited that he posed in front of the 2022 Ford F-150 for a photo, but when he went to collect his prize, he was shocked to learn that the dealership who provided the pickup for the event – Jay Hodge Ford – wasn't handing over the keys, after all. Instead, the dealership released a statement via Facebook claiming that the truck was only present for display and advertising purposes.
The dealer also noted that it couldn't possibly give the truck away as it didn't have enough lead time before the event to provide insurance for the vehicle. Ultimately, the dealer claims that the country club went ahead and advertised that the F-150 was indeed a prize for anyone that hit a hole-in-one, even after learning that the dealer couldn't give it away.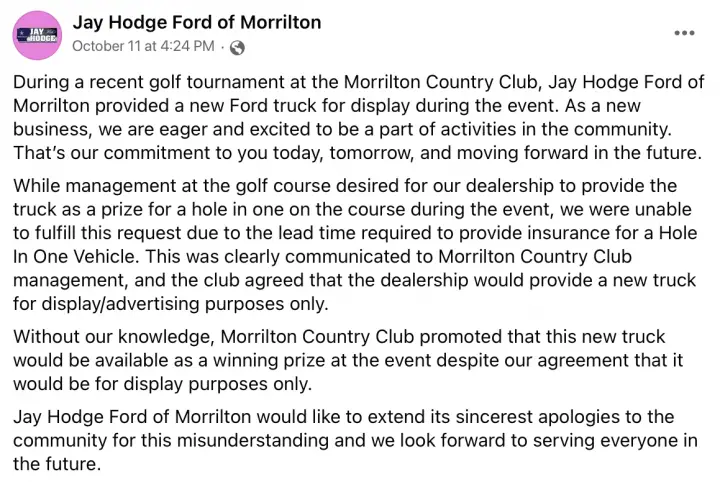 As one might imagine, Clagett didn't accept this excuse, and is instead pursuing legal action against both the Morrilton Country Club and Jay Hodge Ford, filing a lawsuit for breach of contract. "This is about doing what is right," Andrew Norwood of Denton & Zachary, PLLC, said in a statement. "Mr. Clagett lived up to his end of the deal when he got the hole-in-one and now Morrilton Country Club and Jay Hodge Ford of Morrilton want to crawfish out of the deal. If they didn't want to pay up when Mr. Clagett got a hole-in-one, they shouldn't have offered the deal."
We'll have more on this case soon, so be sure and subscribe to Ford Authority for the latest Ford F-Series news, Ford F-150 news, and ongoing Ford news coverage.