Cody Ware, driver of the No. 51 Nascar Ford Mustang, revealed that he will not compete in the Cup Series race at the Charlotte Roval on October 9th, 2022 due to injuries sustained in a wreck at Texas.
Ware suffered an ankle injury in the Texas crash, which occurred on on September 25th. He was able to race this last weekend at Talladega even with the injury, but stated that he does not yet feel comfortable enough to handle the intricacies of braking and acceleration at a road course.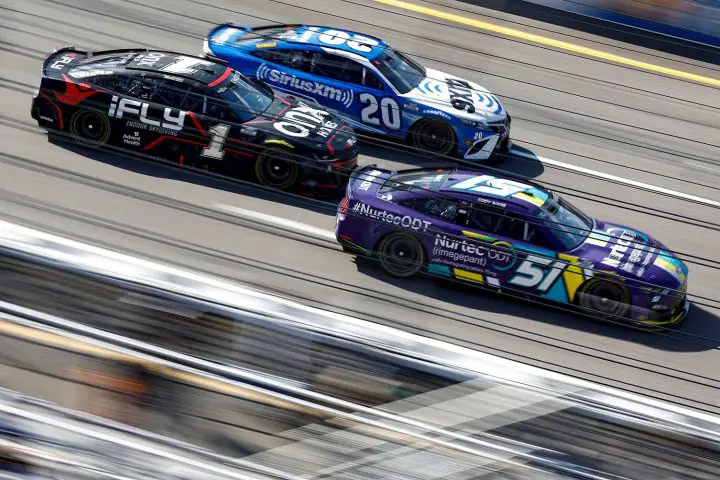 "This weekend I am making the tough decision to step aside and support my team from outside the car," Ware said in a statement on social media. "Given the extensive footwork required for a road course event, I don't feel I'll be able to give 100 percent to my team, my sponsors or to Ford."
JJ Yeley will drive the No. 51 Ford this weekend at Charlotte in Ware's stead. Ware also stated he intends to return the following weekend for the race at Las Vegas.
At Texas, the No. 51 Nascar Ford of Ware got loose and overcorrected, sending him nose-first into the outside wall. The contact damaged the front end of his car so badly, he could not steer as he careened toward Pit Road and contacted the wall hard as crewmembers from other teams scrambled. He exited the race car under his own power, but was transported to the infield care center on a stretcher and evaluated before being released.
Ware's decision to sit out the Cup Series race at Texas makes him the third driver at Nascar's top level to do so this season. Kurt Busch, driver of the No. 45 Toyota TRD Camry, suffered a concussion during a qualifying wreck at Pocono in July and has yet to return to racing. Alex Bowman, driver of the No. 48 Chevy Camaro ZL1, also wrecked at Texas and elected not to compete at Talladega due to lingering concussion-like symptoms.
Subscribe to Ford Authority for more Nascar news, Ford Mustang news and 24/7 Ford news coverage.