The Ford Ranger may have morphed into a larger, mid-size pickup versus the bulk of its lifespan, when it existed as a compact pickup, but that hasn't quelled enthusiasm around the smaller version of the venerable model. In fact, people continue to sink big bucks and plenty of effort into making cool custom Rangers, as we saw from this $350k prerunner build last year. This wild Ford Ranger dually built by the folks behind the YouTube channel CBoysTV most certainly didn't cost that much money to piece together, but it's pretty darn cool, regardless.
This also isn't the first Ford Ranger dually someone has built, but it might just be the nicest and most viable of the bunch, which typically consist of hack jobs that look like they belong in a junkyard somewhere. However, the extra pair of rear wheels isn't the only attraction here, as this Ranger has also been treated to a five-inch lift kit, a red vinyl wrap, some new headlights, and eight lug adapters/spacers to make the beefier wheels fit.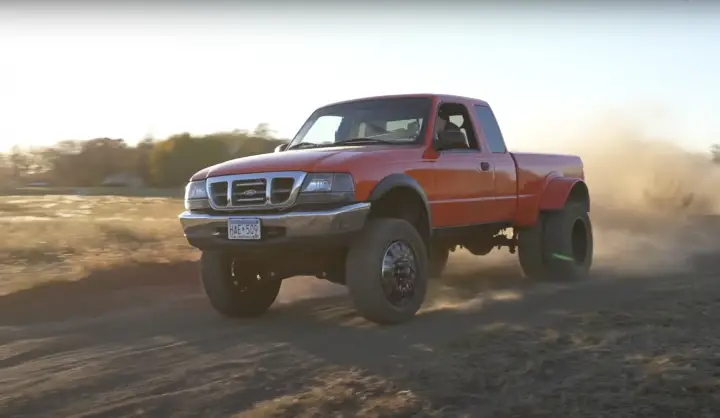 With the newly wide rear end sticking out of both sides by a country mile, the crew had to come up with a way to cover all that extra rubber, and they did precisely that in a cheap way – with some take-off trailer fenders. After a little metal bending and a matching wrap, the fenders actually look like they belong on this pickup, which is pretty cool.
The end result actually looks pretty darn good, though this custom Ranger dually isn't without some problems – chiefly, the fact that it shakes a bit at speeds of over 50 miles-per-hour. The stock suspension also seems a little taxed with a trailer hooked up, but that's no big surprise, as this thing wasn't meant to pull super heavy loads. Regardless, the little Ranger still manages to tow a super-long Excursion limo on a trailer with little trouble, which is impressive, if not a bit dangerous.
We'll have more cool builds like this to share soon, so be sure and subscribe to Ford Authority for the latest Ford Ranger news and continuous Ford news coverage.