In addition to doling out free charging to Ford Mustang Mach-E and Ford F-150 Lightning owners, Ford EV charging partner Electrify America has been in the midst of a major expansion for some time now. That process has involved the launch of several new products and features including Plug & Charge for the Mach-E, concepts for charging stations of the future, a new universal charger naming scheme, and a new quality pledge. Now, the Ford EV charging partner has unveiled its first application of a megawatt-level battery energy storage system (BESS) for its electric vehicle charging stations.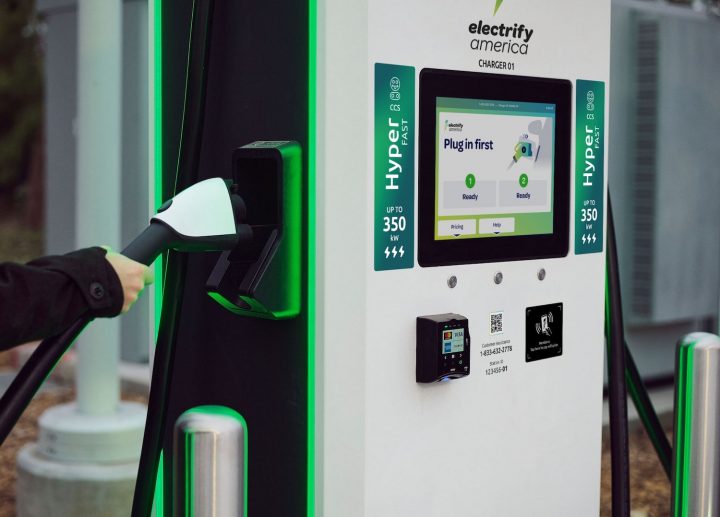 The megawatt-level energy storage system builds upon the company's existing BESS installations at over 150 stations across the U.S., and when combined with a solar canopy, helps reduce energy costs and stress on the grid by acting as a buffer to supplement power to charging stations when local utilities limit the amount of power a station can draw from the grid. This application leverages energy storage and solar as a 'non-wires alternative' in lieu of relying on additional utility 'wired' infrastructure such as power lines, which may not be feasible. This is an important step in expanding EV charging into remote areas where utilities may not be able to deliver the capacity needed to install or expand charging infrastructure, too.
Electrify America's charging station in Baker, California is the first to tout this new technology via the addition of four chargers that are capable of speeds of up to 350 kW. Thus far, charging load at that particular site has already surpassed one megawatt of peak charging demand, with all of that load being provided by its energy storage system and solar canopy.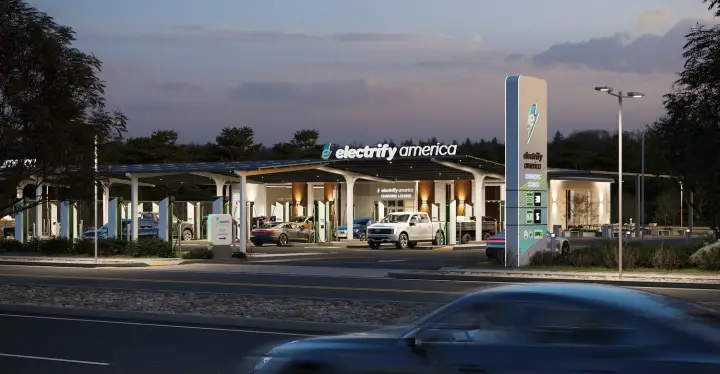 "The application of the megawatt-level energy storage is the latest example of how we are continuously innovating to tackle infrastructure challenges and meet charging needs today," said Jigar Shah, Head of Energy Services at Electrify America. "As we expand the use of such solutions to more of our charging stations and also to our medium-duty and heavy-duty electric fleet customers, we are positioned to enable continued transportation electrification even in the face of utility capacity constraints. To put this into perspective, the energy storage system at Baker, when fully charged, could provide enough energy for an average household for over three months on the single charge."
We'll have more on Electrify America soon, so be sure and subscribe to Ford Authority for continuous Ford news coverage.