Pro Power Onboard is a neat, sometimes lifesaving, feature found on Ford EVs that allows the vehicle to essentially become a power bank to provide electricity in the event of a blackout or other disaster. In fact, the technology has been used in The Blue Oval's relief efforts to help generate electricity in places impacted by severe weather. Late last year, the Ford F-150 Lightning lent some power to those affected by tornadoes in the Midwest, and again to aid those caught in the worst of the floods in Kentucky. Recently, Ford pledged to send aid to people in the wake of Hurricane Ian as well, including lending them F-150 Lightning pickups. To show off what the electric pickup can do, Ford gave Danilo Parra the opportunity to make a short film that was exclusively powered by the Ford F-150 Lightning.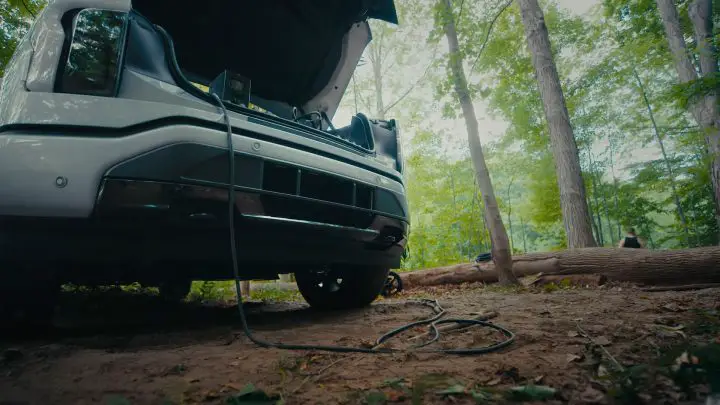 "We're going to be pushing it to its limit tonight," Parra said of the Ford EVs in a behind-the-scenes video. "Let's see how it holds up." He remarks that it feels "liberating" to have all his audio-video equipment hooked up to the Ford EVs, which included an F-150 Lightning and a few Ford E-Transit vans instead of tethered to a freestanding, unmovable power source. "[It's] allowing us to film wherever we want in this forest."
They did the math, and worked through it, and the Ford EVs held up nicely, providing enough power to power all the equipment and lights with more than enough to spare. "It's pretty cool to power this whole shoot with just a vehicle," said Noelle Hindi, production designer for the film, which is titled "Mushroom."
As for the film itself, it focuses on the story of two foragers who stumble across a rather large mushroom in the midst of a forest. They battle the elements as they try to outlast one another to claim the once-in-a-lifetime mushroom for themselves. Despite the EVs helping behind the scenes, no vehicle of any kind is shown in the film.
Want the latest on all things Ford? Then subscribe to Ford Authority for the latest Ford F-Series news, Ford F-150 news,  and continuous Ford news coverage.