The Ford F-150 PowerBoost hybrid has been a popular option among truck buyers since its debut for the 2021 model year, offering those same customers excellent fuel economy and prodigious amounts of power in one complete package. However, Ford rarely separates hybrid sales from its overall model sales, so it's often difficult to discern just how well the electrified pickup is doing. Now, Kelley Blue Book's latest Electrified Light Vehicle Sales Report does exactly that, giving us some concrete numbers for vehicles like the Ford Escape hybrid – which has enjoyed a sharp sales increase through the first three quarters of this year, as well as the Ford Explorer Hybrid -which had a fairly rough Q3, and the Ford F-150 Hybrid, which saw its sales plummet in the past quarter.
Ford F-150 Hybrid sales totaled 14,186 units in Q3 of 2021, but just 8,379 in Q3 of 2022 – a substantial decrease of 41 percent. That decline is much smaller year-to-date, however, as Ford has sold a total of 26,159 F-150 PowerBoost pickups through Q3 versus 28,641 over the same period last year, which is a decrease of 8.7 percent.
It's unclear why sales of the electrified pickup dropped so sharply in Q3, but it could have something to do with ongoing supply chain issues, as FoMoCo had over 40,000 unfinished "vehicles on wheels" parked at its plants recently awaiting various parts. Regardless, the F-150 PowerBoost was still America's best-selling hybrid pickup in the month of September, though Ford F-Series sales as a whole decreased 26.64 percent to 46,338 units.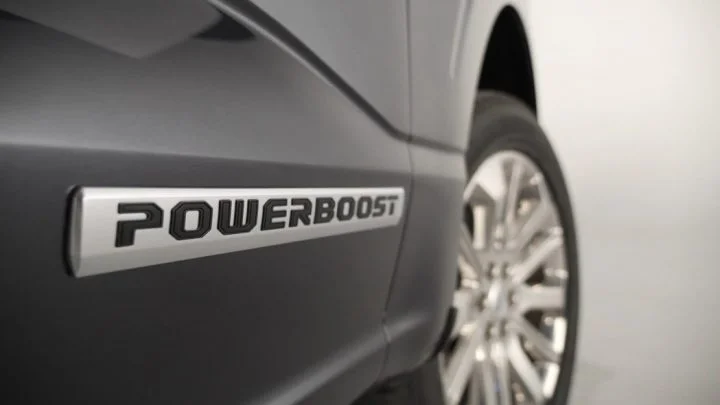 Meanwhile, electrified vehicles in general reached a new sales record in the third quarter of 2022 with over 200,000 sold, and also outpaced the rest of the industry in terms of sales volume and share growth. "Electrified vehicles continue to be the darling of the industry, with the growing marketplace and consumer interest now reflected in record sales numbers," said Brian Moody, executive editor for Kelley Blue Book. "While EV prices currently align more closely with luxury versus mainstream, the market continues to grow and evolve with more choices hitting the scene all the time. It's no longer just 'which Tesla is available,' but rather an industry-wide boom with more EVs on the horizon from Ford, GM, Hyundai, and other manufacturers."
We'll have more on the F-150 PowerBoost soon, so be sure and subscribe to Ford Authority for the latest Ford F-Series news, Ford F-150 news, and comprehensive Ford news coverage.