Ford Motor Company sales increased 16 percent to 464,674 units during third quarter of 2022 in the United States. Sales increased at both FMC brands, Ford and Lincoln.
FoMoCo Sales Notes – U.S. Q3 2022
Sale types:
Total Ford Motor Company sales during the third quarter of 2022 increased 15.92 percent to 464,674 units
Demand is strong with retail orders for 2023 model year vehicles up 244 percent over 2022 model year vehicles, totaling 197,000 retail vehicle orders. Ford continues to see strong demand growth and record turn rates on dealer lots
Year-to-date (through September), F-Series continues as America's best-selling truck, totaling 467,307 vehicle sales and extending its lead over its second-place competitor to over 92,000 trucks
Ford electric vehicles sales continue to outpace the segment
Sales of Ford hybrid vehicles increased 22.6 percent to 74,046 vehicles through September

The Ford F-150 and Maverick hybrids represent America's best-selling hybrid trucks

America's top-selling electric commercial van, the E-Transit, has 90 percent share of the overall electric van market

Through September, Ford has sold 4,387 electric vans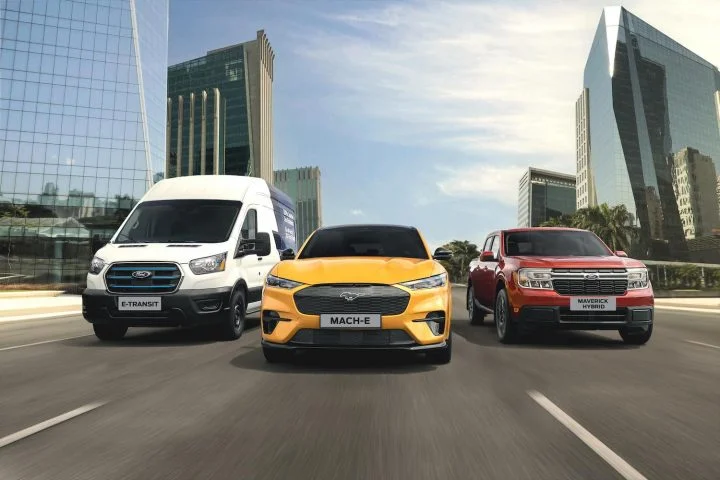 Brand & Model Sales
Ford sales increased 15.85 percent to 444,647 units:
Lincoln sales increased 17.54 percent to 20,027 units:
During the first nine months of the 2022 calendar year, Ford Motor Company sales decreased 1.22 percent to 1,380,494 units.
Sales Results - Q3 2022 - USA - Ford
| MODEL | Q3 2022 / Q3 2021 | Q3 2022 | Q3 2021 | YTD 2022 / YTD 2021 | YTD 2022 | YTD 2021 |
| --- | --- | --- | --- | --- | --- | --- |
| BRONCO | +235.48% | 31,545 | 9,403 | +746.60% | 86,387 | 10,204 |
| BRONCO SPORT | +3.56% | 21,427 | 20,690 | -1.51% | 79,976 | 81,204 |
| E-SERIES | +6.07% | 9,686 | 9,132 | -16.04% | 22,223 | 26,467 |
| E-TRANSIT | * | 1,379 | * | * | 4,387 | 0 |
| ECOSPORT | +0.88% | 8,262 | 8,190 | -24.09% | 26,186 | 34,494 |
| EDGE | +3.68% | 16,170 | 15,596 | +23.06% | 67,623 | 54,951 |
| ESCAPE | +34.57% | 35,391 | 26,299 | -2.22% | 109,311 | 111,791 |
| EXPEDITION | +12.36% | 18,760 | 16,696 | -35.20% | 41,607 | 64,204 |
| EXPLORER | +27.17% | 53,326 | 41,933 | -2.45% | 156,243 | 160,174 |
| F-150 LIGHTNING | * | 6,464 | * | * | 8,760 | 0 |
| F-SERIES | -6.54% | 161,498 | 172,799 | -14.26% | 458,547 | 534,831 |
| GT | -57.50% | 17 | 40 | -27.18% | 75 | 103 |
| HEAVY TRUCKS | +1.59% | 3,250 | 3,199 | -5.57% | 9,338 | 9,889 |
| MAVERICK | +2,478.85% | 13,049 | 506 | +10,137.55% | 51,802 | 506 |
| MUSTANG | +13.59% | 10,354 | 9,115 | -10.88% | 36,598 | 41,065 |
| MUSTANG MACH-E | +77.11% | 10,414 | 5,880 | +48.97% | 28,089 | 18,855 |
| RANGER | -13.13% | 12,453 | 14,335 | -36.33% | 46,293 | 72,706 |
| TRANSIT | -7.24% | 25,126 | 27,086 | -18.85% | 63,946 | 78,799 |
| TRANSIT CONNECT | +126.63% | 6,076 | 2,681 | +2.86% | 20,183 | 19,621 |
| FORD TOTAL | +15.85% | 444,647 | 383,805 | -1.05% | 1,317,574 | 1,331,542 |
Sales Results - Q3 2022 - USA - Lincoln
| MODEL | Q3 2022 / Q3 2021 | Q3 2022 | Q3 2021 | YTD 2022 / YTD 2021 | YTD 2022 | YTD 2021 |
| --- | --- | --- | --- | --- | --- | --- |
| AVIATOR | +58.82% | 5,746 | 3,618 | +7.90% | 16,696 | 15,474 |
| CORSAIR | +78.36% | 6,239 | 3,498 | +19.24% | 20,277 | 17,005 |
| NAUTILUS | -26.77% | 4,942 | 6,749 | -7.59% | 16,797 | 18,176 |
| NAVIGATOR | +2.68% | 3,100 | 3,019 | -25.29% | 9,150 | 12,247 |
| LINCOLN TOTAL | +17.54% | 20,027 | 17,038 | -4.61% | 62,920 | 65,962 |
Sales Results - Q3 2022 - USA - FMC Totals
| BRAND | Q3 2022 / Q3 2021 | Q3 2022 | Q3 2021 | YTD 2022 / YTD 2021 | YTD 2022 | YTD 2021 |
| --- | --- | --- | --- | --- | --- | --- |
| FORD TOTAL | +15.85% | 444,647 | 383,805 | -1.05% | 1,317,574 | 1,331,542 |
| LINCOLN TOTAL | +17.54% | 20,027 | 17,038 | -4.61% | 62,920 | 65,962 |
| FMC USA TOTAL | +15.92% | 464,674 | 400,843 | -1.22% | 1,380,494 | 1,397,504 |
About The Numbers
Further Reading & Sales Reporting
Running Ford Motor Company sales numbers
Ford Motor Company Q3 2022 sales reports:

Ford Motor Company sales Q3 2022 U.S.A (this page)
Ford Europe sales Q3 2022
Ford Motor Company Canada sales Q3 2022

Ford Canada sales Q3 2022
Lincoln Canada sales Q3 2022

Ford Motor Company Argentina sales Q3 2022
Ford Motor Company Brazil sales Q3 2022
Ford Motor Company Korea sales Q3 2022

Ford Motor Company Korea sales July 2022

Ford Korea sales July 2022
Lincoln Korea sales July 2022

Ford Motor Company Korea sales August 2022

Ford Korea sales August 2022
Lincoln Korea sales August 2022

Ford Motor Company Korea sales September 2022

Ford Korea sales September 2022
Lincoln Korea sales September 2022

Ford Motor Company Mexico sales Q3 2022
Ford Russia sales Q3 2022

Ford Russia sales July 2022
Ford Russia sales August 2022
Ford Russia sales September 2022