The new Ford Mustang Cobra Jet intake for the Ford 5.0L V8 Coyote engine was revealed back in September, a short time before it showed up for sale on the Ford Performance website, disclosing key figures and pricing for the new part. Steeda, a well-known manufacturer of aftermarket parts for Blue Oval products, has since gotten its hands on the new intake and put it to the test on a dyno against its first-generation counterpart.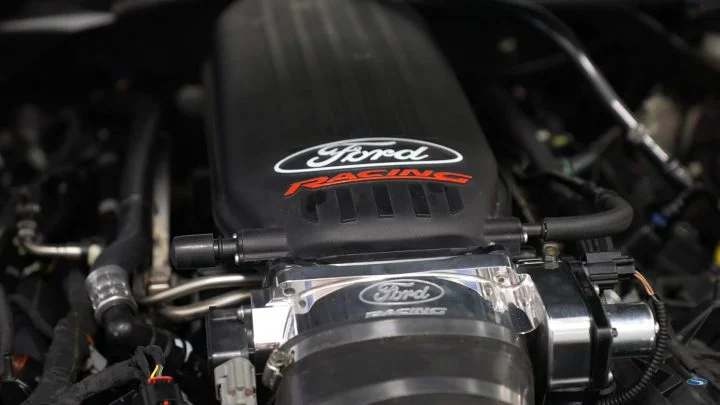 First, Steeda's representatives put a stock 2022 Ford Mustang Mach 1 on the dyno to get baseline figures and found that it put out 408 horsepower and 375 pound-feet of torque. Then, they "knocked the dust off" a first-generation Cobra Jet intake manifold and slapped it on the dyno, where it made 421 horsepower and 375 foot-pounds of torque.
Finally, the second-generation Cobra Jet intake was put to the test, noting that it does a good job making top-end power without sacrificing low-end torque. Steeda found that the redesigned intake helped the Ford Mustang put out 422 horsepower and 375 pound-feet of torque, which may seem negligible when compared to its older counterpart.
However, the the new intake has a few advantages over the model it replaced, particularly when it comes to looks. Steeda praised it for its low profile and its looks, which work far better with the stock Mustang hood than its previous iteration. It looks cleaner and seems that Ford Performance cleaned up the casts a little bit for the latest model, making it easier for tuners to put a lower-profile hood on a Mustang outfitted with the new Cobra Jet intake.
The new part fits 2011 through 2014 Ford Mustang GT models with the manual transmission, or the 2012 and 2023 Mustang Boss 302. It also fits 2015 through 2022 Ford Mustang GT models with the manual transmission. Interested customers should expect to shell out $1,500 for the intake.
We'll have more on the latest Ford Performance parts very soon, so be sure and subscribe to Ford Authority for more Ford Performance news, Ford Mustang news, and ongoing Ford news coverage.