While all-electric vehicles don't have quite as many moving parts as their ICE-powered counterparts, some aftermarket offerings for the Ford Mustang Mach-E have begun surfacing in recent months, a list that includes adjustable front and rear sway bars from Steeda. While it lacks the audible grunt of a traditional V8-powered Mustang, the Mach-E does come from the factory with in-vehicle sounds that are designed to somewhat compensate for its overall quietness, but now, the aftermarket is getting in on that action courtesy of the new Borla Performance Sound System for the Ford Mustang Mach-E.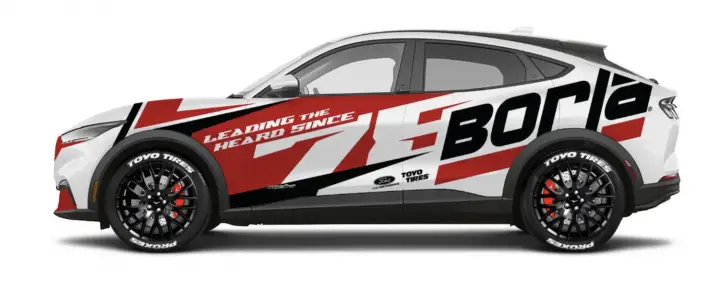 Borla teamed up with AudioControl to develop the new Mach-E Performance Sound System, which is designed to make the EV sound like a traditional muscle car of sorts and restore the excitement that's lacking from mostly silent all-electric vehicles in general. The system utilizes a proprietary Borla algorithm that takes into consideration the vehicle's speed, power, RPM, torque, and load to generate realistic engine noises, as we can hear in the video below.
Borla and AudioControl developed this new sound system using professional recordings of actual Borla exhaust-equipped ICE vehicles equipped with multiple microphones. Using real-time data from the EV's internal computer, the Borla system generates a realistic ICE soundtrack that matches the motor's status and other vehicle dynamics. Additionally, the system pairs with a mobile app that lets drivers select from multiple Borla sound technologies including ATAK, S-Type, and Touring, all with full control over volume and other characteristics.
"Sound, vision, and touch are the three senses we use for sport driving, and without the real-time feedback of motor and vehicle dynamics through sound waves and vibration, much of that experience is missing," said vice president of sales and marketing at Borla Performance, David Borla. "This product is actually an instrument, in more ways than one. It's like an audio tachometer that provides drivers with that real-time feedback, and it's also like a musical instrument that plays an exciting soundtrack which enhances the driving experience giving the vehicle personality and a sense of soul. After all, who wants to watch Fast n' Furious movies or play Forza with no sound? They go to great lengths to ensure sound is prevalent in those mediums for a reason."
We'll have more new parts and accessories to share soon, so be sure and subscribe to Ford Authority for more Mustang Mach-E news and around-the-clock Ford news coverage.