Veteran Ford technician Brian, perhaps better known by his YouTube alias, Ford Tech Makuloco, has had plenty of Blue Oval products with the three-valve Ford 5.4L V8 Triton engine pass through his shop over the years. He's made plenty of videos detailing the engine's flaws, including roller follower issues, its incessant need for routine maintenance and the importance of using OEM spark plugs to avoid irreparable damage. Recently, he explained why he prefers the OE-style plastic composite tensioner instead of swapping to an upgraded cast-iron ratcheting tensioner found in older two-valve engines to solve timing set issues.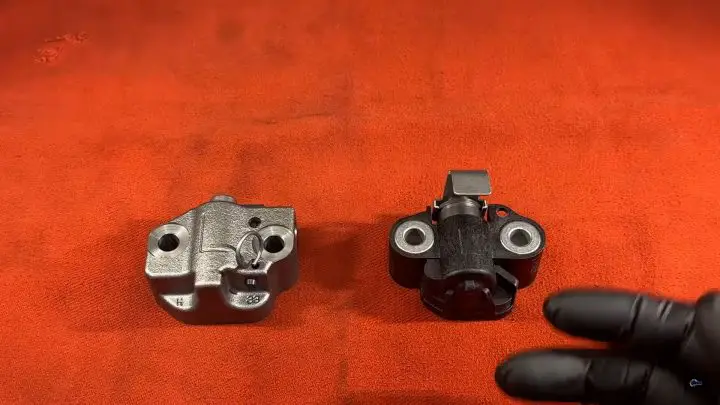 "Why do I use them? Well, it ain't cost," he said. In order to demonstrate why he prefers the plastic tensioner, he used a Ford 3.5L V6 EcoBoost engine experiencing issues with its timing sets as an example. This engine had a cast-iron ratcheting tensioner from the factory, similar to that of the older two-valve engines. However, Ford discovered that this design contributed to chain stretch, since it essentially keeps tension on the chain at all times. As a fix, Ford released a new tensioner that does not feature a ratcheting mechanism to prevent undue tension.
"You gotta think, there was a reason for that," the Ford tech explains of The Blue Oval's decision to move away from ratcheting tensioners on the 3.5L EcoBoost. It would stand to reason, then, that similar issues could arise from the same sort of tensioner being used on the 5.4L V8 Triton. This is why Brian shies away from using them when making repairs to a Triton. He does acknowledge that removing the ratcheting mechanism from a tensioner is possible, but he prefers not to do so, as modifications increase the likelihood of critical engine failure.
"Food for thought," he says. "If they're getting away from it [on the 3.5L EcoBoost] to fix an issue, you may just want to stick with the plastic housing tensioners that are non-ratcheting on your 5.4L three-valve."
Subscribe to Ford Authority for continuous Ford news coverage.